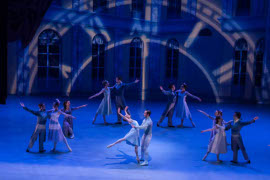 There were two particular elements that made Ballet Quad Cities' Cinderella (which ran for two Adler Theatre performances on April 20) especially watchable beyond Courtney Lyon's exquisite choreography: clear storytelling, and humor. Not at one moment during Saturday evening's performance did I find it hard to figure out which part of the fairytale was being depicted in dance, even down to the details of what specific characters were doing and feeling at all times.
The telling of this Cinderella was even more engaging for its peppering of humor, particularly in Marie Buser's Stepmother and Kelsee Green's and Margaret Huling's Stepsisters, all of whom provided lively comic relief almost every moment they were on stage. With upturned nose and harsh gestures in her movements - the dancer added angularity to her smoothness with forceful gesticulation in her extensions - Buser's Stepmother was clearly haughty, disapproving, and abusive toward Emily Kate Long's innocent, meek, and virginal Cinderella. Green and Huling, however, camped up their Stepsisters' cruel natures with pleasingly ridiculous faces and awkward movements as they danced Lyon's comical dance steps. (One sequence at the Prince's ball had Huling moving across the stage with her back hunched over and her arms thrust forward, after which she switched to throwing her arms back and thrusting her core forward, and these silly motions were repeated several times as she moved halfway across the stage.)
While Lyon's comedic choreography would tickle anyone's fancy, her dances for Cinderella were among the production's most remarkable aspects. (This was particularly true during the opening scene in which Cinderella is sewing dresses. As she draped fabric over her frame, Long moved from simple steps to more eloquent and laudable ones, expressing her fanciful dreams in physical form.) The ball-scene duets between Cinderella and Jacob Lyon's Prince, however, took the cake, especially considering the stage chemistry shared by the roles' performers. There was a palpable connection between the two as Lyon, with seeming effortlessness, lifted Long again and again, creating an illusion of Cinderella floating across the stage - sometimes like a deer bounding, as when Long's foot would touch the ground in between gliding, extended-legged leaps in Lyon's arms.
Jill Schwartz's entrance as the Fairy Godmother was captivating for the nature of her wand, which was lit with bright lights that pierced the dimly lit stage. But as she ushered Cinderella into the forest sequence in which the Fairy Godmother and forest insects and fairies magically prepared the young girl for the ball, Schwartz created and maintained an ethereal air in her flowing movements. In contrast, Nancy Cole's and Brianna Hagar's Fireflies and the Little Bugs - roles performed by students of Ballet Quad Cities School of Dance - moved with cocked wrists and bent elbows that created an amusing, bug-like awkwardness. (They were also dressed in suit jackets with tails that bounced and flapped in a funny fashion as the insects danced.)
Raising the performance to a magical level was the inclusion of Orchestra Iowa's live musicians. There's something special about live music that recorded soundtracks can't hold a candle to, and as the swell of strings and wind instruments (along with a dash of brass) permeated the theatre space in a way that felt like it was surrounding you, composer Sergei Prokofiev's music cast a spell on the audience.
Ballet Quad Cities' Cinderella was so beautifully told, comically rendered, and enjoyable from beginning to end that it would be a shame if you no longer had the opportunity to see it. Fortunately, though, you can see it - when it airs on Iowa Public Television on May 6 at 8 p.m., and May 19 at 3:30 p.m.
For more information on Ballet Quad Cities, call (309)786-3779 or visit BalletQuadCities.com.