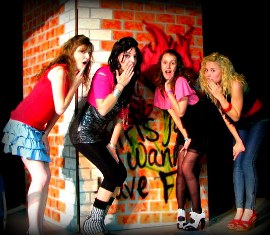 Thursday marked the first time I'd attended a theatrical production at Scott Community College, let alone reviewed one. And it wasn't just one, but two SCC plays I caught that night: the short one-acts To Burn a Witch by James L. Bray and A Coupla Bimbos Sittin' Around Talkin' by Richard Vetere. The entire experience was absolutely delightful, charming for its lack of pretension, and oftentimes just flat-out fun, my amusement buoyed by a sense that the actors were thoroughly enjoying themselves.

Directed by SCC student Nichole Gill, To Burn a Witch concerns two women accused of witchcraft, imprisoned until they confess or are burned to death for not confessing; Ruth (Megan Baumunk) wrestles with whether to make a false confession, while Mary (Brandi Clark) remains stalwart in her determination not to lie. Baumunk's portrayal is earnest, yet offers a roller coaster of emotions ranging from quiet fear to fearful excitement. (Her shrieks during her tale of seeing a bird flying about the room are effectively piercing.) Clark, on the other hand, keeps her emotions calm and measured, evidence that her character is certain of her innocence and, knowing that heaven is listening, that she's more willing to die than lie.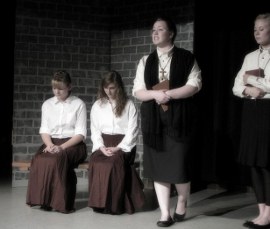 Courtney Erikson provides icy condescension as Dame Stanley, the woman who demands confessions or, if she doesn't get them, makes the call to stoke the witch-burning fires. Consistent in her haughty demeanor, Erikson has a particularly notable moment where her face softens slightly as her character contemplates whether she's condemning women who are not actually guilty. And Danielle Coffin shows signs of fearfulness behind her Widow Jones' accusations, with her wavering voice signifying the slight doubt behind her judgmental stance. Despite its dark plot, the piece itself is sweet and the performances endearingly sincere, and Gill effectively incorporates the use of a deep chime between scene changes, adding an ominous air to the performance.

As for A Coupla Bimbos Sittin' Around Talkin', I'm not sure it could be more different from To Burn a Witch in style or tone. This "don't judge a book by it's cover" tale features three dolled-up women and one rather plain Jane who refuses to dress like Barbie, insisting it's what's inside that counts, and the play's lesson is hers to learn - that the other girls' pretty exteriors don't necessarily mean dumb interiors. With director Steve Flanigin dressing his cast in sparkling '80s-style garb and starting the play with Cyndi Lauper's "Girls Just Wanna Have Fun" blasting on an mp3 player, the '80s-era choices - not to mention the use of a 21st-Century music system - are incongruous with the script, which makes '90s pop-culture references to Justin Timberlake, and Madonna adopting children. Still, this only gave me slight pause, as Flanigin and his actors have created a show that's simply delightful.


Brandi Clark is amusing as Tess, the college girl who doesn't care about her book's cover because she's confident in the contents of her mind. Her character makes it clear that she considers herself smarter than the other girls. Yet without much to say, Tess pretty much stands on stage with a furrowed, dumbfounded look on her face, stupefied as the others talk circles around her while encircling her with make-up applications and clothing for a make-over. Alison Guzman really seems to enjoy playing Nancy; whether or not her character should be smiling, her ear-to-ear smile never leaves her face, which makes her all the more enjoyable to watch. She also supplements her dialogue with laugh-inducing eye rolls, snickers, and "Pshaw!"s, and Danielle Coffman employs similarly amusing acting accessories as B.B., the blonde of the bunch. (With her "gag me with a spoon" airs a bit softer in tone than Guzman's, she presents more of a cautious airhead, one who's aware that she comes across as a dumb blonde.) And Megan Baumunk gets the chance to strut around the stage in heels and sequins as Linda, the complete opposite of Baumunk's fearful, dully dressed Ruth in the night's previous one-act.

A Coupla Bimbos' pacing could be tightened up, as the performers pause too long and too often while making over Clark's character. That hardly matters, though, as these girls just seem to be having a blast being in this play. (They sometimes mug for the audience and giggle a bit at their scripted jokes.) Their amusement is infectious. I laughed hard and often, and left the performance with a big smile on my face that stayed with me the rest of the night.
 

Performances take place in Scott Community College's Student Life Center, located through Door 5, off Parking Lot D. For information, call (563)441-4339.