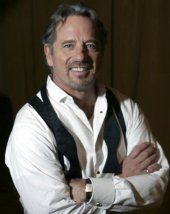 So, how are you doing today?
"Eh ... I'm okay," replies Tom Wopat, calling from Manhattan. "I just got a parking ticket. Sixty-five bucks."
And hardly a deserved parking ticket. "I parked in a school zone but there's no school there anymore," Wopat says. "They don't know that, you know?"
He laughs. "But that's okay. It's like I told my girlfriend: It's New York City. That's just how it works."
Thankfully, New York also works in Wopat's favor, as the star is currently reprising his acclaimed Broadway performance as the devious, unscrupulous Billy Flynn in a tour of the musical smash Chicago, being performed April 10 and 11 at Davenport's Adler Theatre.
Those who are only aware of Wopat's television work in such series as The Dukes of Hazzard, Cybill, and Home Improvement may be surprised to learn that the actor is also an accomplished stage performer, having made his Broadway debut in the 1977 musical I Love My Wife.
Yet Wopat is also an established recording artist with more than a half-dozen albums to his credit - he originally studied music at the University of Wisconsin-Madison in the 1970s - and, in 2002, he performed a New York cabaret show titled Arci's Place; in the New York Times, Stephen Holden praised Wopat's "laid-back, utterly unaffected naturalness" and wrote that he "applies his virile baritone to popular standards with a quiet, open-hearted deliberation."
His singing career, in fact, almost brought Wopat to Davenport last year, as he was planning to perform at the Redstone Room in a benefit concert for WQPT-TV. The concert, however, never came to pass. "I had to go to Thailand," Wopat explains of the film shoot that prevented his area debut. "They offered me an obscene amount of money to go to Thailand for three weeks," he adds with a laugh, "so I had to do it." (WQPT producer/marketing director Lora Adams says that, during Wopat's area stay, they'll be meeting to discuss rescheduling the event.)
Based on the reviews he's received for his touring performance in Chicago, though, it sounds like Wopat will be worth the wait; in the Houston Chronicle, Everett Evans wrote, "Tom Wopat plays slick lawyer Billy Flynn with gruff authority and a forceful yet suave vocal style," and in the Kentucky Herald-Leader, Rich Copley called the actor's work "an outstanding performance ... great vocals, great wink, great nod, great Billy Flynn."
Certainly he's had plenty of practice at it, performing the role for a six-week Broadway run in the spring of 2004, another four-week run that winter, and several subsequent touring productions. "I've probably done, I dunno, three, four hundred shows of it [Chicago] over the last three years," Wopat says, "and I'm very comfortable in the part. He's a very familiar guy to me."
And beyond the opportunity to play one of the most entertaining leading roles in modern musical theatre, Wopat says that the appeal of Billy Flynn is simple. "From a purely pragmatic standpoint," he explains, "I go up late, I leave early, and I wear one outfit. And I get top billing. So there you go."
Chicago, however, is just one of numerous Broadway musicals the performer has headlined over the past two decades. Wopat played Sky Masterson in 1992's Tony-winning revival of Guys & Dolls, portrayed Broadway impresario Julian Marsh in 42nd Street from June 2002 to August 2003, and eventually assumed Tony-winner James Naughton's leading role in 1989's City of Angels.
Ironically, Naughton also originated the character subsequently played by Wopat in I Love My Wife, and won a second Tony for re-creating Billy Flynn when the Chicago revival debuted in 1996. "I've always enjoyed following him into roles," Wopat says with a laugh. "Jim and I are of a type. You know, we're both baritones, we're about the same size ... . Actually, when I did I Love My Wife, the first comment from one of the producers was, 'He looks just like Jim.' So it was perfect for them; they liked that. And I fit the outfit."
Yet the Broadway role for which Wopat is probably best known is Frank Butler in 1999's revival of Annie Get Your Gun, which earned the performer a Tony nomination for Best Actor in a Musical, and received Tony Awards for Best Revival of a Musical and Best Actress, for Bernadette Peters.
"Oh, that was amazing," Wopat says of the experience. "I was working with Bernadette Peters eight times a week and singing the music of Irving Berlin. ... I mean, you can't get much better than that. It was really terrific."
Wopat's most recent Broadway endeavor, though, was about as far from musical comedy as one could imagine: 2005's revival of David Mamet's Pulitzer Prize-winning con-man drama Glengarry Glen Ross. The production - which won Tonys for Best Revival of a Play and Best Featured Actor, for Liev Schreiber - found Wopat in a decidedly atypical role, as the nervous, henpecked James Lingt, the perfect sucker for Schreiber's wily Ricky Roma. But despite a cast that boasted such notable performers as Alan Alda, Jeffrey Tambor, and Gordon Clapp, Wopat admits that the decision to join Glengarry's ensemble wasn't an easy one.
"I was one of those things I kinda had to be talked into," he says, "since it's such a small role. And yet it's a pivotal role ... and as it turned out, it was very well-received by people in town and people in the business.
"It showed a side of my skill that I wasn't sure I had," Wopat adds with a laugh, "and definitely other people weren't sure I had, and so it's been very valuable to me. In retrospect, it was one of the smartest things I've ever done."
Wopat reveals that, once his current tour ends, he may be returning to Broadway in a planned musical version of Steven Spielberg's crime caper Catch Me If You Can - "They're discussing the possibility of me playing the father part," he says - and admits that, despite his extensive musical résumé, there are still several roles on his wish list. "I'd love to do Sweeney [Todd]," he says.
In the meantime, though, there's Chicago, and with it, the chance to familiarize more people with his musical talents. At the end of our conversation, Wopat references his CDs of jazz standards that will be sold in the Adler Theatre lobby - 2005's Tom Wopat Sings Harold Arlen: Dissertation on the State of Bliss and 2000's The Still of the Night - and says, "I will be there at the performances, before and after, signing such things. So if people wanna come up and say, 'Hey,' I'll be there."
So be sure to say 'Hey,' and feel free to pick up a CD or two while you're at it. Those Manhattan parking tickets, after all, aren't cheap.
For tickets to Chicago, call (563) 326-8555 or visit (http://www.adlertheatre.com).