Checklist for Tuesday night's dress rehearsal of Quad City Music Guild's springtime production:
Topnotch vocals by an energetic cast. Check!
Snappy doo-wop moves exquisitely choreographed and performed. Check!!
Powerful and tight 10-piece pit ensemble. Check!!!
Foul mouthed, R&B-singing, seven-foot-tall, man-eating houseplant. Check!!!!
Wait … . What?!?
If you're into B-horror movies, or pop/rock musicals, or just interested in seeing the aforementioned singing-plant puppet; then Zowee! Wowee! Holy Cow! – Music Guild's Little Shop of Horrors is exactly what the doctor (or, rather, dentist) ordered.
With its music and book by Alan Menken and Howard Ashman, Little Shop cultivates the story of nerdy floral-shop clerk Seymour, who happens upon a strange, pod-like plant which he names "Audrey II" after his fellow employee on whom he has a crush. As the plant grows and helps the shop gain financial success, Seymour must make a Faustian pact with the plant as it develops a thirst for human blood. And as it grows bigger and meaner, the giant, carnivorous plant promises Seymour limitless fame and happiness, as long as he continues providing a fresh supply of blood. Rodgers and Hammerstein this ain't!
At the top of this show's food chain, performing as the voice of Audrey II, is George "Big G" Schulz. This is Schulz's second seeding of the character, as he performed Audrey II in the Quad Cities' premiere of Little Shop nearly 30 years ago for the Marycrest Performing Arts Series. (Full disclosure: Yours truly was Audrey II's puppeteer in that particular production.) Over the course of three decades, Schulz has clearly developed some bigger root balls, displaying richer vocals and adding a new, wickedly sarcastic bite to the role. I'm not sure there's another actor in the Quad Cities who could voice Audrey II better, and I hope we experience Schulz in musical-theatre mode again soon. (Can someone say Shrek: The Musical?)
As the dorky anti-hero Seymour, Andy Sederquist really knows how to get his geek on. Not only can he play awkward, but Sederquist really amps up Seymour's internal struggle when realizing the only path to happiness is driving the proverbial bloodmobile for his greenhouse ghoul. Sederquist's vocals are nearly flawless, especially when singing in tandem with Schulz, and it's great fun to watch him duet with the murderous puppet on the song "Feed Me" in which they congeal their demonic pact.
The always-terrific Abbey Donohoe brings a tougher, street-wise quality to Seymour's love interest Audrey. I loved how she was able to reveal a sweet and vulnerable persona with a stronger character foundation than is often portrayed. Her voice, meanwhile, is exquisite on "Somewhere That's Green," and I rooted for Donohoe and Sederquist as they solidified their love for one another in the popular "Suddenly Seymour."
Literally and figuratively, director Matt Holmes has himself entangled like vines throughout this entire production. In addition to directing, Holmes serves as scenic designer and also a very impressive creature creator, having conceived and fabricated all four puppets that serve as physical embodiments of man-eater Audrey II.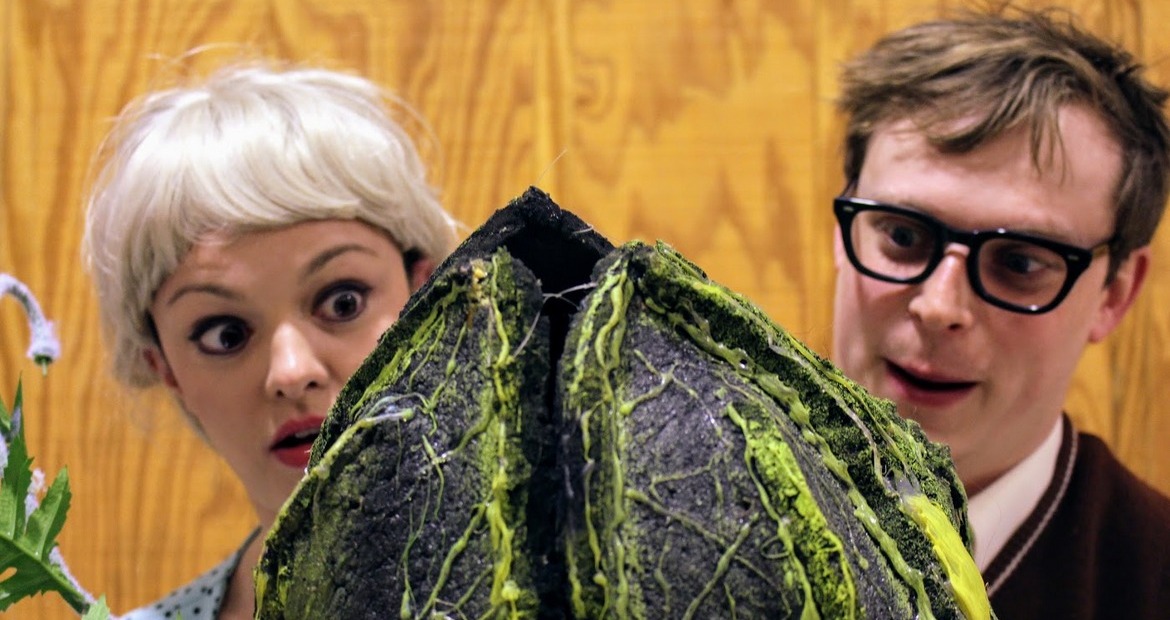 Although Little Shop employs a smaller-than-usual cast for a Music Guild show, every supporting role is key in executing this horticultural pop opera. As skid-row florist Mr. Mushnik, Joe Urbaitis gives a thunderous performance of the character with an almost Zero-Mostel-like temperament. And real-life dentist Rob Keech plays on-stage dentist Orin Scrivello like an unhinged, hilarious, nitrous-oxide-fueled Christian Grey.
As for Little Shop's street-urchin characters of Ronnette, Crystal, and Chiffon (played here, respectively, by Kelly Rose Thompson, Kailey Ackerman, and Noel Huntley), they're an unholy trinity serving as the plot's Greek chorus, filling in story gaps, functioning as temptresses and providing much of the pop and doo-wop vocals to the score. Thompson, Ackerman, and Huntley harmonize wonderfully, and each has a strong solo voice that is featured numerous times. I was an especially huge fan of their takes on "Ya Never Know" and "Da-Doo," as the three were obviously having a blast with Shana Kulhavy's smart, peppy, genre-perfect choreography.
There were a few thorns in the March 28 dress rehearsal I attended, including some backstage masking issues, challenges with visible puppeteers, and a slow light cue or two. However, with a couple more rehearsals to go before opening night, I had no doubt that these small thorns would be appropriately pruned. Little Shop of Horrors gets only one weekend to germinate, so check it off your list by getting your tickets to see this campy, sci-fi, floristic fun-fest blossom.
Little Shop of Horrors runs at the Prospect Park Auditorium (1584 34th Avenue, Moline) through April 2, and more information and tickets are available by calling (309)762-6610 or visiting QCMusicGuild.com.