Though I've watched the film version several times and viewed a staging of its musical earlier this summer, the Timber Lake Playhouse's production of Big Fish still had me choking back tears despite my (over-)familiarity with the material. That's in no small part due to the magic in director James Beaudry's staging, the cast's endearing rendering of the supporting characters, and Karl Hamilton's captivating charm as Edward Bloom, the father at the center of this tale of tall tales.
Based on the book and Tim Burton film of the same name, the theatrical Big Fish focuses on Edward and the far-fetched reminiscences he tells to the frustration of his son Will (the adorable Samuel Leicht). While Will attempts to learn the truth of his father's life, it's Edward's relish in regaling fantastic stories about witches, giants, and mermaids that takes center stage. Accompanied by songs by Andrew Lippa, John August's book is filled with rich storytelling and deep emotion as Will grapples with his father's embellishing ways while trying to better know the man before his father's impending death.
What I love most about the film version is its visual magic, and while Burton's CGI effects are impossible to mimic on stage, Beaudry does an exceptional job of providing wizardry of his own. The means he employs are as simple as using his own choreography for the appearance of the Girl in the Water (Holly Moss), who fluidly moves her arms behind a flowing piece of material meant to represent water, and lifts one leg in a balletic pose that makes her sea-green sarong look like a mermaid's tail. (This outfit is one of costume designer Emma O'Dell's most beautiful and colorful creations.) After a kiss from Edward, the "fabric water" drops, and Moss steps out to dance with her newfound legs.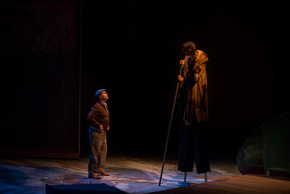 Beaudry's greatest witchcraft however, lies in the "Daffodils" scene. As Edward tells the story of how he met Will's mother Sandra (the lovely, radiant Elizabeth Haley - Hamilton's real-life wife), he offers the girl her favorite yellow flowers. At first, he waves his hand to make a small group of the plants pop up here and there. Then a long piece of fabric adorned with daffodil blossoms is dragged across the stage, as if hundreds of them were blooming on the spot. As if that wasn't enough, scenic designer Benjamin Lipinski's six large, half-circle-topped panels of various colors are pulled back to reveal rolling hills of daffodils dazzling Sandra's and the audience's emotional senses. As if that wasn't enough, a few dozen blossoms are then dropped on the couple, floating gently down around them as they embrace center-stage. The effect is awesome and stirring, and a worthy embellishment to the beautiful love story Edward is painting on stage.
Hamilton, though, is this production's heart and soul. Not only is he charismatic, but it's obvious that his Edward sincerely loves telling stories; whether to Will, Will's new bride Josephine (the sweetly unaffected Kianee Truvillion), or their wedding guests, there is passion in his recounting of them. Hamilton is also able to make Will's annoyance at his father believable while simultaneously eliciting affection for this joyful character, and I adored Hamilton for making Edward's narrative, and its inevitable ending, deeply moving even though I knew exactly what would happen.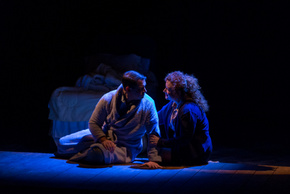 Timber Lake's production, however, wouldn't be as exceptional as it is without the ensemble of talents supporting Hamilton's notable performance. From Moss' virginal grace to P. J. Willborn's booming-voiced friendliness as Karl the Giant to Rosie Upton's shaded heartache as Edward's high-school sweetheart Jenny Hill, every character here is lovable and a piece of the emotional spell cast on stage. Even Paige ManWaring's Witch is someone to cherish, as her heart is revealed when Edward defends her against a bully (Matt W. Miles' comedic jerk Don Price). Though she has only one scene, albeit one boasting one of the musical's catchiest tunes, ManWaring makes a significant impression in the way she layers her Witch with power, fear, and compassion. (During Saturday's matinée, the only off-putting aspects of her scene, and in the production overall, were the chorus members' mylar skirts, which - though they cast fantastic shimmers of watery light on stage - look a bit weird and made distracting backstage noises when they were eventually removed and, I presume, put away.)
Kyle Twomey, meanwhile, shticks it up for Amos Calloway, the circus-ringmaster werewolf who shares bits of information about Sandra's identity with Edward; he's hilarious as he prances about the stage with a showman's flair. Even Grant Alexander Brown, one of my top three Timber Lake favorites this summer, proves unforgettable in his short scene as Red Fang, the assassin whom Edward thwarts. Brown camps it up not only while in the spotlight, but also while sitting in the audience, mugging for the patrons around him and savoring a cigar.
Suggesting that all of nature conspired to make my experience magical, when I walked out of Saturday's performance, the sun was shining in an overcast but still blue sky - and yet it started to rain, in a bit of natural magic that found the weather defying the look of the day. For me, this was an additional bit of enchantment after the already bewitching experience of Timber Lake Playhouse's Big Fish, a theatrical adventure I will not soon, if ever, forget.
Big Fish runs at the Timber Lake Playhouse (8215 Black Oak Road, Mt. Carroll) through August 9, and more information and tickets are available by calling (815)244-2035 or visiting TimberLakePlayhouse.org.