As much as I love theatre-in-the-round, I recognize that not all plays work in a 360-degree environment. Take, for instance, Noises Off, the current offering at the Richmond Hill Barn Theatre. A farcical comedy about the staging of a play (within the play) titled Nothing On, the show's second act offers, essentially, a view of the first act's goings-on seen from backstage, and the production's set is typically turned 180 degrees during the intermission to allow for that behind-the-scenes look. Consequently, prior to Thursday's performance at the Barn, I was baffled as to how director Jalayne Riewerts would pull off, in the round, this production of author Michael Frayn's farce. She does it, it turns out, by not staging the piece in the round.
Riewerts - whose portrayal of Dottie I still recall as the highlight of the Clinton Area Showboat Theatre's fantastic Noises Off from two summers ago - and her co-set designer John VanDeWoestyne have instead blocked off one side of the theatre's seating area, creating a thrust stage with a set that, if you overlook its physical impossibility, is quite impressive. Boasting a distinctly English look in its light, almost pastel-blue colors, yellow trim accents, and flowered wallpaper border, the set is a beauty, even though you can't believe that there are actual rooms behind the set's five doors, given that the doors are only a single door frame's distance apart from one another. What's most remarkable about the set, however, is how it's built on wheels that turn (and rather smoothly) so that its rear side can be visible during Noises Off's largely pantomimed second act.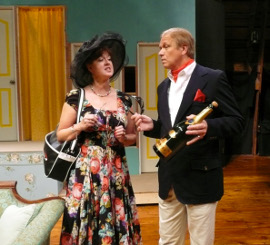 As for Richmond Hill's cast, I love Diane Greenwood in the right roles, and I think that the character of Dottie - a Nothing On actor who can't remember when to take the newspaper and leave the sardines (or is it the other way around?) on the final tech/dress rehearsal of the show's play-within-a-play - is one of those right roles. While her deliveries on hysterical lines about misplaced canned seafood are spot-on, it's Greenwood's facial expressions that really sell her performance. The actor has a rare ability to enunciate with her face, overacting in a way that doesn't seem like overacting at all, and is all the funnier for it; Greenwood is a pleasure to watch whether she's speaking in a spotlight or just sitting off to the side, saying nothing.
Bryan Woods is also well cast as Garry, an ensemble member who often interrupts rehearsal to pontificate with points that never reach a point. (Most end with a vague "... you know.") Woods is generally at his best when portraying comically pompous and pretentious characters, such as his Pozzo in 2010's Waiting for Godot at the Harrison Hilltop Theatre. While he could play up Garry's pretentiousness here, though, Woods instead offers a sincere approach to the role that softens the character's humor in the first act, but leads to side-splitting outbursts of anger in the second and third.
Sarah Hayes and Kevin Pieper excel at playing believably vapid actors, while Archie Williams and Molly McLaughlin prove themselves dependable ensemble members as Nothing On's touring crew. Valeree Pieper, whose larger-than-life portrayal almost stole the show in Richmond Hill's More Than Meets the Eye earlier this year, kicks it down several notches as the simpler, kindhearted Belinda, an actor who tries to keep the peace with words of encouragement for the rest of the internal play's cast. Stan Weimer couldn't be more adorably funny as the dimwitted drunk Selsdon. And David Lane has great stage presence, energy, and intensity as the play-within-the-play's director Lloyd, though he also seems to be trying a little too hard, driving his character's emotions (i.e., yelling because he's supposed to yell) rather than letting Lloyd's emotions drive his deliveries.
While I think Riewerts' Noises Off would benefit from being performed a little more over-the-top than it currently is, Richmond Hill's production is good for more than quite a few hearty laughs from beginning to end, with bigger and bigger ones earned with each passing act.
Noises Off runs at the Richmond Hill Barn Theatre (600 Robinson Drive, Geneseo) through October 14, and more information and tickets are available by calling (309)944-2244 or visiting RHPlayers.com.