Tight harmonies, effervescent smiles, and pastel-colored dresses are the highlights of the Clinton Area Showboat Theatre's The Taffetas, a jukebox musical featuring songs from the 1950s. Yet it's barely a musical. The production plays out as the titular girls' group makes its national television debut on the Spotlight on Music show - with the Showboat crowd serving as the "live studio audience" for a televised concert - and as there isn't much dialogue, or much plot, The Taffetas is really more of a revue.
Director and choreographer Brian Cowing, however, keeps things bubbly as the 90-minute performance (including intermission) moves from song to song in a score that features "Sh-Boom," "Mr. Sandman," "Mockin' Bird Hill," and two clever medleys that race through tunes about travel and boys. His choreography also fits the 1950s style, but with motions that seem fresh and are sometimes humorous. Such is particularly the case with the song "The Three Bells," in which three of the girls - singing backup to the fourth - hold their skirts out perpendicularly from their sides and then tilt to the left, then the right, as they sing each subsequent "bum," mimicking the sounds of a bell chiming.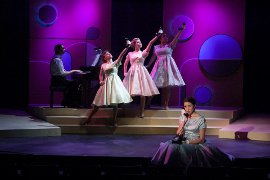 Jenna Haimes, Heather Baisley, Carly Ann Berg, and Sarah Randall sound great together as sisters Kaye, Peggy, Cheryl, and Donna. As they sing, they employ bright smiles and bouncy steps to keep that perceived air of goody-goodness believed to be an intrinsic part of 1950s life. Yet this, beyond the show's lack of plot, is my major complaint about the production, because the actors consequently don't do much to differentiate their characters. It hardly matters that they have names, because beyond the various period hairstyles and pastel colors that each girl wears, it's so difficult to tell them apart. (Costume designer Jenna Damberger's short-sleeve, boat-neckline, circle-skirt dresses worn over crinolines, though, are gorgeous.)
Randall, who also sports cat-eye glasses, does have a few moments of distinction in which her Donna displays slightly off, going-out-on-her-awkward-own fits of individuality and must be reeled back in by her sisters. But other than that, the only time the actors distinguish themselves is in the second-act Q&A; on Friday, Randall played up Donna's spaz-iness, while Baisley showed a sluttier side to Peggy, offering a "Call me" gesture to an audience member who asked a randy question. But it was unfortunate that these characteristics weren't more prominent from the start of the performance and played throughout. As it is, the on-stage pianist (George Spelvin's crotchety Perry, who plays on a keyboard that set designer Steven P. House ingeniously built to look like a baby grand) has a handful of lines as he accompanies the quartet, and exudes more personality than the show's stars.
It could be argued that the absence of plot also means the lack of a contrived conflict that would almost certainly make the show worse, and so not having one was perhaps a smart choice made by Rick Lewis, who wrote and arranged the piece. As a musical, The Taffetas does have its shortcomings, and this production does not rise above them. However, as a performance of 1950s tunes, the Showboat's staging shines, leaving this fan of rich harmonies and buoyant melodies smiling at the end of the evening's entertainment.
The Taffetas runs at the Clinton Area Showboat Theatre (311 Riverview Drive, Clinton) through June 15, and more information and tickets are available by calling (563)242-6760 or visiting ClintonShowboat.org.