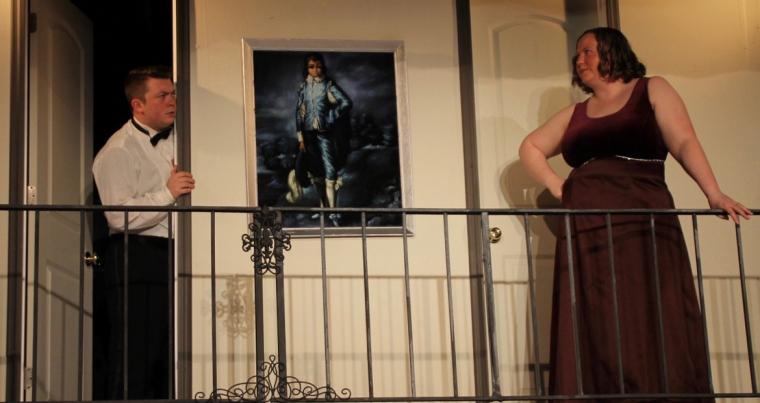 What do you get when you mix Molière and Agatha Christie with a healthy dose of Garry Marshall? A wacky mystery farce written by perhaps the most prolific playwright of the 20th Century: Neil Simon. The Playcrafters Barn Theatre's Rumors is Simon's outlandish play that combines absurd comedy with a whodunit – though it's more of a whathappened – featuring some very sitcom-like characters.
Rumors takes place in a large, stylish home in Snedens Landing, New York, owned by New York's deputy mayor – a man who has accidentally shot himself in the earlobe, and is now unconscious, right before the start of a party celebrating his 10th wedding anniversary. While he bleeds (off-stage) from the gunshot with his spouse nowhere to be seen, the wounded man's lawyer Ken and his wife Chris arrive for the celebration and must consequently figure out what has happened, why it happened, and what and what not to share with the three other couples scheduled to arrive. As each pair enters, the "story" of the evening's circumstances keeps morphing until everyone is embroiled in a ludicrous cover-up.
As those first guests to arrive, Aaron Lord and Sara Linnea O'Neill contribute some fun work as Ken and Chris, kicking off the show with high-energy exchanges. Lord, in particular, is amusing as Ken goes in and out of doors assessing the situation and trying to develop a plausible explanation for it, while O'Neill is very entertaining as his elegant, high-strung, nicotine-starved spouse.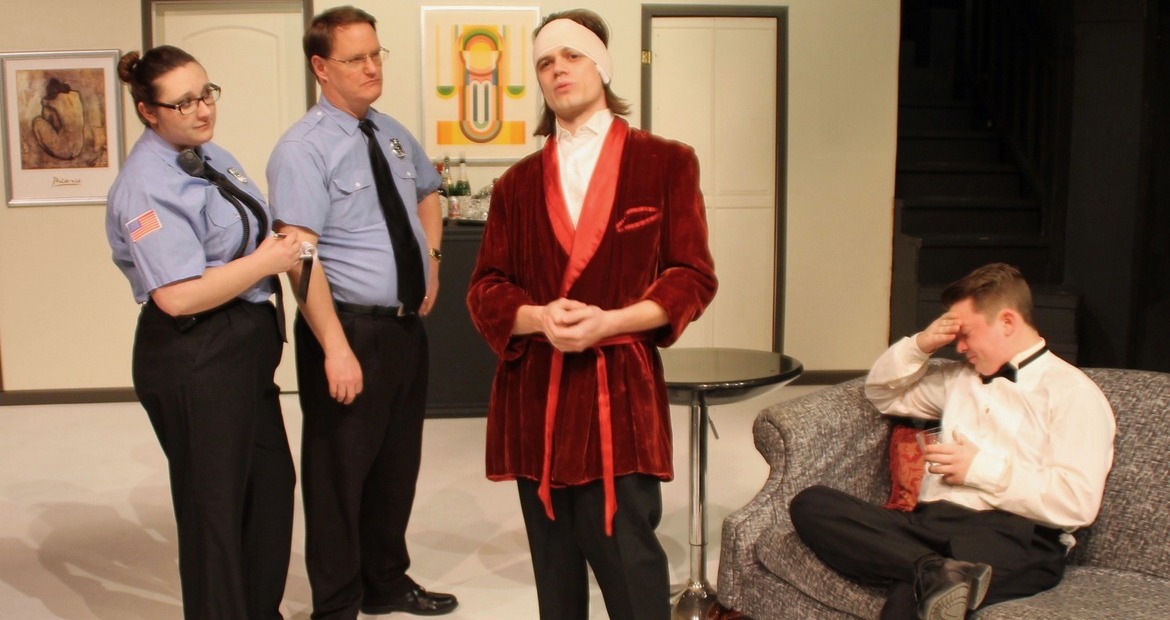 Next on Rumors' guest list are accountant Lenny Ganz and his gossiping wife Claire, played by Anthony Natarelli and Sydney Dexter. At Playcrafters' March 7 preview performance, both actors appeared to be very comfortable in their roles, and Dexter developed an especially complete character, adding skillful line deliveries along with wonderful reactions to the stage mayhem. Natarelli's Lenny, meanwhile, has whiplash and spends the entire show with a stiff neck – no small physical-acting feat. Watch for his highly energetic slapstick monologue in Act II as Lenny tries to bluff local law officers.
Up next are Nicholas Waldbusser's smug psychiatrist Ernie Cusack and his aptly named wife Cookie, a cooking-show host portrayed by Ann Keeney-Grafft. Waldbusser has the look and mannerisms of a big-city therapist and has a wonderful calmness to his character compared to the frenzied nutjobs surrounding him. For her part, Keeney-Graft is classy and delightful as Cookie takes over food preparation for the party, albeit with a bad back and melodramatic personality.
Last-but-not-least through the door are Glen and Cassie Cooper (Mike Kelly and Krissy Wheeler), an ambitious politician and his trophy wife. Kelly shines as Glen, bringing a much-needed change to the show's pacing as he tries to keep his state-senate-hopeful persona polished and composed. And Wheeler is a lot of fun as a ditsy yet tough-as-nails Real Housewife of Albany.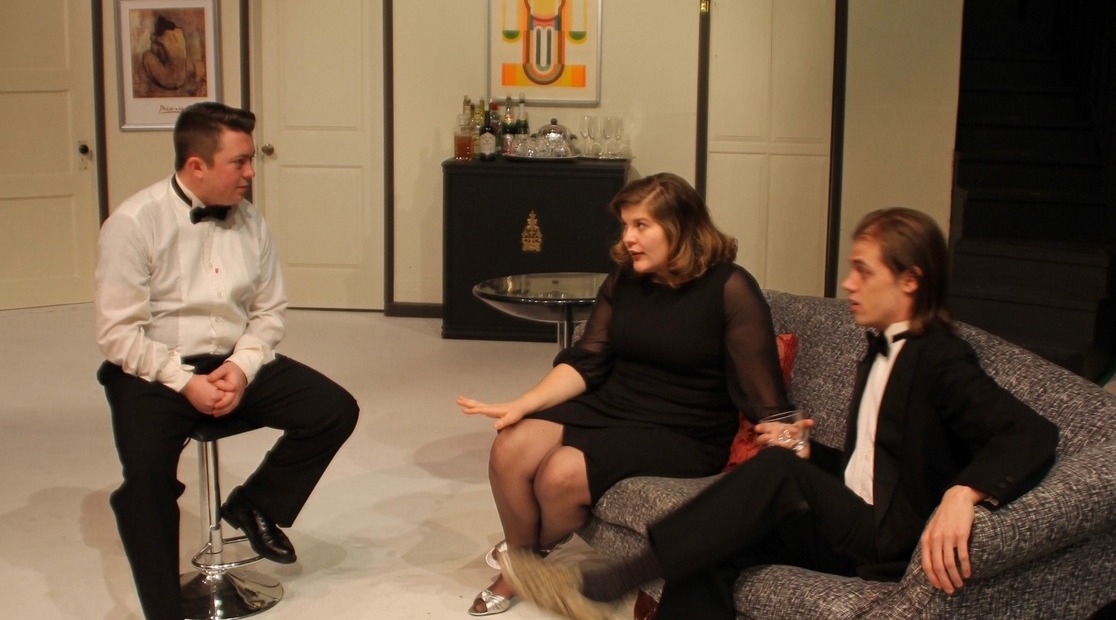 Rounding out the cast are Kevin Keck and Kayla McKay as two hapless cops who try to sort out the mess, and Alexander Richardson assumes the director's chair for this extremely energetic, chaotic, and farcical romp. Richardson does a first-rate job of keeping the pacing moving, utilizing each actor's individual comedy strengths, and preserving the plotline in Simon's convoluted script. (Be forewarned that Rumors is an adult comedy with some fairly strong adult language that feels out-of-character for Neil Simon – though that language did elicit some of the biggest snorts and giggles from Tuesday's audience.)
The scenic design boasts a two-story set with twin doors on the second floor and three separate doors on the first, allowing for a seemingly infinite number of entrances and exits. A special brava to Jacque Cohoon, who, as scenic painter, did an excellent job with the faux marble tiles on the stage floor, providing an impressive elegance to the design.
Rumors is a lighthearted and, for the actors, likely physically exhausting romp involving New York's rich and neurotic. As with much of Simon's work, the personalities are rather shallow in terms of character, yet they're deep with a silliness that can't help but make Playcrafters audiences laugh out loud at the cast's absurd and madcap antics.
Rumors runs at the Playcrafters Barn Theatre (4950 35th Avenue, Moline) through March 19, and more information and tickets are available by calling (309)762-0330 or visiting Playcrafters.com.