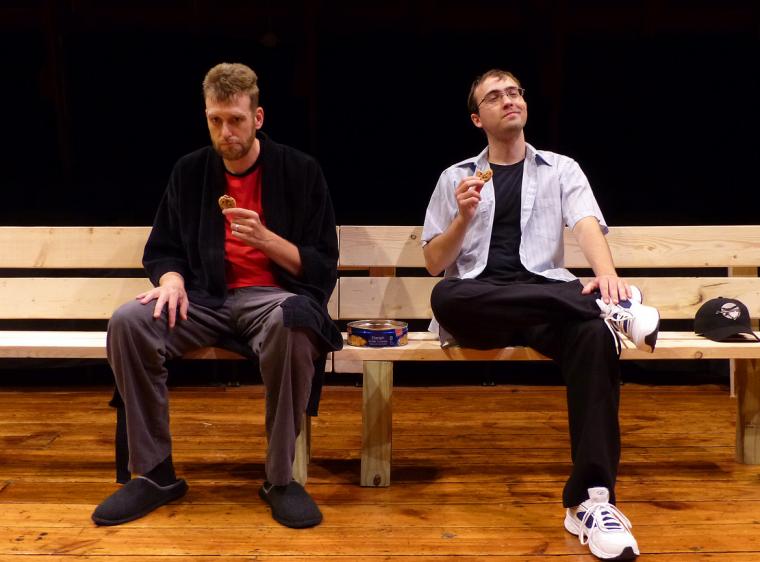 Across the street from my childhood home was an open lot with worn-down dirt spots and paths etched into the grass, shaping a makeshift baseball diamond – like something from the film The Sandlot. I played ball there every summer, all summer, from kindergarten through high school, and getting a new baseball glove was always the best, except when you initially put the glove on your hand and realized it was stiff and awkward. You couldn't play catch, much less field a grounder, because new mitts need to be massaged, oiled, and broken in – a perfect parallel for what happens in the Richmond Hill Barn Theatre's "boys of summer" production Rounding Third.
Playwright Richard Dresser's comedy opens with über-coach Don (not Donald) meeting his new, nerdy assistant coach Michael (not Mike). The encounter is awkward and stiff, just like trying on that new glove, and on occasion, these two fathers from totally different worlds clumsily try to find some commonalities in coaching their kids' team from first practice all the way to the championship. The play's structure, however, is simple: a series of short scenes flowing through an entire season of practices, games, and coaches' meetings that illustrate how both men adapt to each other while gaining new insight on what it means to be a dad.
Showing wonderful coaching skills, director Dana Skiles keeps the pace brisk but allows the script's humor to flow naturally, as opposed to pushing too hard for quick laughs. She also throws some nice curve balls in her handling of the more poignant moments.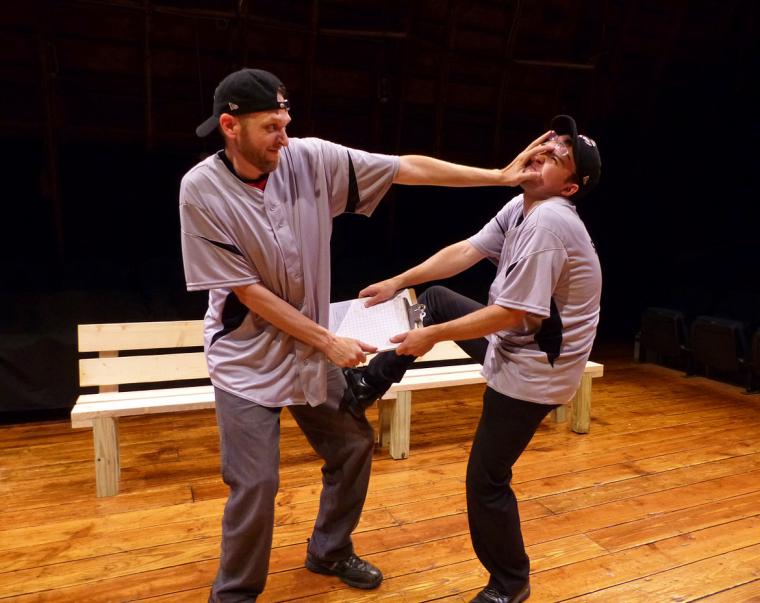 The lineup for Rounding Third places veteran QC performer Dana Moss-Peterson in the lead-off slot as the win-at-all-costs Coach Don. Batting second in this two-player lineup is rookie Andreas Renberg (in his first theatrical role with dialogue) playing the "It doesn't matter if you win or lose; it's how you play the game" Assistant Coach Michael. These two performers spend the entire production together, fleshing out their characters one pitched line at a time.
For someone who has never spoken on-stage before, Renberg brings Michael to life with a credible and touching portrayal as we learn there's much more to this workaholic dad than him just wanting to have quality time with his son. I can only hope this is not the last time Renberg will step onto the local-theatre field. Moss-Peterson, meanwhile, hits a hard line drive in his take on Don, much like an over-the-top coach pushes a bunch of 10-year-olds to the breaking point. He's crass and sarcastic, but ultimately exposes a tender (if at times wicked) heart. On opening night, both actors seemed to occasionally struggle with lines throughout the performance, but it never impacted the story or pacing, and I'm sure some of the uncertainty can be chalked up to opening-night butterflies.
If you've been to the Barn Theatre, you know the stage is set in the round, and director Skiles has wisely taken a minimalist approach to the scenic design, utilizing tables, chairs, dugout benches, and a few props. This black-box approach focuses the audience's attention on the growing relationship between the two coaches with minimal distraction. However, a big cheer goes out to set builder Mike Skiles for also creating, cleverly, the back end of Coach Don's van. It was a nice touch to see how it was incorporated into the theatre, and the intimacy of the set piece helped create some of the production's best buddy-buddy moments. Jennifer Kingry's lighting and sound design were also spot-on. I especially appreciated the warmth of the lighting that was reminiscent of early-summer evenings at the ballpark, and the classic-rock tunes between scenes genuinely set the mood.
Rounding Third, like that baseball glove of mine, is a bit rigid at first. But the more I oiled and popped the ball into the pocket, the more comfortable and soft it became, making it easier to catch a pop-fly or field a hard-hit grounder. And sometimes, as this play demonstrates, new friendships have to be worked on over and over, and broken in before they become comfortable, too. So grab your glove and catch this unique baseball bromance at Richmond Hill, because actions speak louder than coaches.
Rounding Third runs at the Richmond Hill Barn Theatre (600 Robinson Drive, Geneseo) through July 23, and more information and tickets are available by calling (309)944-2244 or visiting RHPlayers.com.