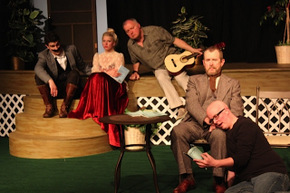 Jordan Smith, Maggie Woolley, Bil Peiffer, Michael Carron, and Jake Walker in Uncle
Even if the only Chekhov you're familiar with is the crew member of the Starship Enterprise, you will likely still enjoy New Ground Theatre's production of Uncle. Featuring characters created by Anton Chekhov, it's a clever look at the lives of people as they react to change, and before attending the April 29 production, I decided to study up on Chekhov (the writer) and Uncle Vanya, thinking I would need to be versed in this Russian play first performed in 1897. I consequently discovered it was unnecessary to have prepared to such an extent. One does not need to know anything about Chekhov or Uncle Vanya to be entertained by Tony-nominated playwright Lee Blessing's Uncle. Davenport's New Ground Theatre was chosen, by its author, for the comedy's world premiere, and the company capably delivered.
Blessing's wacky-sounding premise involves a wormhole in a professor's backyard from which alien creatures pop out and are immediately directed back in with an unwelcome shove. The professor, Paul, just can't be bothered with this thing … until one day, when five fictional characters from Uncle Vanya pop out. It just so happens that Paul is writing a book about that very play, and wants to delve into the characters' feelings and psyches so he can finish his work. What follows involves different layers of reality: Paul tries to learn about the Russians' lives; his own life comes under scrutiny; the fates of Uncle Vanya's characters themselves change with occasionally comedic outcomes. And amazingly, it all works, and kept me wondering "What will happen next?"
Unlike an actual Chekhov play in which dialogue is injected with pauses and trailed-off sentences make for gaps in conversations, Uncle has none of that. Directed by Chris Jansen, the pacing here is lively and engaging, and when scenes (and there are many) change and focus on different characters, the staging never feels unnatural or strained. Helping the transitions go smoothly was lighting designer Jackson Greene, whose blackouts were timed perfectly, and using a two-level stage and versatile employment of some simple furnishings, the set is a credit to Jansen and her design crew of Craig Cohoon and co-star Bill Peiffer. (My favorite part of the set was the wormhole. Upon opening, a bright light and pulsating industrial noise would emanate and smoke would appear; upon closing, bubbles would shoot out.) The mood music interspersed throughout the production is by designer Calvin Vo, and the overall effect was good, with the exception of scenes that involved a female character on the other end of a Skype conversation. Whether because of the actress' voice or a technical flaw, it was often difficult to understand what she was saying on Friday, though hopefully this will be corrected for the show's second weekend.
In his plays, Chekhov presents characters who are sometimes brought together under absurd circumstances, but he's not known for having one standout figure – a true "star." And with Uncle's characters and ensemble, Blessing and Jansen stayed true to their inspiration. As the Chekhov-obsessed Paul, Jake Walker, making his first appearance at New Ground, was impressive. With his emotions running the gamut from sarcastic self-involvement to hopeless love/loss despair, he garnered likability and sympathy, and the other characters were similarly well-developed and integral to the plot.
Victoria House, who plays Paul's love interest Sonya, is also new to New Ground, and hopefully we will see her again in future productions; her thoughtful and expressive portrayal was forlorn without being tedious. Peiffer was so convincing in his dual roles as Paul's Uncle Waring and the Russian Serebryakov that I forgot it was the same actor playing both parts. And Michael Carron as Vanya, Jordan Smith as Astrov, and Maggie Wooley as Yelena – all New Ground veterans – deftly merged humor and melancholy in their performances. I must confess that I was distracted when the characters first emerged from the wormhole, because they immediately lost their 1800s Russian-ness and seemed very modern-American to me. But I blame myself for the distraction because, having studied Chekhov before the performance, I came with preconceived ideas.
By the middle of the play, though, I disregarded those ideas, and was able to enjoy Uncle as it was written. So those of you who are Chekhov fans are forewarned: Come to the play with an open mind and let yourself have fun. Blessing's ingenious script, Jansen's skillful stagecraft, and the remarkable cast make this complex play accessible, entertaining, and satisfying, with its outlandish concept of fictional characters traveling through a wormhole made not only amusing, but credible. "Nostrovia!" to New Ground.
Uncle runs at the Village Theatre (2113 East 11th Street, Davenport) through May 8, and more information and tickets are available by calling (563)326-7529 or visiting New Ground Theatre's Facebook page.