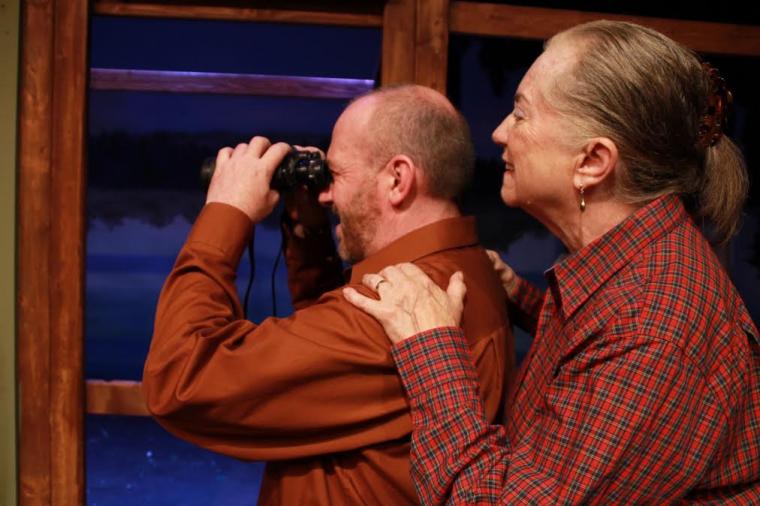 After July 5's preview performance of On Golden Pond, it could be confidently asserted that Ernest Thompson's 1979 play was shaping up to be a show that Playcrafters Barn Theatre patrons would love.
My reaction came as a pleasant surprise to me, as my associations with this material date back to the 1981 movie that left me feeling somewhat dissatisfied, and when I eventually read the script, it just didn't speak to me. Fortunately, though, it did speak to director (and fellow Reader reviewer) Jeff Ashcraft, and through his loving guidance and smart directorial choices he has created the world of Norman and Ethel Thayer on the shores of Golden Pond – a vacation home in which I was happy to sit in leisure and go nowhere, as if enjoying a pleasant summer's respite by the lake.
Part of the charm results from the lovely scenic backdrop as seen through the windows of the Thayers' cabin. Through the magic of set and lighting design (credited to Crista Ashcraft and Bill Peiffer, respectively), we are provided with a panoramic view of trees along the distant shore of Golden Pond, with light that turns from the violets, purples, magentas, and lapis lazulis of sunset to the aquamarines and azures of sunrise and bright daylight. The interior of the cabin is very simply but pleasantly designed as well.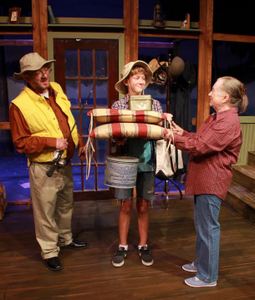 But the show's greater charm is that of Norman (Kevin Babbitt), the octogenarian husband to Ethel (Rae Mary). He is the golden sun around which the universe of the play revolves and, ultimately, the primary force through which the great satisfaction of Thompson's play is realized. Babbitt's Norman ruminates on aging and death while using sarcasm and humor to keep fear at bay, and also keeps others at an arm's distance – he doesn't want anyone's pity. Among On Golden Pond's cast, Babbitt was masterful in revealing his character's inner life, and in his naturalness and ease in delivering Norman's hilarious one-liners. His was a performance that was pure delight to watch.
Rae Mary was an excellent casting choice against Babbitt, as the two actors are very well-matched in terms of physicality and vocal and emotional range. Mary also gave us a character with wonderful warmth and compassion mixed with exasperation at Norman's continued antics – even if there were moments in which the performer appeared to be thinking about lines. But this was a Tuesday-night preview, after all, and in the theatre world, that's a long way to Friday, by which time I'm sure she delivered a fully satisfying performance.
When the Thayers' daughter Chelsea (Kelly Rose Thompson) returns home for Norman's 80th birthday, and we learn of the longtime conflict between father and daughter, it's a point in which I don't care for the writing. It seems to be an example of a playwright telling rather than showing, and doesn't add any understanding of character or dimension to the plot; Chelsea's narrative appears written simply for the sake of providing conflict. And later, when Chelsea has some big news, she enters and – rather than sharing her happiness – regurgitates old hurts, getting into a sudden, harsh exchange with her mother before revealing the news that, in real life, would have been the encounter's motivating factor. But Ernest Thompson's writing is certainly not Kelly Rose Thompson's fault, and she very capably navigates her role and delivers an enjoyable performance.
On this visit, Chelsea meets up again with former suitor Charlie Martin (Matthew Collier), who is also the Thayers' mailman. Charlie has a strong propensity for hearty belly laughs that, while not an easy thing to carry off, Collier was well on his way to managing believably, and he created an affable, down-home character. We also meet Chelsea's fiancé Bill Ray (Jordan L. Smith), whom she has brought home to meet her parents. Smith, an actor with a high likability factor, is fun to watch as he and Norman have an awkward talk about Bill's and Chelsea's bedroom arrangements.
Rounding out the cast is Jack Sellers – a real natural who totally owns the stage – as Bill's 13 year-old son Billy. In this story about the eventual end that comes to us all, Billy represents youth and life and the future, and Norman's pure joy as he and Billy get ready to fish epitomizes the relationship between this old curmudgeon and cocky teen – the relationship that, to me, was the production's most enjoyable of all. Even three days before it opened, On Golden Pond was clearly gonna be golden. Go, see, and enjoy.
On Golden Pond runs at the Playcrafters Barn Theatre (4950 35th Avenue, Moline) through July 17, and more information and tickets are available by calling (309)762-0330 or visiting Playcrafters.com.