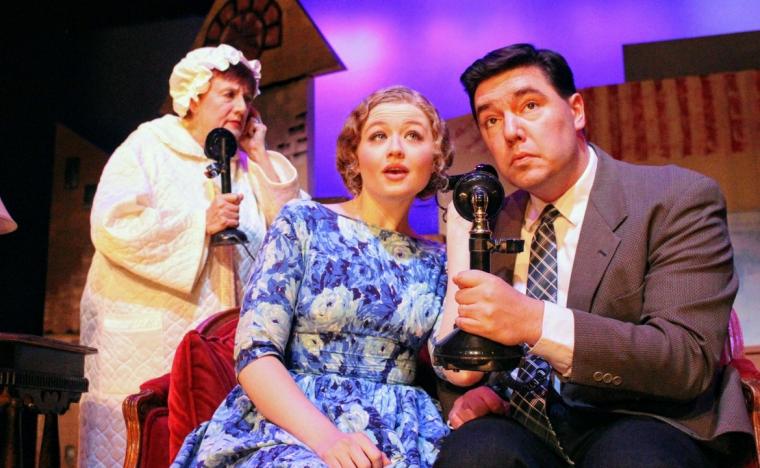 It must be a daunting task to adapt a film for the stage, and there are dozens of examples of movies – everything from Little Shop of Horrors to King Kong – reinvented for the theatre. But how can you even hope to take one of the most revered American films of all time, a non-musical no less, and turn it into a full-blown musical success? Easy. Do what Quad City Music Guild has done, and simply find good actors, a creative director, talented musicians, and other dedicated artists to recreate the holiday classic It's A Wonderful Life in the form of the stage musical Miracle in Bedford Falls.
Like the movie it's based on, Miracle in Bedford Falls follows the life of do-gooder George Bailey, who has spent his entire existence helping the citizens of Bedford Falls while his dreams of traveling the world, and having a meaningful career, pass him by at each opportunity. When his family business is put in jeopardy by a perceived Christmas Eve scandal, though, poor George decides the world would be better without him, he decides to end it all – only to be saved by his wingless guardian angel Clarence.
Director John Weingandt, mentions in his program notes that he has been astonished by how many people (both young and old) have told him that they're unfamiliar with this story. Yet Weingandt and his team have created a high-energy, joyful holiday production that should satisfy those both familiar and unfamiliar with It's a Wonderful Life. Written by Mark Cabiness, and with its music and lyrics by Lowell Alexander, the show is very closely based on the iconic Frank Capra film, with a great deal of its dialogue taken directly from the screenplay. I enjoyed much of Alexander's music; Cabiness' script, however, is a bit clunky, and could have used some judicious editing to help move the pace along.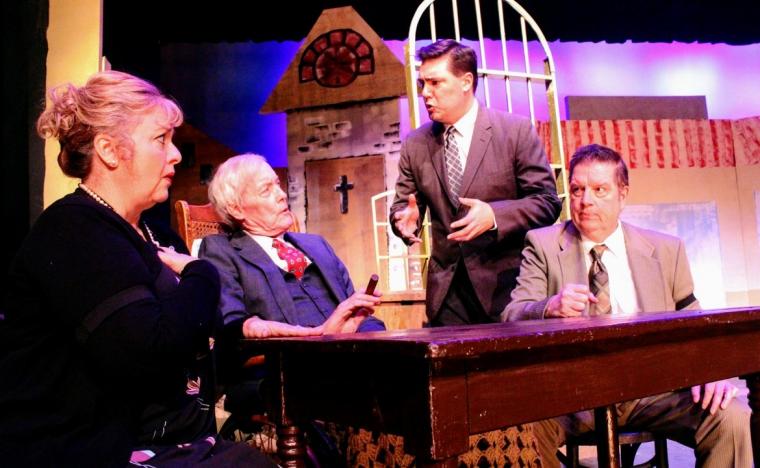 Stepping into the role of George is Guild veteran Patrick Downing, who brings a natural eagerness to the part, along with a very big baritone voice that clearly helps him make the role his own. Paired with Downing is Megan Warren as his wife Mary, who truly has a beautifully uncommon and soulful voice that allows her to shine with the heart of a true artist. She is particularly sensational in the song "I Am Home," and when paired with Downing, the duo is simply heavenly while singing "Lucky Star" early in Act I.
Other standouts include John Donald O'Shea – in what may be the best role I've seen him play to date – as the wickedly ruthless Henry Potter, with Steve Trainor, as Clarence, sweet and almost toddler-like in his portrayal of the angel trying to earn his wings. Roger Akers works up a funny and guileless frenzy as the clueless Uncle Billy. And when Lydia Clark, as the youngest Bailey child Zuzu, delivers her character's famous line "Every time a bell rings, an angel gets its wings!", the "Aw-w-w-w!" factor goes completely off the Christmas-Joy Scale.
I also appreciated Sara Laufer's classy and period-perfect choreography, and Emma Brutman's set design is fun, mobile, and moves from scene-to-scene easily. Her bridge set is especially well-crafted, and the snow effect (created by Weingandt) is simply magical. As of the November 26 preview performance I attended, the only glaring issue was some inconsistency in the scenic painting, with some pieces exceptionally detailed, and others not so much (though this may have been remedied by the show's November 29 opening).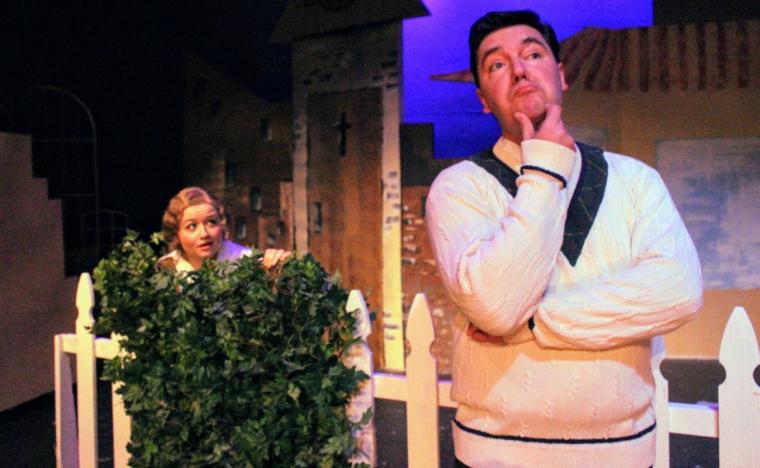 While it's always an honor to be allowed to attend a rehearsal, Monday's dress-tech run, to be sure, had a few rough spots, as some actors struggled for lines, and there were occasionally slow (or missed) lighting and microphone cues. However, that was to be expected following a four-day Thanksgiving break and further rehearsal interference due to the recent Snowmageddon. Besides, working out rough spots are what dress rehearsals are for, and my prediction is this cast and crew consequently worked overtime to get everything perfectly polished for their one weekend performances.
Music Guild is proving that it might not be so daunting, after all, to take a beloved film and recreate it for the theatre, because Miracle in Bedford Falls is proof in the Christmas pudding that it can be done, and is a splendid, foolproof way to find a taste of Christmas joy in our cold and weary world.
So in the spirit of George Bailey, I'll conclude with: Merry Christmas, you talented cast! Merry Christmas, you dedicated stagehands, costumers, and musicians! Merry Christmas, you wonderful old theatre! Merry Christmas, local-theatre supporters! And a very Merry Christmas to all of our readers!
Miracle in Bedford Falls runs at the Prospect Park Auditorium (1584 34th Avenue, Moline) through December 2, and more information and tickets are available by calling (309)762-6610 or visiting QCMusicGuild.com.