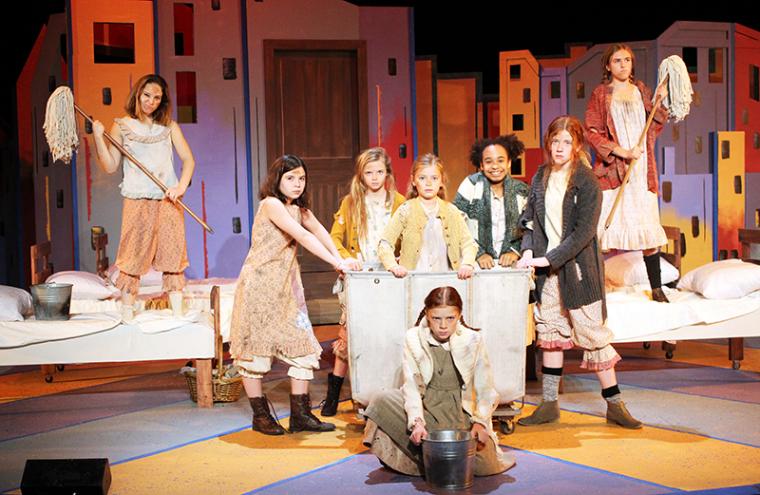 Thirty-five years ago, as her birthday present, I took my wife out for our first "classy" date to the Circa '21 Dinner Playhouse. I had arranged for a dear friend (shout-out to Bill Sensenbrenner) to be our Bootlegger, and wanted to treat my wife to the thrill of seeing Circa '21 produce the musical Annie for the very first time. It was an elegant evening boasting a topnotch performance that we both remember to this day. Fast forward 35 years, and we found ourselves doing the exact same thing on November 9 by enjoying an elegant evening of food, friends, and Circa '21's latest extraordinary production of – what else? – Annie!
Based on Harold Gray's Little Orphan Annie comic strip, this musical, with its story set in Depression-era New York City, has been around for 41 years. Its book by Thomas Meehan, with music and lyrics by Charles Strouse and Martin Charnin, has been employed for three films and countless stage productions around the world. So in consideration of your time, here's a speed-dating version of the plot: Annie is living in a dismal girls orphanage, forced to scrub floors under the boozing eyes of Miss Hannigan. She decides to escape the orphanage to find her real parents, in the process befriending a mangy mutt she names Sandy (played here by a sweetly talented goldendoodle named Copper). She's caught by authorities and sent back to the orphanage just in time to be temporarily adopted for the holidays by billionaire industrialist Oliver Warbucks. Annie and Warbucks subsequently become inseparable, and he decides to help her find her long-lost parents by offering a large reward leading to their whereabouts. Meanwhile, Hannigan's brother Rooster and his lady friend Lily arrive just in time to develop a vile plan threatening Annie's future happiness.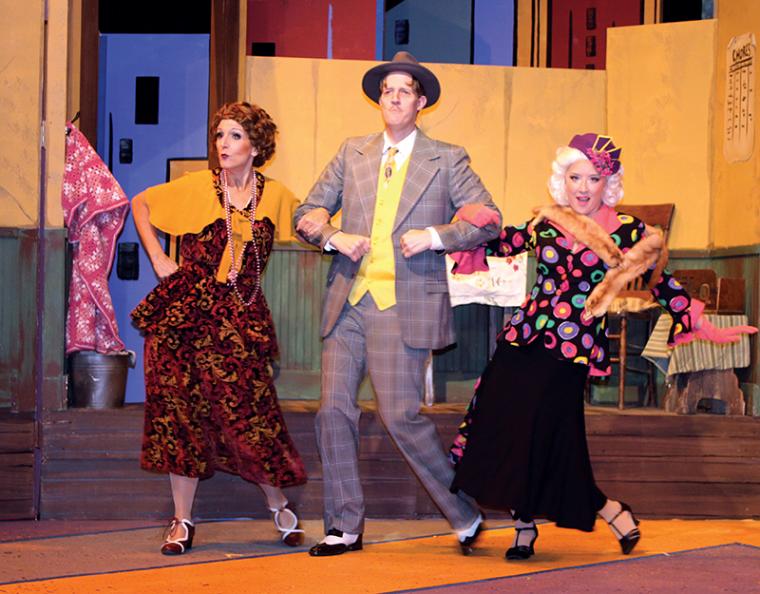 Director/choreographer Trey Compton has created a smartly-paced and wonderfully hopeful production that mixes the right parts laughter, big-musical production numbers, and teary-eyed emotion. Without question, the star of this production is 11-year-old Moline native Chloe Knobloch as Annie, who delivers an extraordinary take on the character that is fresh, fiery, and eternally hopeful. Knobloch's voice is pure without her ever over-singing, and considering her age, her chemistry with other cast members is remarkable – especially Warbucks portrayer John Payonk. Compared to his young co-star, Payonk is a towering bear of a man whose businessman stature and rich baritone vocals command the stage, and yet he is oh-so-gentle and warm in his every scene with Knobloch.
Deb Kennedy's over-boozing and under-sexed broad of a Hannigan was a hoot, never more so than when ripping off a doll's head while singing "Little Girls." Travis Smith's rubber-legged Rooster was a study in physical comedy, and partnered with Brooke Myers' Lily, they made the perfect dastardly duo. Watching Smith, Myers, and Kennedy plot their road to riches in the song "Easy Street" was definitely a highlight of the show.
Erin Churchill is perfectly elegant as the aptly named Grace, who serves as Warbuck's assistant. And it was so very fun to see Circa '21 regular Tom Walljasper, donning a salt-and-pepper wig and round spectacles, wheeling around the stage as President Franklin D. Roosevelt.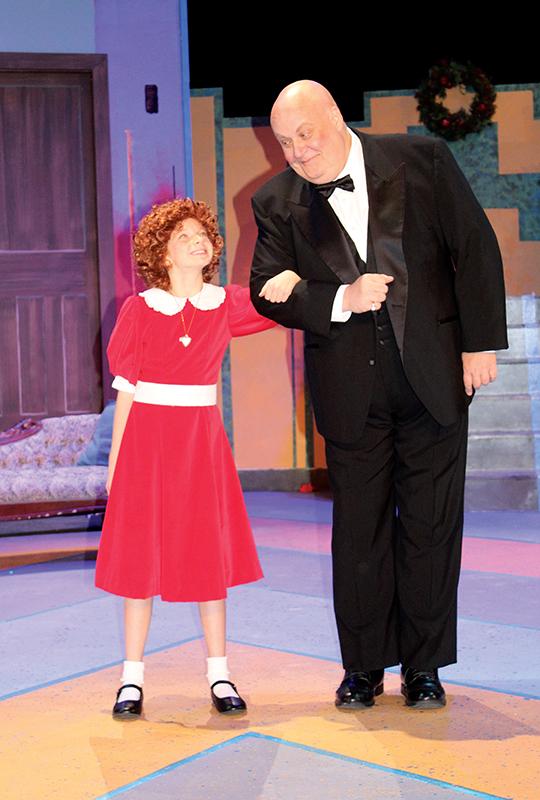 On the night I attended, the littlest orphan Molly was played by Evyn Hassel (a role also played, in alternating performances, by the equally talented Taylor Tubbs). This little peanut is one talented kiddo who had the audience laughing out loud on several occasions, and (like the other orphans) she sings and dances, too. It would be a crime to not mention the true talent of all of Annie's orphan characters – two teams of them alternate performing from show to show – and hats off to Gregory Hiatt on another exceptional costume plot that evokes the glamour of the era and also the gloom of the Great Depression. Erica Zaffarano's remarkably unique scenic design, meanwhile, mixes the grandeur of the Art Deco era, with primary and secondary color palettes built into a set that morph from scene to scene, like a Transformer, right before our eyes.
Just as they did 35 years ago, Circa '21 has a bona-fide holiday hit with its newest version of Annie – a must-see for the season in which children will rejoice in seeing the orphans, and adults can enjoy an elegant evening at the theatre. I will bet my bottom dollar that a very talented young girl singing "Tomorrow" with clarity and honesty will clear away any cobwebs and sorrow, and make everyone in the audience realize the sun really will come out tomorrow.
Annie runs at the Circa '21 Dinner Playhouse (1828 Third Avenue, Rock Island) through December 30, and more information and tickets are available by calling (309)786-7733 extension 2 or visiting Circa21.com.