It's mid-June, and love is in the air... particularly for the actors in Riverside Theatre's Shakespeare Festival who are performing A Midsummer Night's Dream. This Iowa City show boasts stellar performers and a beautiful outdoor stage in City Park - the perfect combination for a magical evening of great theatre. Under Ron Clark's direction, Midsummer lives up to its reputation as Shakespeare's sexiest play, bawdy jokes and all.
Midsummer doles out the usual elements of Shakespearean comedy that include a complicated plot of mixed-up love interests, cross-dressing, and plenty of sexual banter. Set in early 20th Century "Athens," described as "a Utopian community," the show follows four lovers into the fairy forest, and after a surreal night of love potions and chases through the woods - during which time they mysteriously lose most of their clothing - the show peaks with a triple marriage. Subplots include the catastrophic play put on by an acting troupe of "rude mechanicals" and supernatural arguments between fairies, all combining to create one really wild show.
Robin Goodfellow, or "Puck," played by Martin Andrews, opened Sunday evening's show with a nifty magic trick, dexterously balancing an upright broom on the stage without any visible support. Reappearing throughout, Puck orchestrated the various mishaps of the show. From his bowler hat to the frayed spats over his stocking feet, Andrews lent a shabby-yet-sophisticated air to the mischievous sprite that seemed at times to channel Charlie Chaplin. In a role that could easily have been predictable, Andrews skillfully breathed life into his character, addressing his lines directly to audience members and delivering each with an elusive twinkle in his eye. His roguish meddling with the lovers, and also with Bottom, particularly showed off Andrews' subtle acting talent. And those final lines - "If we shadows have offended / Think but this, and all is mended..." - clinched it for me: Andrews was Puck.
The production's four lovers also put on a convincing show, for the most part. Dawn Michelle Mancarella as Hermia and Mallory Portnoy as Helena fiercely played off each other during their Act III face-off. Bradley Anderson, who played Demetrius, was a strikingly sexual and energetic performer, particularly as he wooed Helena with flailing declarations of love.
John Watkins, however, seemed somewhat miscast as Lysander. Appearing to be some 15 years Hermia's senior, Watkins seemed to be trying to make up for the age difference by acting 15 years her junior, giving us the bizarre sight of an older man acting like a grade-schooler. Watkins' juvenile, foot-stomping tantrums were mainly just annoying, and I found myself wondering why in the world Hermia would be in love with such a fawning, pouty man. Combined with his silly costume and makeup, Watkins seemed better fit for a role as a clown than a lover.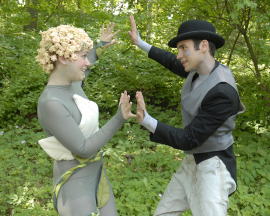 The "rude mechanicals" ended up stealing the show, as these Midsummer characters usually do, with their disastrous production of Pyramus & Thisbe. Patrick DuLaney, who played Nick Bottom, overacted his part perfectly, over-enunciating every word with a ridiculousness that Will Ferrell would envy. His excruciatingly long death scene as Pyramus had the audience rolling in laughter for a good 60 seconds as he writhed and groaned in his final agonies. DuLaney's talent, though, shined through more than just the slapstick humor, most notably in the rare moment of semi-sincerity after Bottom wakes from his "dream" contemplating the indescribable.
Surrounding DuLaney were several other talented actors, and those who particularly caught my eye were Dennis Fox as the cigar-wielding Francis Flute - hilariously forced to play the delicate, feminine role of Thisbe - and Michael Perez as Snug, who, his relatively small part notwithstanding, captured my heart with his grinning, adorably dim-witted performance.
Despite some confusion among audience members about the placement of intermission (after the first half ended without much of a bang, Sunday's audience sat for two minutes, as though wondering where all the actors went), Midsummer seemed to go smoothly for both cast and crew. With a simple set and no microphones, the show felt almost like something that could have been performed in Shakespeare's time.
The refreshingly minimalist set also allowed the audience to focus on the acting rather than on technical bells and whistles. And the outdoor theatre was the perfect setting for a show that largely takes place in a fairy forest. Puck's final monologue - delivered amid perfect silence beneath a canopy of stars - literally gave me the shivers and left me feeling that I had stepped out of the audience and into the story.
It wasn't a perfect night, but it certainly was a magical one. As Duke Theseus says right before watching Midsummer's play-within-the-play, "How shall we beguile / The lazy time, if not with some delight?" And Riverside Theatre's production of A Midsummer Night's Dream truly is delightful.
For tickets and information, call (319)338-7672 or visit RiversideTheatre.org.