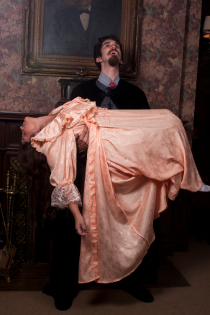 If any local-theatre venue sets the bar for scenic design, I'd make a case for Augustana College. Anyone who doubts the theatre department's candidacy should see its presentation of The Passion of Dracula, with its set that's the latest in a long line of remarkable constructs.
For this production, designer Andy Gutshall has created a grand, Gothic study with walls seemingly made of stone, suggesting that the room is part of a castle or stone mansion. The windows feature an arch that draws to a point at the top, as does the large archway leading to the patio at the back of the room. Gutshall leaves the impression that this study - which also includes the lower part of a winding stone staircase - is much bigger than the Potter Theatre space it inhabits, and the awesome nature of his work prevents this show's single-room setting from ever being boring.
So, too, do Gutshall's special lighting and sound effects, which include a lightning storm, flying bats, and explosive flashes during a particularly dramatic point in the Dracula story. Director Jeffrey Coussens and his cast also add an appropriately eerie and tense air to playwrights Bob Hall's and David Richmond's tale, and there's even perfectly composed original music, written by Jacob Bancks, employed for Dracula's theme.
Taking place in the study of Dr. Cedric Seward - played by a rapidly-speaking Joe Oliger as if the finality of each sentence was more important than the sentences themselves - Bram Stoker's famous story here is transplanted to England. Dr. Seward, who runs a mental hospital, joins his fellow doctors, a reporter, and a lord in seeking the killer of several village girls, the timing of their deaths coinciding with the arrival of the visiting Count Dracula (John D'Aversa). Dressed by costume designer Ellen Dixon in the requisite black cloak, but also with a blood-red, sparkling brooch at his neck and a billowing pirate shirt tucked into high-waisted, perfectly-fitted black pants, D'Aversa (speaking in a flawless "Transylvanian" accent) admirably balances the stateliness of the Count with the foreboding danger of Dracula.
Stoker's familiar cast of characters is also present, including one of my favorite literary creations: Renfield. Here, Joshua Pride plays Dracula's loyal servant less as a crazed young man and more as a person in full control of his faculties - intelligent, even - who eats flies and hears the Count in his head not because he's crazy but because his seemingly crazed antics are actually a sense of "enlightenment." Professor Van Helsing is also a delight here, as Keenan Odenkirk, with a thick German accent, animates the famed vampire hunter with a touch of eccentricity.
Van Helsing joins Aubrey Waddick's poised intellectual Dr. Helga Van Zandt, Payton Brasher's masculine, mutton-chopped Lord Godalming, and Philip Tunnicliff's endearingly amiable reporter Jonathan Harker in protecting Wilhelmina Murray (Giselle Gaztambide) from the clutches, and fangs, of Dracula. Yet were it not for the spell the Count casts over her, I would think Gaztambide's independent-minded Wilhelmina didn't need much protection. In truth, during Friday's performance, her character reminded me of the strong, passionate Dr. Callie Torrez from Grey's Anatomy.
Debo Balogun's Jameson, a servant to Dr. Seward who speaks with a proper British accent but drops his "h"s Cockney-style, also impresses, and Count Dracula's brides (Megan Hammerer, Shannon Ryan, and Madison Mortenson) deserve mention for their creepy hissing and fluid, low-to-the-ground movements as they lurk outside the windows whenever Dracula appears. They're all part of the effectively haunting air Coussens creates in Augustana College's The Passion of Dracula, an appropriate staging for the Halloween season.
The Passion of Dracula runs at Augustana College's Potter Theatre (3701 Seventh Avenue, Rock Island) through October 26, and more information and tickets are available by calling (309)794-7306 or visiting Augustana.edu/arts.