My kids grew up on Disney's Beauty & the Beast. I've seen the animated movies and TV specials. I've tripped over toys. I have faded photos of my daughter dressed in a brilliant ballroom gown. I've listened to Alan Menken's soundtrack (with lyrics by Tim Rice and Howard Ashman) hundreds of times, seen the story performed on ice, and watched the live-action film earlier this year. But I'd never seen the Broadway-musical adaptation, and now that the Timber Lake Playhouse has opened its extravagant version of this classic tale, I can cross the live version off of my theatrical bucket list, too.
For those of you who may have been locked in a spellbound castle for the last couple of decades, let's quickly review the story as written by Linda Woolverton: One stormy night, many years ago, an old beggar woman asked an arrogant prince for shelter from the stormy weather. His refusal outraged the woman (who was actually an enchantress), and she cast a spell over the prince and his castle, transforming him into an angry, hideous monster whose curse can only be broken by finding and falling in love with a young beautiful maiden.
The maiden Belle (played here by Anna Catherine Smith) may be young and beautiful, but has become the village oddball because of her devotion to reading every book she can get her hands on. And when her quirky inventor father Maurice (Richard Gomez) gets lost in the woods surrounding the bewitched castle and is taken prisoner by the castle's terrifying Beast (Ben Danielowski), Belle rescues him by agreeing to be imprisoned in her father's place.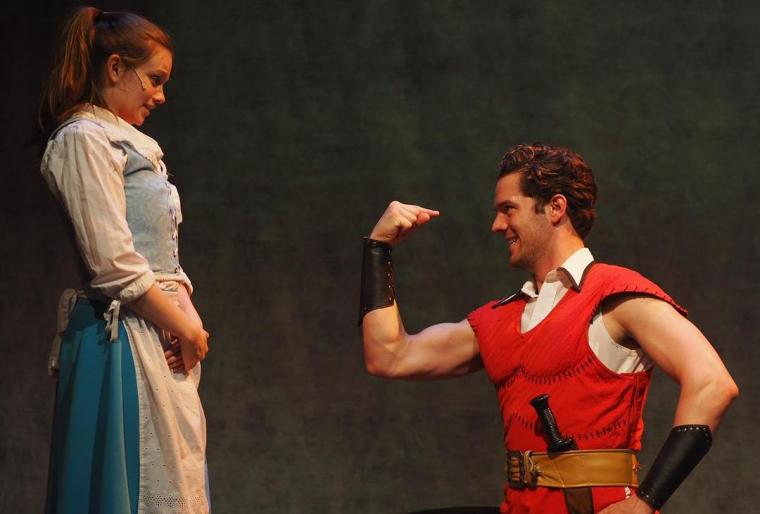 In her iconic Beauty & the Beast role, Smith is nearly flawless. Her singing is exceptional, her look is perfect, and her acting is a study in watching a skilled performer keep a character alive and energized every moment on stage. I appreciated that she made Belle her own by elevating the feistiness and strength of the role, Smith's chemistry with Gomez's Maurice was some of the best in the show. Gomez is wonderful in his own right as this peculiar Papa figure, and he and Smith are exquisitely tender in their duet "No Matter What."
When the village muscle-head Gaston (Trevor Vanderzee) proposes to and is rejected by Belle, it sets him up to be the antagonist who will do anything to regain face in front of the rest of the townspeople. Watching Vanderzee is pretty darn close to seeing the cartoon come alive on stage. His strapping stature is matched by a rich baritone voice that oozes arrogance every time he sings.
Only after Belle stands up to the Beast does she realize there is a gentle heart behind the bluster and fur, and Danielowski brings the Beast alive with a marvelous singing voice, especially in closing Act I with "If I Can't Love Her." I do, however, wish that he had developed a more intimidating and hostile personality in his portrayal, which would have made his transformation to a kind and loving Beast (and Prince) more emotionally satisfying.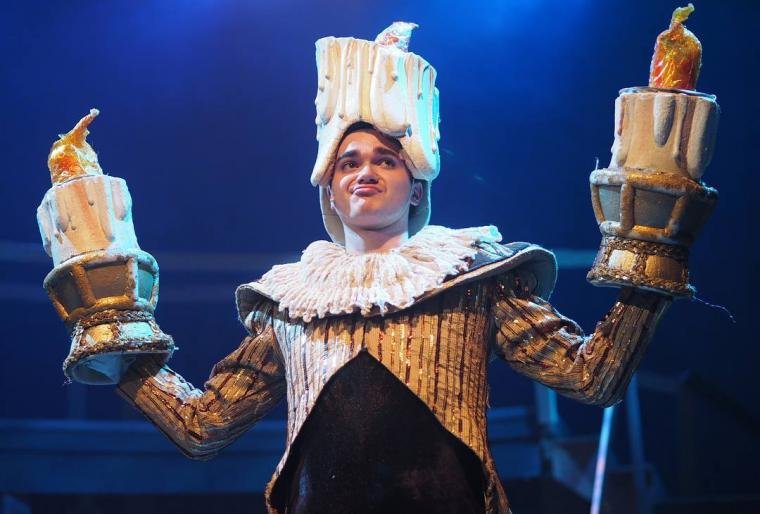 Playing matchmaker to Belle and the Beast are the castle servants who were transformed into utensils, clocks, fine china, and other furnishings under the enchantress' spell. They're at their most enjoyable when filling the stage and welcoming Belle with the show's classic "Be Our Guest," and a special shout-out must go to young actor Anthony Selmi, who is so darned cute as the cracked teacup Chip.
Mounting the Disney-fied version of this first-rate fairytale is no small feat, and Timber Lake's new artistic director Paul Stancato takes this complex beast by the horns not only as director, but as choreographer, too. Stancato and team clearly put a lot of overtime into this bigger-than-life spectacle. Unfortunately, during the June 7 opening-night performance, there were many gremlins that often inhibited the performance.
Several microphones were not working properly throughout the evening, and along with the late lighting cues and other misfires, I was left feeling as though I were watching a dress rehearsal rather than an opening-night production. To be fair, there are literally hundreds of lighting and sound cues, plus special effects, fog machines, projections, flying actors, large set pieces, oodles of costumes, and over 40 cast members making this a truly beastly undertaking, and the audience members (especially the children in attendance) were very receptive and appreciative throughout the performance.
Although the show's opening may have been under its own enchanted spell, Timber Lake's Beauty & the Beast is a tremendous spectacle in which children of all ages may once again fall in love with this tale as old as time.
Beauty & the Beast runs at the Timber Lake Playhouse (8215 Black Oak Road, Mt. Carroll) through June 17, and more information and tickets are available by calling (815)244-2035 or visiting TimberLakePlayhouse.org.