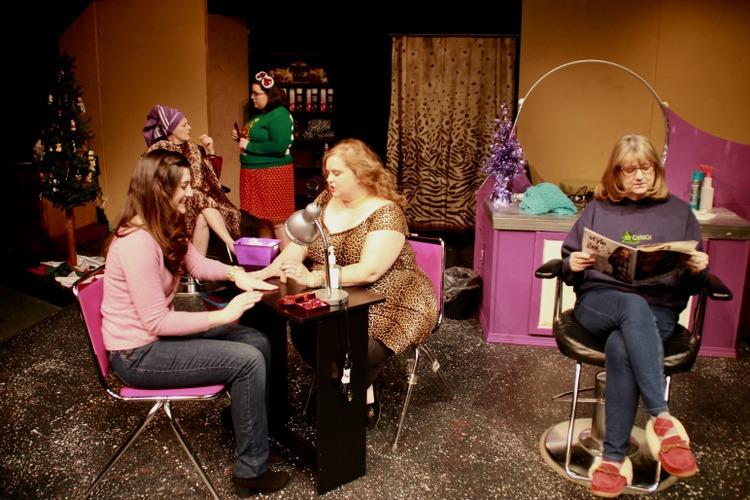 What really goes on in a beauty salon? As someone follicly challenged, I have wondered what happens behind all the glamour posters, hair products, and Hollywood-scandal magazines: Certainly there's more than stereotypical gossip between the customers and their stylists – right? Well, the truth is out. The Playcrafters Barn Theatre production of Steel Magnolias lifts the veil and exposes the beauty-shop mystique, and at least in this particular shop, Southern ladies come to share their fears, secrets, joys, and love with their very best friends – all while getting the perfect shampoos, colorings, and styles.
Steel Magnolias follows the lives of six women in Chinquapin, Louisiana, over the course of nearly two years as their lives intertwine with small-town gossip, charm, and declarations of allegiance. Penned by playwright Robert Harling, the story is based on Harling's family and was written to help him cope with the death of his sister in 1985. Oftentimes comedic, with moments of heartbreaking drama, the entire plot takes place in Truvy's Beauty Salon where each character can literally (and metaphorically) let down her hair.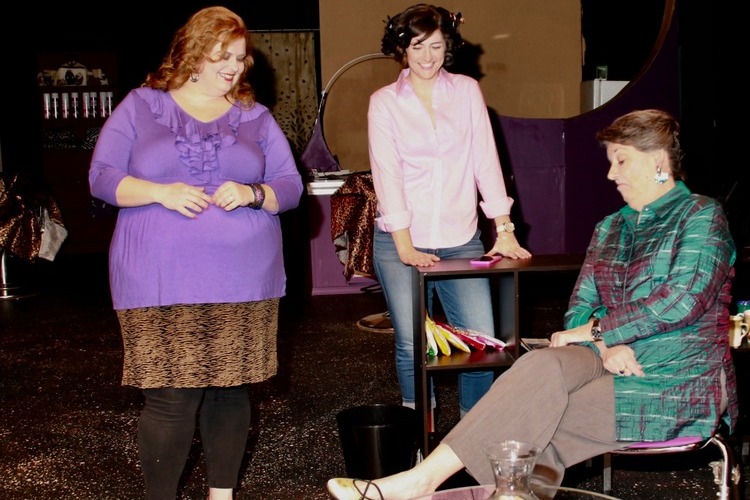 In the role of Shelby, Leslie Munson is well-cast as a young woman whose life is really just beginning. We first meet Shelby (and the others) as she arrives to get her hair styled for her wedding, and Munson looks the part, bringing a kind, hopeful outlook to her role. As Shelby's mother M'Lynn, Jackie Patterson appears as a very stressed-out helicopter mom through most of the story, and with good reason, as Shelby suffers from diabetes and may not always be able to handle the disease's effects. But on January 14, Patterson and Munson behaved as if irritated at each other through much of the night's performance, and I would've appreciated more intimacy between mother and daughter. (Patterson also appeared as if she needed a moment to think about her lines before delivering them, but certainly made up for it at the climax in which she exhibited real anguish accompanied by real tears.)
Susan Perrin-Sallak is perfectly cast as Steel Magnolias' recently widowed Clairee. She knows how to turn on that dignified, Southern-belle charm that harkens back to another era, and Perrin-Sallak's interpretation provides insight into this smart woman with a biting wit and huge heart. In the role of Ouiser Beadreaux, Patti Flaherty pushes the character to the brink of farce with her Walmart-customer costuming complete with oversize cane, glasses, and brash, booming voice. The impeccable timing and sardonic banter between Flaherty and Perrin-Sallak provides many of the show's biggest laughs.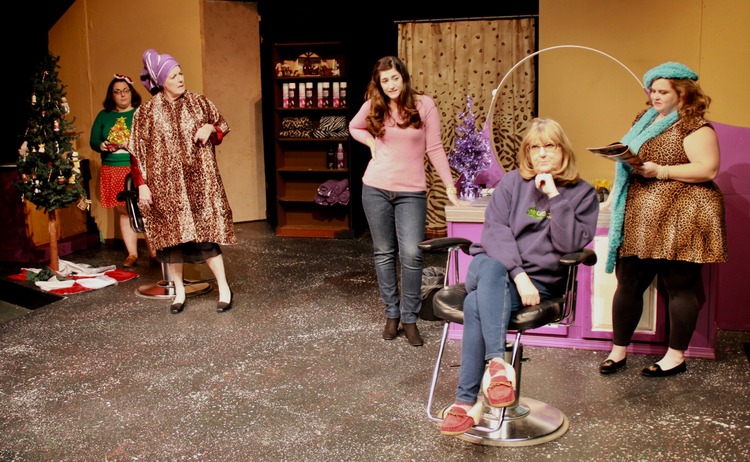 As salon-owner Truvy, Chris Sanders-Ring delivered some of the most naturalistic acting I've recently seen; she was even able to pull off a hoarse, authentic Southern drawl that makes me wonder if she has kin down in northwest Louisiana. Jaclyn Marta, meanwhile, plays the salon newbie Annelle, and brought a sweetness to the role that was a much-needed seasoning in the show's recipe. Marta's reactions while listening to her fellow performers were, at times, a bit broad, but her simple-natured approach to the part was largely on-target.
Director Donna Weeks obviously has real passion for the story and this production – her director's notes in the program and pre-show chat with the audience shared how diabetes has impacted her own life since she was 10 – and she did a solid job creating distinct and caring characters. However, while I don't know if the script has been updated by Harling, this production sets the 1987 play in the present, adding in references to Kate Middleton, iHeart Radio, cell phones, Bluetooth technology, and more. To me, these choices seemed forced into a script that may have been better left alone as what is now a 1980s period piece. (The show also features one of the roughest-looking sets I've seen on a local stage in quite some time. Although the locale should provide all the makings for fun, functional design, this set – with no designer credited in the program – could've used a little time in Truvy's chair for a bit of a makeover.)
Steel Magnolias has become an iconic piece of American theatre, and for good reason, as there aren't nearly enough plays written that bring together a female ensemble with such strong characters in such an endearing story. This particular bouquet of magnolias may, on Saturday, have still been in the process of blossoming, but I'm hopeful it will be in full bloom as audiences attend its closing weekend.
Steel Magnolias runs at the Playcrafters Barn Theatre (4950 35th Avenue, Moline) through January 22, and more information and tickets are available by calling (309)762-0330 or visiting Playcrafters.com.