While traveling to Thursday's presentation of The Wizard of Oz, which features much-loved songs by Harold Arlen and E.Y. Harburg, I pondered whether the Clinton Area Showboat Theatre's production would stick closely to the familiar images and characterizations from the equally loved 1939 film version. (As I prefer to see local theatre companies presenting unique versions of theatrical pieces, I hoped the Showboat would avoid copycat staging.) But once I settled into my seat, it took just a perusal of the program to know this wasn't going to be my grandfather's Oz, and a sense of excitement blossomed as I eagerly awaited the metaphorical curtain's opening.
The first notable changes, as evident from the program, are in the casting of Professor Marvel (double-cast as the wizard) and the Wicked Witch of the West. The former is portrayed by a female actor, while the latter is played by a male performer. Intriguing, no?
Jenna Haimes' take on Professor Marvel falls on the side of "odd gypsy," with wild hair and a beautiful, corseted gown adorned with a stereotypically gypsy-esque scarf hanging asymmetrically across the skirt - one of costume designer Jenna Damberger's many gorgeous ensembles. Haimes pulls more comedy from playwright John Kane's adaptation than is written for the character in the way she emphasizes her phoniness, making it obvious that Professor Marvel is merely guessing at her mental telepathy readings.
However, it's the moment after Haimes' wizard awards Caleb Jernigan's Tin Man his heart that proves her worth, and justifies the gender swap. As Haimes delivers the line "Hearts will be practical when they are made unbreakable," she loses the over-dramatic effect employed in her deliveries, and speaks with a personal understanding of the point, seemingly remembering when her own heart was once broken. It's a stirring moment, skillfully performed.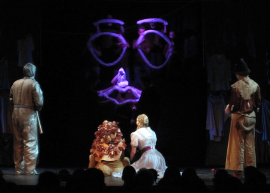 For his part, Nathan McHenry plays the Wicked Witch as a hilariously campy drag queen, rather than as a woman who happens to be portrayed by a man. In another of Damberger's fantastic costumes, McHenry is decked out in satiny black with a bustled skirt and large, bubbled sleeves. While the artist isn't listed in the program, the person responsible for McHenry's makeup deserves credit for the expert way in which the actor's cheeks and nose are contoured and his eyes and eyebrows are decorated. Any professional drag queen would be green with envy - and they, too, would be impressed with McHenry's portrayal, with his comically bitchy delivery of such drag-worthy lines as "Only she would wear those slippers with those stockings." As a whole, McHenry's Wicked Witch has the countenance and cackle of drag performer Sharon Needles, and judging by the raised volume in applause during Thursday's curtain call, McHenry's Wicked Witch is a crowd favorite - and rightfully so.
These two performances, however, are but excellent pieces in director Tommy Iafrate's exceptional concept for the material. With the help of scenic designer Steven P. House, he sets this Oz in a world of clothing. Dorothy's Kansas farm is simply a full clothesline, which the chorus members, serving as stagehands, begin to sway as the twister moves into the area. When the tornado hits, the ensemble members then grab the clothesline and rip down its length of shirts, pants, and skirts along the proscenium arch (revealing the rainbow painted on it) before grabbing pieces of clothing to whip about as they dance around Carly Berg's Dorothy - the only character dressed, and portrayed, similar to the movie's.
Once in Oz, the clothing motif continues (with green trees and brown clothes hung from a tree-shaped clothesline rope), and even the Wicked Witch's spells are clothing-related. As the witch decides which spell to cast, McHenry reaches into a closet with dresses on hangers and picks through them, naming the spells they represent. Consequently, when casting curses, McHenry tosses cloth patterned with poppies for the sleeping sequence, and yellow scarves for the necks of Dorothy, the Tin Man, Robert Rice's endearing Scarecrow, and (in more gender-reversing casting) Heather Baisley's New York-accented Lion when they're forced to dance the Jitterbug to the point of exhaustion. (And I've little doubt the Showboat's actors truly were exhausted after their flawless execution of choreographer Zachary D'Antonio's impressive, high-energy steps.)
This "clothing" theme renders Dorothy's dreamland journey as a big game of dress-up, which is fitting given that the people she knows in Kansas become the characters in her dream. The concept is magnificent and, while I mean no offense to the Showboat, this Wizard of Oz deserves a larger audience than the one the venue can adequately provide. More people than are able to should see Iafrate's vision come to life - and those of us who are able to are fortunate to have such a talented visionary entertaining us.
The Wizard of Oz runs through July 20 at the Clinton Area Showboat Theatre (311 Riverview Drive, Clinton), are more information and tickets are available by calling (563)242-6760 or visiting ClintonShowboat.org.