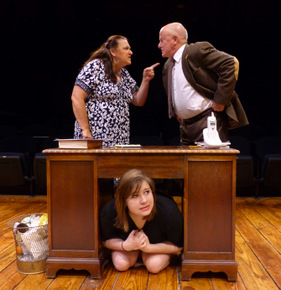 The Richmond Hill Barn Theatre's performance of Bingo at times feels like playing bingo - hoping for a letter and number combination that you don't quite get, but finding yourself pleasantly surprised when you make a full card by the end.
Allan Stratton's farce is a script that demands a lot of comedic timing with a major sense of urgency, and while director Dana Skiles' Thursday-night staging of the show highlighted a lot of its playfulness, it was, at times, missing the urgency. But there were wonderful moments of verbal ping pong that I just loved.
Bingo's story follows Josh Wielenga's David Pearce, a literature teacher who is hoping to make tenure - and who apparently doesn't have locks on his doors, as the rest of the cast swoops in and out of his home office.
We are first introduced to college student Linda, who is working on her poetry with David. Linda, over the course of the show, slowly ingests more and more drugs, and is extraordinarily well-played by Rebecca McCorkle, whose comedic understanding of the character shined throughout. (At the beginning of Act II, there's a scene between David and a very loaded Linda, and McCorkle's line deliveries left me giggling well after the show was over, as did her reaction to the lights being turned down - she thought she was going blind.)
Next we meet David's colleague Margaret Bip, an outspoken woman whose husband happens to be David's boss. Margaret confides that in order to get back at her husband, she told him that she and David were having an affair. Enter the slew of misunderstandings, and farcical gold. Jackie Skiles, as Margaret, commands the stage from her first line. Befriending a bottle (or two) of scotch and becoming ever more drunk as the show progresses, Skiles does an excellent job of playing inebriated but remaining coherent, never taking things as over-the-top as the script could easily allow for. She also has one very funny moment, with Margaret drunkenly mocking one of Linda's poems behind her back, that could have gone on all night.
Margaret's husband George is another of David's uninvited guests, and Greg Bouljon does an elegant job of playing this distraught husband. Bouljon jumps from angry to confused to sad, as one would if an affair was discovered, until his George becomes blinded by an enraged determination to find his wife in David's office. David, meanwhile, tries to placate Margaret and George and get them back together - despite the two continually missing each other while breezing through David's home - and Wielenga played the sympathetic and understanding sides of David well. But I was missing the character's sense of desperation all night, as David's genuine fear of losing his tenure, his job, or having even worse happen was not really present.
The final character to enter this melting pot is Bryan Woods' insurance salesman Weldon Plum, a man fixated on selling David death insurance. Woods, in a great characterization, makes confident acting choices that are enjoyable to watch, and even when playwright Stratton makes dramatic leaps from one idea or plot point to another, Woods does his part to make the script work. (For those wondering, the first hint why the show is called Bingo comes from Weldon having a meltdown in David's office about his wife being addicted to the game, even though she never wins.)
It works especially well when the pacing really ramps up, and I loved the quick bursts of dialogue that made it seem as though the characters were playing catch, or like we were watching a tennis match. Whenever these speedy verbal tosses would pop up, the cast would be so on top of the script that Bingo reminded me of a comedy you'd see on the BBC. At one particular moment, there were even three different conversations overlapping one another, and director Skiles made great use of all four corners of her space here, allowing the physical choices to match the verbal ones.
Bingo, at times, seems like it has a cynical or dark message suggesting that every time you think you're about to win, you lose. But that message gets turned around through Richmond Hill's winning presentation, as even Linda, perhaps the looniest of all the show's loons, smartly states, "On an elevator, sometimes it goes up, and sometimes it goes down. Just like life."
Editor's note: Author Brent Tubbs will be contributing reviews alongside the Reader's other new local-theatre correspondents Jeff Ashcraft, Dee Canfield, Heather Herkelman, and Victoria Navarro.
Bingo runs at the Richmond Hill Barn Theatre (600 Robinson Drive, Geneseo) through November 15, and more information and tickets are available by calling (309)944-2244 or visiting RHPlayers.com.