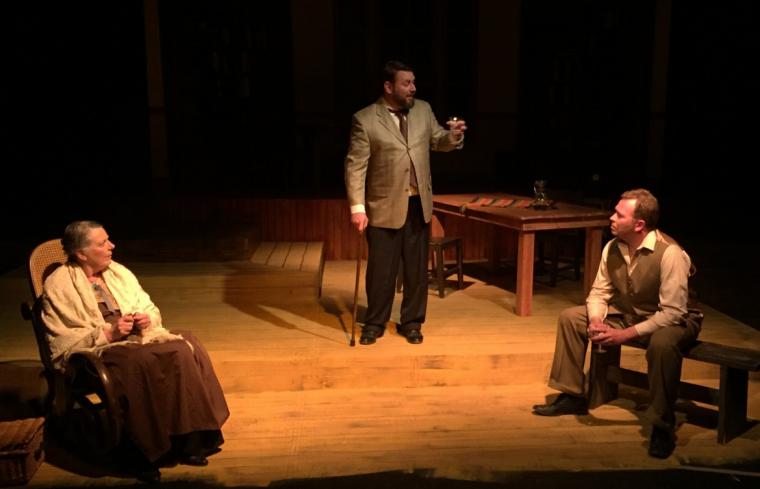 "The word 'theatre' comes from the Greeks. It means 'the seeing place.' It is the place people come to see the truth about life and the social situation." – Stella Adler
The QC Theatre Workshop's latest production, Pulitzer Prize-winning playwright (and Davenport native) Susan Glaspell's Inheritors, is rightly the place to look for one's truth in life, and to understand views on a diverse archive of social situations.
Glaspell's play centers on several generations of the Morton family. At the beginning, we are introduced to Silas Morton, a principled 1880s farmer with a vision to deed a portion of his family farmstead toward the establishment of a place of higher learning – "a college in the cornfields." Moving forward 40 years, we meet Silas' granddaughter Madeline, a student at the now well-regarded Morton College. Madeline is a strong-willed young woman who finds herself on a collision course with both her family and family friend Felix Fejevary, the college trustee who is working with state politicians to secure additional funding just as Hindu students are arrested for protesting the United Kingdom's oppressive control over India.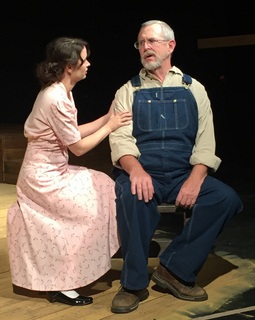 Director Aaron Randolph III has adapted Glaspell's 1921 script and created a nearly cinematic juxtaposition between the 1880s and 1920s storylines, shifting our focus forward then back multiple times between decades to reveal the narrative in new, divergent-yet-parallel threads. The cool part of Randolph's adaptation is its Utopian vision that clearly crosses through the generations, and Inheritors' individual segments, by tying Silas to Madeline, and then blending them into one unified whole at the show's conclusion.
Madeline is played by QCTW veteran Jessica Denney, who may be petite in stature but whose portrayal of Madeline is fiercely intelligent and righteously confident in her fight for social justice. Denney dominates the stage, and boldly goes will-to-will with each of the notable actors who enter her sphere. Another QCTW veteran (and a Reader employee), Mike Schulz also turns in vigorous performances in the dual roles of Silas and Morton College's Professor Holden. Schulz is masterful at showcasing an idealistic and determined farmer in contrast to a professor whose beliefs ultimately run into a brick wall masked as pragmatism.
This show is a who's-who of area-theatre participants, with the likes of Abby Van Gerpen, Jeremy Mahr, Jordan McGinnis, and Michael Carron fleshing out the cast. Brant Peitersen brings his customary strength to the stage as Mr. Fejevery, a close friend of Silas, and later plays a middle-aged version of Fejevery's son. However, it is in playing the senior character that the performer absolutely displays his acting chops by providing this Hungarian immigrant with varying shades of delicate calm and wisdom that offer a fresh view of Peitersen's theatrical skills. Also of note is Susan Perrin-Sallak, who (like most of the cast) plays dual roles, but it was in the role of Madeline's Aunt Isabel that she dropped an emotional grenade when learning that she may never see her niece again. Perrin-Sallak shed actual tears in what, for me, was the story's deepest spiritual valley.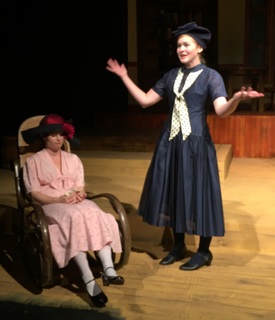 Adding to the production's film-like quality is Alexander Richardson's lighting design. At the final dress rehearsal on August 18, I particularly enjoyed the 19th Century scenes, in which Richardson's lighting created an environment that might recall a memory of a yellowed photo in an old family album. I also admired the very soft blue lights that appeared on each side of the set between scenes, which allowed us to watch the actors change into their costumes, and into their next characters, for the upcoming segments right before our eyes.
In today's world of political histrionics, I must admit that I am not a fan of plays that insist on pushing a political agenda no matter how worthy the topic. And yet Glaspell's script is very well written; each word, sentence, and monologue combines into a great symphony with wonderful melodic phrasing followed by strong crescendos of intense interactions. If Stella Adler is correct and theatre is "the seeing place" – an honest reflection of society's mirror – then Inheritors is as pertinent in 2016 as it must have been when first performed. Glaspell's play may make you uncomfortable, or stronger in your convictions, or proud to be from the same city as its author. But no matter how you'll feel, this is one show you should check out – a 90-minute theatrical experience that is familiar yet distinct, and one that may very well allow you to witness, on-stage, your own truth, or your own unique social situation.
Inheritors runs at the QC Theatre Workshop (1730 Wilkes Avenue, Davenport) through September 4, and more information and tickets are available by calling (563)650-2396 or visiting QCTheatreWorkhop.org.