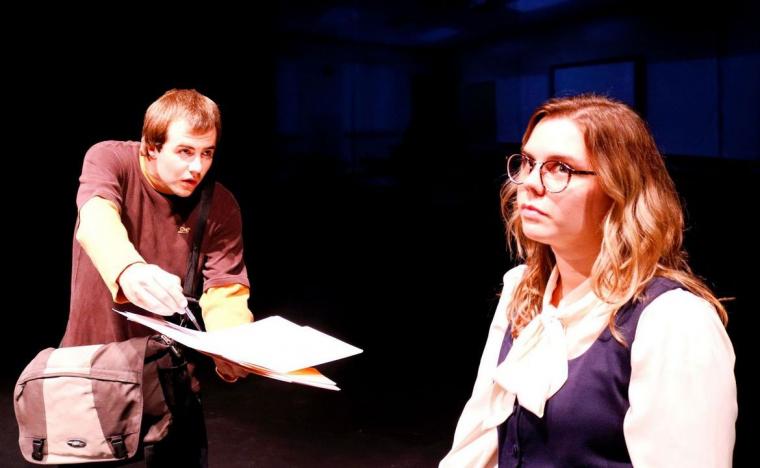 You may think a teenage dramedy that confronts complex social issues such as homophobia, abortion, teacher/student affairs, and other unspoken issues could be a seriously dry, heavy lump that leaves an audience more burdened than amused. Yet I've always loved the John Hughes film The Breakfast Club and how it comedically compartmentalizes its stereotypical high school students into the micro-environment of Saturday detention, forcing them to face who they are and where they fit in their high-school hierarchy. So it was consequently interesting to sit in on the September 25 technical rehearsal of the Playcrafters Barn Theatre's newest, and quite admirable, Barn Owl Series production Speech & Debate.
Written in 2009 by Stephen Karam, Speech & Debate looks beneath Breakfast Club-esque stereotypes into the awkwardness of what it means to be in high school, diving deeply into the personalities of three outlier students in Oregon whose lives careen together over sexuality, secrets, and the need for acceptance while the script simultaneously pokes fun at education, teen angst, and the very social topics it aims to elevate.
Feeling slighted by the adult world, Solomon (Jordan Webster-Moore), Diwata (Helene DeVine), and Howie (Jordan McGinnis) join forces, like a dorky team of Avengers, as a self-defense to the cruel environment of the high-school hallways. When Solomon, as the school-newspaper reporter (and one who acts like the next Bob Woodard), learns of an alleged sex scandal involving drama teacher Mr. Healy, he becomes a bloodhound on a coon hunt. His detective work leads first to new-kid-in-town Howie, who is of legal age and openly gay. Next, his reporter's nose leads him to Diwata, a colorful, talentless actress whose live-streaming video blog has exactly two viewers: Howie and Solomon. Having not been cast as the lead in the school's production of Once Upon a Mattress, Diwata has settled on the speech-and-debate team as an extracurricular activity, and she pressures the two hesitant guys into joining her by promising that their participation will be in all their best interests, helping them all deal with their closeted skeletons.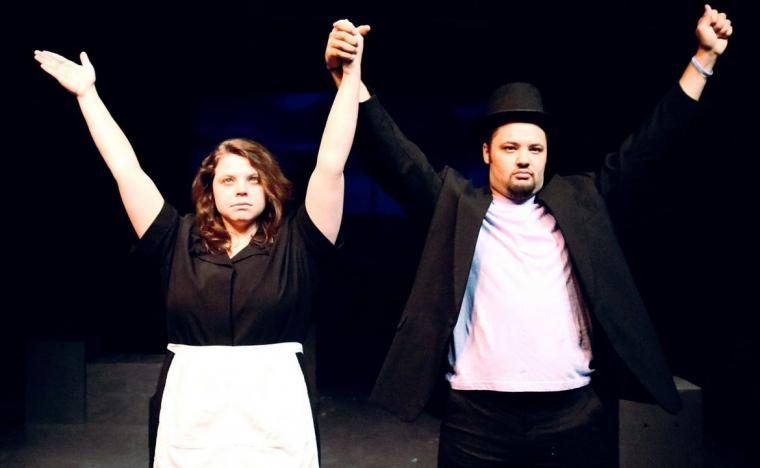 As Howie, McGinnis shows character range by accessing his funny bone at many points throughout the show, and he's even better in his character's more reflective moments when he tries to be the reasonable adult of the triune. Webster-Moore is splendid as the straight-laced and over-eager high-school cub reporter. His portrayal had me wondering whether his version of Solomon was on the autism spectrum, as he seemed to have an innocent oblivion (at times) to social mores and societal cues – a choice that made the character maddening and endearing at the same time. DeVine's take on Diwata, meanwhile, is a beautiful trainwreck that I could not take my eyes off of, and I mean that with the highest respect. The performer has created a purposely manic and flamboyant character whose cockiness is matched only by her outrageousness, especially when drunkenly singing her live-streaming blogs.
Mattie Gelaude perfectly rounds out the cast playing both a well-meaning teacher trapped by Solomon's "on the record" questioning, and, later in the play, a local radio reporter coercing a feature story from the trio's group-interpretation dance piece for their speech and debate competition.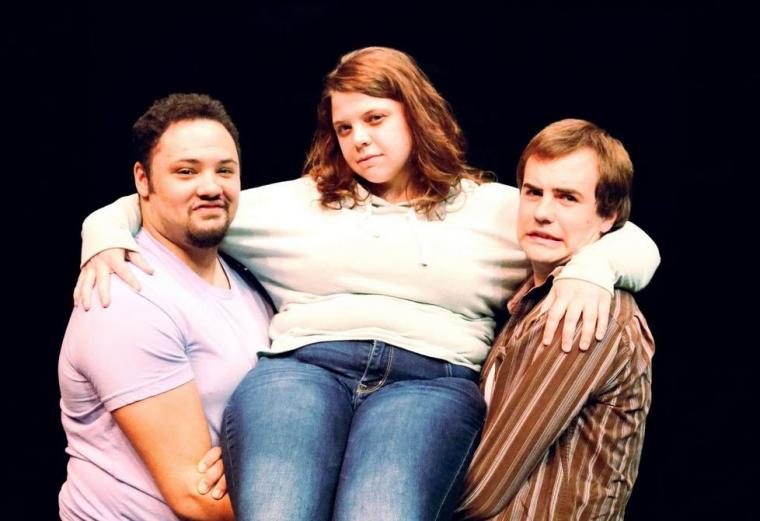 In the hands of director Max Moline, Speech & Debate's moments of laugh-out-loud humor are nicely juxtaposed against Karam's intense story thread portraying the realities of teenage angst. His scenic design is a simple black-box format utilizing rehearsals boxes for chairs, beds, tables, and even walls and doorways. However, I haven't previously seen projections used this effectively on the Playcrafters stage, as they fill the backstage wall with images of classrooms and the like. Moline also designed the projections, and the most effective ones illustrated online-messaging discussions that were realistic and instantly recognizable. I also enjoyed Alexander Richardson's sound design that (at times) utilized loud, teen-appropriate music along with radio reports and other well-timed sound effects.
To be sure, the Speech & Debate I attended was a rehearsal, and there were a few rough spots. Based on what I saw, though, Moline and company should be absolutely polished and ready for audiences by Thursday's opening night. This one-hour-40-minute one-act play does employ adult language and deals with very adult situations, but it's heartfelt, realistic and very funny – a fine show that deserves a sizable turnout – so don't let the grown-up subject matter turn you off. After all, isn't that what transitioning from adolescence to adulthood is all about?
Speech & Debate runs at the Playcrafters Barn Theatre (4950 35th Avenue, Moline) through September 29, and more information and tickets are available by calling (309)762-0330 or visiting Playcrafters.com.