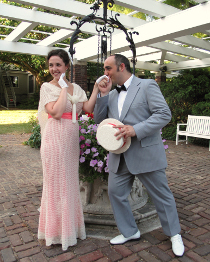 Quad City Music Guild's new production of The Music Man - the Meredith Willson classic running August 5 through 14 - stars husband and wife Christopher and Erika Thomas as romantic leads Harold Hill and Marian Paroo. And just to be clear: Yes, the couple knows how close to nauseatingly adorable it is for them to be playing these roles opposite one another.
"I'm kind of calling this my nursing-home story," says Erika with a laugh. "Like when our grandchildren come to visit, it'll be, 'You know, your grandfather and I were in Music Man once ... !'"
"And they'll be, 'Uh oh ... here comes that Music Man story again ... !'" counters Christopher, also laughing.