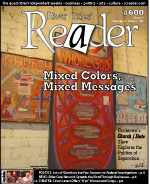 When Sue Gabel's mother got sick two years ago and had a stroke, the doctor told the family that she would need to move from independent living to assisted living. Gabel and other family members scouted various facilities in the Quad Cities and selected one that told her they had a room for their mother.
When she arrived, though, the situation was different. "They put her in an empty room that had absolutely nothing in it but a bed and a table," Gabel said. They further told her that they still needed to evaluate her mother before placing her, and that they had a room in an Alzheimer unit that would cost an additional $1,000 to $1,200 a month.
"I didn't know what to do," Gabel said. "She is going to go absolutely nuts if she's in that [bare] room any longer."
Gabel had heard about the Quad City Elder Care Network through her workplace, Kraft. She called the network number and was told that she had a right to an evaluation by another facility. "They walked me through that process," she said. The other facility "evaluated Mother right in the lobby." The family chose that second facility, where Gabel's mother has lived the past two years.
The Quad City Elder Care Network is primarily a free referral service geared to employees who are facing the challenges of caring for an older relative. Elder-care issues often catch people unprepared, and until now there hasn't been a single connection point between the community and the wealth of elder services available in the Quad Cities.
Nancy Phelps first heard of the Quad City Elder Care Network as an employee-assistance professional at Family Resources, Incorporated. She had a mother-in-law with serious health problems and a low income, and a representative of the Quad City Elder Care Network called Family Resources offering services to Phelps' company. "This is exactly what I need," Phelps recalled thinking. "If I'm having this [problem], I'm sure there are a lot of other people who are, too."
Phelps said she then brought the Quad City Elder Care Network to companies for which Family Resources provided mental-health services. "To me, it was just a perfect fit," said Phelps, who is now director of community-enrichment services at Family Resources.
That's because the Quad City Elder Care Network is not only about meeting the needs of older adults; it's also about reducing the stress of elder care on family members.
Straight Answers
Gabel said that if she hadn't contacted the Quad City Elder Care Network, she probably would have left her mother in the other facility, and paid the extra money for Alzheimer services she didn't yet need. "If you don't know who to call, you're at their mercy," she said. "I wouldn't have known I had any other options."
When Gabel called the Quad City Elder Care Network, the service was in its infancy. She said that she has since called the organization for many issues. "I know I can call them," she said. "I know I can get straight answers."
The not-for-profit Quad City Elder Care Network was created roughly two and a half years ago with the goal of being a clearinghouse for information about elder care in the Quad Cities. Rather than marketing to the general public, the organization is appealing to businesses' self-interest.
The idea is that employees take time off from work to care for an elderly parent, and when they are at work, they're not focused. So when businesses use the Quad City Elder Care Network, they do so with the expectation that they'll lose less productivity to elder-care issues.
And elder-care is a growing concern in the business community. An estimated one in four households is caring for an elderly parent, and with Baby Boomers beginning to retire, that rate is only going to go up.
Debbie Sommers-Krause, who runs a stress-management private practice and is the Quad City Elder Care Network's new interim executive director, noted that many working adults are part of the "sandwich generation" - people simultaneously taking care of their children and parents.
"All of a sudden, you're responsible for everything," Gabel said. "And quite frankly,we're not prepared to do that 99 percent of the time."
A 2003 survey by the Society for Human Resource Management found that 47 percent of human-resources professionals said they had seen a growing number of employees with elder-care issues over the past several years. And Met Life and the National Alliance for Caregiving in 2000 estimated that elder care costs employers more than $29 billion annually.
"This is impacting businesses," said Julie Arndt, the Quad City Elder Care Network's outgoing volunteer executive director and its treasurer.
"No employer can afford the loss of productivity" associated with elder care, said Richard Schillig, a Quad City Elder Care Network board member who runs an insurance and investment business. When employees are taking phone calls about a parent, filling prescriptions, or taking an elderly relatively to the doctor, it costs businesses, he said.
One-Stop Shopping for a Multifaceted Problem
Roughly 50 businesses - covering about 10,000 employees - have signed up with the Quad City Elder Care Network; there is no cost for the service. Arndt said participating companies include Oscar Mayer, Alcoa, and Family Resources.
The benefits to companies are twofold: Employers have a place to direct workers who have questions or issues related to elder care; and the Quad City Elder Care Network can provide educational sessions if many employees are dealing with similar issues - such as living wills. (Quad City Elder Care Network earlier this month hosted a seminar for 150 military veterans at the Cener for Active Seniors, Incorporated.)
The starting point for most workers will be the Quad City Elder Care Network's phone number. The Quad City Elder Network will often give the caller several referrals for the services they need. "We can accomplish a lot in a phone call," Arndt said. The Quad City Elder Care Network does not evaluate or rate services but can give people advice on resources, options, and legal rights.
One reason that elder care is such an important issue is that it encompasses so many things. Unlike the care of healthy children, elder care typically involves myriad considerations: emergency medical care, routine medical care, home care, nursing homes, legal services, financial issues, and funeral and other end-of-life preparations. Aside from being expensive and time-consuming, the volume of responsibilities can be confusing and overwhelming.
"Aging touches everyone," Arndt said. "It also touches a wide range of businesses."
And few companies are equipped to deal with elder-care issues, Schillig said. "Most human-resources departments ... really do not have the resources available for individual employees," he said. The problem is particularly acute for small companies that don't even have separate human-resources departments or employee-assistance programs. "Those are the employers that are really taxed," Schillig said.
What is happening with elder care is a function not only of demographics but of dispersion, Sommers-Krause said. Previous generations tended to live in the same communities as their extended families, but people are much more mobile now. Children therefore often end up dealing with elder-care issues from afar - which adds more stress.
Sommers-Krause did her Ph.D. dissertation on how stress affects job performance. She tracked job performance and three other factors - stress, exercise, and weight - and found a correlation between stress and lower job performance. Sick employees stay home, she said, but stressed-out workers come to work and bring their worries with them.
While larger companies have employee-assistance programs, Sommers-Krause said, they primarily deal with workers who are in crisis. "You're getting to people hopefully before they get to crisis" with the Quad City Elder Care Network, she said.
In the Quad Cities, elder care can be even more confounding because of the state line that divides the community. With two state jurisdictions, there's no single place for senior citizens or their children to turn for elder-care resources. For instance, Alternatives for the Older Adult (in Illinois) and the Center for Active Seniors, Incorporated (in Iowa) are the most prominent senior-based organizations in the Quad Cities, but they generally only serve one side of the river.
"We daily see people that are lost in the system," Arndt said.
"There are resources out there that people don't know about," Sommers-Krause said.
The problem isn't that there are too few providers of elder-care services. "We are very, very rich" in resources, Arndt said, although she said they aren't "adequate" to meet everybody's needs. The trouble is that all these services are fragmented.
The Quad City Elder Care Network has fielded approximately 150 calls in its two-and-a-half years, nearly all of those over the past 18 months. "Basically, the first year people didn't know we existed," Arndt said. Now the organization gets between 10 and 15 calls each month.
Future Plans
Beyond being a clearinghouse, the Quad City Elder Care Network plans to establish a foundation for people who can't afford services but aren't eligible for state aid, Arndt said. That goal is part of the organization's five-year plan.
The network is also applying for grants for a paid executive director. Sommers-Krause said the goal is to have a paid person in that position by the beginning of next year. Arndt stressed that the Elder Care Network is taking care not to apply for grants that otherwise might fund direct elder-care services. "We do not want any money taken away from existing services," she said.
At this point, the network is funded through its network partners' membership dues, Arndt said. Roughly 50 elder-care organizations are "network partners" in the Quad City Elder Care Network. That means they've been through an application process and paid a $125 base membership fee.
Network partners include banks, funeral homes, assisted-living centers, attorneys, nursing homes, realtors, and medical-equipment companies.
Arndt and Schillig said that the value in becoming a network partner is the opportunity to share experiences and strategies with other companies or organizations involved in the elder-care industry. "A function of the network partners is to share information," Schillig said.
As a young organization, the Quad City Elder Care Network still has plenty of challenges. One is educational, in terms of informing businesses, the public, and other elder-care organizations what the network is trying to do.
But the best testimonials will be from people who've used the service and found it valuable. "They have helped me through so many things," Gabel said.
For more information on the Quad City Elder Care Network, visit (http://www.qceldercare.com) or call (563) 359-0093.