As it moves toward the biggest reinvention of the city since the creation of The District in 1992, Rock Island is also working to make itself Artist Central in the Quad Cities.
The big ticket in Rock Island is the $15-million Armory Park, which would reclaim the city's riverfront both from its current flood protection and Jumer's Casino Rock Island - which expects to vacate its current Mississippi River location by the end of the year for a complex off Interstate 280 in southwest Rock Island.
Meanwhile, three arts-related projects are now in various stages of development in Rock Island.
• The Quad Cities Wood Turners and DeSoto Potters expect to move into a space on Third Avenue near 24th Street in the next few months.
• Developer Jeff Guthrie will soon begin construction on the DuMarché Market on Third - six live/work artist spaces available for purchase a few blocks to the west.
• And the Minneapolis-based not-for-profit developer Artspace is exploring using the abandoned Lincoln School on Seventh Avenue for between 25 and 30 live/work rental spaces for artists.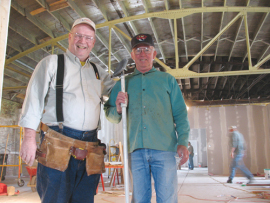 The first two are being supported financially by the City of Rock Island, and the third would almost certainly have some city funding attached if it comes to fruition. All three reflect the importance placed on the arts in downtown Rock Island's 2007-10 strategic plan, which lists as one of its nine objectives to "enhance the creation and performance of the arts for sale or public display in the downtown."
The District gave Rock Island's downtown a clear identity as the Quad Cities' destination for nightlife, and the city was among the first in the area to embrace downtown living as a key component to a vibrant central city. That philosophy continues with 21 residential units in the under-renovation McKesson building, eight of which have already been pre-sold. The Rock Island Economic Growth Corporation is leading the project, at 110 19th Street, and the City of Rock Island has invested $1.1 million in the $6.6-million project, according to Brian Hollenback, executive director of Renaissance Rock Island.
Armory Park and these arts-related developments represent the next evolution of Rock Island's downtown, and a recognition that the other Quad Cities have caught up to Rock Island in their redevelopment efforts.
The park could wrest from Davenport its largely unchallenged title as the Quad Cities' best riverfront, while the three incremental arts projects could help bridge the gap between The District and residential neighborhoods to the south.
"Downtown Rock Island wants to be a place where art is created," said Jennifer Fowler, community marketing director for Renaissance Rock Island. While the Figge Art Museum and the Bucktown Center for the Arts have established Davenport as a place to exhibit and see art, "we're a little more grassroots over here," she said.
Artspace - which gave a presentation at a study session of the Rock Island City Council on Monday - was invited to consider Rock Island by Fowler and Greg Champagne, the city's director of community and economic development.
Wendy Holmes, Artspace's vice president of consulting and resource development, said her organization is intrigued by how a live/work development for artists "seems to fit with what the city is doing."
Live, Work, Create
The Quad Cities Wood Turners, who had outgrown their meeting space in the Union Arcade building in downtown Davenport, were attracted by "how deeply the Rock Island mayor and city council were interested in expanding the artistic community," said Jim Loula, the organization's president.
The 7,500-square-foot DeSoto Arts Building is located at 2324 Third Avenue and has been owned by the City of Rock Island since 2006. The Quad Cities Wood Turners and DeSoto Potters will each pay $1 in rent a year for five years, with another five-year term available at a rent to be determined. The two arts organizations have agreed to pay the building's property taxes and utilities.
Most wood-turning organizations meet in basements and other borrowed spaces, Loula said, and the DeSoto Arts Building gives the Quad Cities Wood Turners meeting, display, and work space - with at least six lathes. "We're tickled," he said.
The city spent $190,000 on fixing up the building, and Loula admitted that the space is inexpensive. But the wood turners - with roughly 75 members - have put more than $100,000 in sweat equity in the building, he said. "We have a swarm of people who come down there," he added.
The DeSoto project expands Rock Island's arts corridor, and its proximity to the Mark Fowler's Liquid Fire studio (at First Avenue and 24th Street) could represent the beginnings of an arts-creation district.
Guthrie's project, four blocks west of DeSoto at 2010 Third Avenue, could build on that. The City of Rock Island demolished buildings on the property and sold it to Guthrie (who is both developer and contractor) for $1, and it provided a $150,000 grant to reduce the sale price of four units. Rock Island Economic Growth Corporation and U.S. Bank are also partners in the project.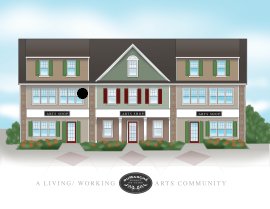 For DuMarché Market on Third, Guthrie will build two buildings that face each other, each with three residences/workspaces. Between the buildings will be a de facto courtyard that could serve as a venue for events showcasing residents' works. "It's almost like an arts alley," he said.
The goal, Guthrie said, is to "extend what's happening in Rock Island. We're kind of another link."
Two units will be sold (to people making 80 percent or less of median income) for $129,000; two will be sold (to people making 120 percent or less of median income) for $139,000; and two will be sold at the market rate of $159,000. Each unit will be approximately 1,500 square feet, and can be expanded another 300 to 400 square feet, Guthrie said.
In addition to the lower purchase price for the units with income restrictions, purchasers can further reduce their mortgage-payment cost with a $30,000 second mortgage that only needs to be repaid when the property is resold. That effectively means the four income-restricted properties can be purchased for between $99,000 and $109,000 each.
Guthrie said the buildings will be erected by July, with each unit finished once it's sold.
DuMarché Market on Third would provide a residential element to an area that has seen more than $10 million in investment in recent years, mostly in businesses.
That sort of inertia would be welcome at the potential site for Artspace. The Murphy House Lofts were a major investment on Seventh Avenue, but uncertainty surrounding four neighboring properties has prevented much progress beyond that project. It's still uncertain what will happen with the Larson Funeral Home, the Christian Science church, and the Lincoln Elementary School (which is slated for closure), but the city-owned "old" Lincoln School site could provide a strong anchor.
"It's beautiful," Artspace's Holmes said of the abandoned school. "A fixer-upper to be sure."
The next step for Artspace would be a market study. Holmes said the organization would like to see demand for live/work spaces three times the project size - in other words, between 75 and 90 artists who say they'd be interested in such a space.
A 30-unit Artspace project would typically cost between $12 million and $14 million, Holmes said, although one project in Buffalo, New York, cost $17 million. Artspace projects typically involve 80 to 85 percent public-sector resources - the bulk of which normally comes from state and federal governments.
From the city, Holmes said, Artspace is looking for assistance with property acquisition, environmental remediation, and an application for the HOME affordable-housing program. In addition, she said, "we're looking for an allocation of funds that are typically used for low-income housing." All Artspace live/work spaces are reserved for people who meet income requirements.
Neither Guthrie's project nor Artspace would be restricted to artists, but they're geared toward them. (Artists tend to fill out the applications first, Holmes said.)
Holmes said Artspace projects typically take three to four years to complete.
Rock Island Planning & Redevelopment Administrator Alan Carmen said the Artspace project is a long way from reality. "It's certainly going to take selling to get the council to buy into it," he predicted, because of what he expects the organization to ask for in terms of an investment.
Reclaiming the River
These incremental projects can certainly have a positive impact on downtown Rock Island, but they can't address its fundamental shortcoming.
As Carmen said, the city's offices, stores, restaurants, bars, residences, and recreation opportunities are "physically divorced from the riverfront, and riverfront land - the Mississippi. ... Right now you can't really tell there's a river out there. ... We want to recapture that view."
In February, the Rock Island City Council approved the Armory Silhouette concept for Armory Park, and a revised plan was presented to the council earlier this month. A public-input session was held Tuesday.
The plan includes a stage and pavilion, river-view promenades, water features, an observation tower, a dock, and parking. Armory Park is meant, like Chicago's Millennium Park, to be visually and architecturally iconic, and not to function merely as a greenspace. Carmen said that the programming for the space hasn't been determined yet, but the performance space can accommodate several thousand people.
The city council has already committed $10 million to the project in tax-increment financing, and Carmen said the speed with which the city can identify the remaining $5 million in funding will determine how quickly the entire plan is executed. The lower promenade and dock are the most likely elements to be deferred for funding reasons, Carmen said.
While other elements of the RiverVision plan for Rock Island and Davenport - such as piers jutting out into the Mississippi and the lighting of the lock and dam - are not imminent, Armory Park is well on its way to becoming a reality.
Carmen said the city council will likely execute a contract for the final engineering and design in the next two months. The park will probably be built in the 2009 and 2010 construction seasons.
One challenge that Rock Island shares with Davenport is having a major thoroughfare - Illinois 92 in this case - acting as a barrier between a riverfront park and the downtown area. The city is looking to re-route Illinois 92 to Fourth and Fifth avenues - which would cost more than $7 million. That would make First Avenue much less intimidating to pedestrians; two lanes of traffic would become street parking. Carmen said the city is looking for funds for that project.
Carmen extolled the Armory Park concept as "accessible, user-friendly, programmable, and public," but he's underselling it. Armory Park has the potential to remake not just the Rock Island riverfront but the downtown itself, and it's being backed up by a genuine commitment to the arts.