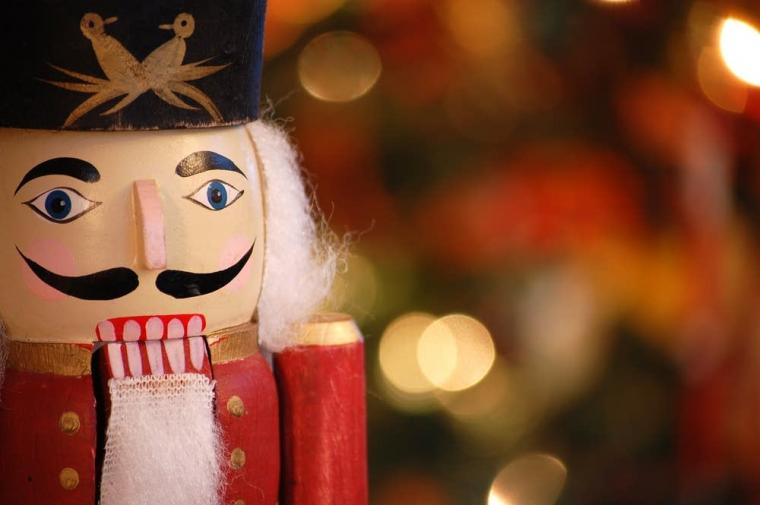 Friday, December 4, through Sunday, December 13
The Outing Club, 2109 North Brady Street, Davenport IA
A timeless holiday classic is set to get an immersive and unforgettable makeover at Davenport's Outing Club from December 4 through 13, with the professional talents of Ballet Quad Cities delivering their brand-new yuletide offering The Nutcracker in a Round – a series of holiday dance vignettes that employ Tchaikovsky's legendary The Nutcracker as inspiration, but pay tribute to that ballet in never-before seen, or heard, ways.
"The music is not traditional Tchaikovsky music," says Ballet Quad Cities' Joedy Cook. "But this does have a lot of fun orchestrations that are really entertaining and upbeat." She adds with a laugh, "There's Duke Ellington. That's all I'm gonna say."
Although Ballet Quad Cities has, for decades, presented the traditional version of Tchaikovsky's The Nutcracker in December, Cook says it became apparent quite a while ago that the company's reliably grand staging at Davenport's Adler Theatre couldn't happen in this pandemic year.
"Once I realized that we were going to need a new space," she says, "that we would not be in the Adler or probably any theatre for a long time, we just started thinking about all the different ways that we could entertain, perform, keep our dancers employed, keep our choreographers Courtney [Lyon] and Emily [Long] and their incredibly artistic creative minds going … . And I just thought a Nutcracker in the round in a ballroom would be unique, unexpected, and it would even challenge the audience to think about our art form differently and let their minds go somewhere else."
Among the many changes to this year's Nutcracker program, Cook continues, "This is being done in the round, which we've never done before. We'll also have a holiday pre-show just like we had for our Halloween performances. It's just full of fun music that many people will relate to and know – the Beach Boys' Christmas and things like that. This entire production is just meant to be fun, uplifting, full of energy, and entertaining for people in the Quad Cities that want to get out and be entertained. And I will say that Emily has choreographed a piece for our pre-show that really looks exactly like the dancers are in a snow glove. It's truly a piece of art."
Yet while they won't necessarily hear Tchaikovsky's iconic compositions, Cook adds that fans of the traditional Nutcracker will find much to cherish in Ballet Quad Cities' debuting presentation. "There will be elements of The Nutcracker in the Round that of course will be very familiar to everyone," says Cook. "There's Clara (danced by Maelah Golden) the Sugar Plum Fairy (Madeleine Rhode), some party children, a rat or two … ."
Laughing, Cook continues, "And then we'll move on to Act II with the variations – versions of the Spanish and Russian and Arabian dances. It's all very unusual, but I know our audiences, and they're going to really love it."
Ballet Quad Cities' The Nutcracker in the Round will be staged at Davenport's Outing Club, with no fewer than 11 performances scheduled between the dates of December 4 (7:30 p.m.), December 5 (1 & 6:30 p.m.), December 6 (1, 4, & 6:30 p.m.), December 12 (1 & 6:30 p.m.), and December 13 (11 a.m. and 3 & 6:30 p.m.). The evening performances on December 5, 12, and 13 will be preceded by a candlelit dinner, with sweets and a cash bar available at the other eight performances. (No credit cards accepted for the desserts or bar beverages; cash only.) All seating and tables will be spaced generously apart with extra safety measures in place, and as an added fundraiser, Ballet Quad Cities is also offering a special "Nutcracker in a Box" experience featuring four Nutcracker sugar cookies, a signed photo of the company's dancers, a wooden Nutcracker, a generous Green Thumbers coupon, and a link to last December's Nutcracker performance.
Admission to The Nutcracker in the Round is $15-65, and more information and tickets are available by calling (309)786-3779 or visiting BalletQuadCities.com.