It would be natural to look at the volume of housing being developed in downtown Davenport and infer some coordinated process or a major new incentive program. Roughly 300 market-rate apartments are either recently finished or in the development process.
There's undoubtedly a trend here. The Downtown Davenport Partnership - part of the Quad Cities Chamber of Commerce - noted in its strategic plan from earlier this year that "nearly 100,000 square feet of office space is currently planned for conversion to residential units."
That includes 11 different projects from seven different developers.
And while the Downtown Davenport Partnership has been a key player, its director - Kyle Carter - said his organization's role has been to "help guide that process. Not own it, guide it. ...
"We always give advice when these developers are shopping," he said. "But the vast majority of those plans are developer-driven. If anything, I'm the tour guide. I'm the guy that is showing the buffet of options down here. So I will certainly push for projects that I think are more catalytic, or locations that will have bigger benefits for the whole down here."
In other words, local government, a downtown organization, or a plan with the scale or taxpayer cost of River Renaissance isn't behind this housing boom. It's largely happening on its own.
Consider the Democrat building on Brady Street north of Fourth, being developed by Bluffstone - which specializes in new-construction student housing. Tim Baldwin said he and his partner, Pat Sherman, were intrigued by the possibility of using state and federal historic tax credits to develop an older building. (Historic and enterprise-zone tax credits are essential to these projects, Carter noted, because it costs more to redevelop older buildings than to build a new structure on an empty lot.)
"We were looking for a close-to-home historic project to kind of cut our teeth on," Baldwin said. "Both of us have a passion for old buildings. We just never really figured out how to make deals with old buildings work."
Baldwin said Bluffstone had explored projects in Missouri and built relationships there with experts on historic redevelopment and tax credits. But "we realized that this whole historic rehab was going to be a major undertaking and thought it best if we did that close to home to kind of learn the ropes."
He said they started looking at buildings four years ago, and that he first stepped into the Democrat building in late 2011. The property had much going for it: It was already listed on the National Register of Historic Places - shortening the process to get historic tax credits - and the retail tenant had done a good job preserving the lobby area, so that its history as a newspaper office could still be seen. Furthermore, it's right down Brady Street from the Palmer College of Chiropractic - meaning that it could draw both student and urban-professional tenants.
Interior demolition began 60 days ago, he said, and its 21 apartment units are scheduled to be completed in spring 2014.
Baldwin said a major appeal of the building was the newspaper lobby. And although Bluffstone doesn't yet have plans for the space - it might be made available to community groups for meetings, for example - he said its character will be retained.
"You'll walk in the front of our building, and you'll feel like you're stepping back into 1924," he said. The aim for the lobby and the apartments is to integrate "not just the historical aspect of the building but also the historical use of the building - into the décor and the rooms."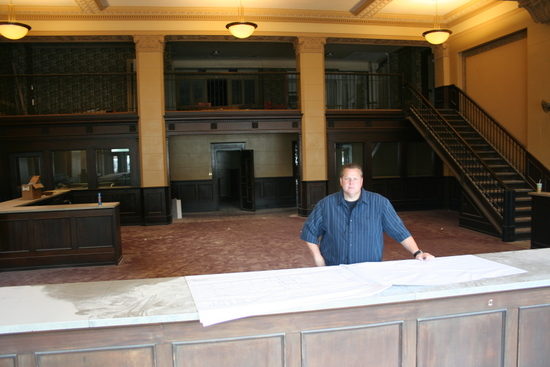 Even though Carter said the Downtown Davenport Partnership mostly plays the "traffic cop" with housing development, he said the organization is still an important resource for many developers - including major players such as Restoration St. Louis. "These developers still need to know who to talk to. ... The politics of it are thick," he said. "We serve as a place for advice. ... Oftentimes, our biggest role is not a financial one. It's an advisory type of role."
And the Partnership's strategic plan for downtown puts a heavy emphasis on residential development. "We spent the better part of 10 years building the bones" downtown, Carter said. "And now we need to spend the next 10 years putting meat on it, and getting people - and lots of people - in this downtown, because we don't have enough right now. ...
"It's great to build a plan off something that's already functioning."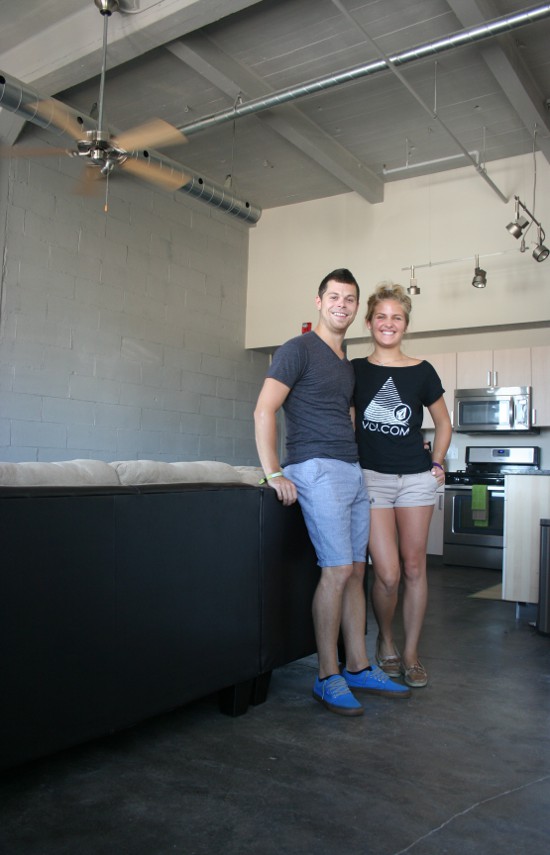 Believing in the Davenport Story
What's happening in downtown Davenport now likely wouldn't have been possible without what Carter called "outside money." Madison, Wisconsin's Alexander Company and Missouri's Restoration St. Louis brought in "brand-new capital that literally did not exist before. And, honestly, that is what put us over the edge. ... What changed? New money. That's what changed."
Perhaps more importantly, those companies showed the viability of downtown housing. Alexander Company was a pioneer in Davenport for mixed-income developments that used Low-Income Housing Tax Credits - the first of them opening in 2005.
While developments with affordable housing add people, market-rate housing is far more valuable to revitalizing downtowns. And Restoration St. Louis showed what was possible, with 20 market-rate units in the Hotel Blackhawk (at 309 Perry Street) and 24 units in the Forrest Block (at 401 Brady Street).
While these weren't the first market-rate developments in downtown Davenport, they did offer the imprimatur that the central city was a good investment.
That message is being reinforced as those two companies continue to make investments.
Alexander is developing the 19-unit, mixed-income Fifth Street Lofts (on Iowa Street), while Restoration St. Louis has a number of market-rate-apartment projects recently completed or in the pipeline: the fully leased Renwick building at 324 Brady Street (18 units and the future headquarters of Daytrotter.com), Pershing Lofts between Fourth and Fifth streets (37 units scheduled to be completed in 2015), and the City Square development on the Putnam-Parker Block (20 units in addition to a new hotel, Class A office space, and retail).
"We're very optimistic about the future of Davenport," said Sam Estep, the senior vice president of development for Restoration St. Louis. "There are a lot of stakeholders here that we've worked with all along the way that have guided us and helped us believe in the Davenport story, which we do. And that is that fundamentals are improving here, and it's a good market for both hospitality and residential, and there's good demand. ... And I think other developers are picking up on that as well."
That includes local developers, some with multiple downtown-housing projects.
Y & J Properties recently finished 19 units in the Peterson Paper Company building at 301 East Second Street and has begun demolition in the Halligan Coffee Company building at 402 East Second Street. The 45 units in that building should be leasing in late 2014, said Y & J's Joe Erenberger. (Those projects follow 15 apartments developed in the Bayer building at 230 West Third Street.)
Erenberger added that he anticipates Y & J will take on another three apartment projects in downtown Davenport on a similar scale.
Financial District Properties will soon be finished with 29 units on four floors of the Wells Fargo building on Main Street between Second and Third, and it expects to be finished in fall 2014 with 68 units in the Union Arcade building at 229 Brady Street.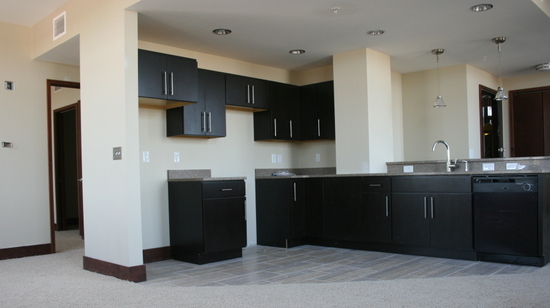 Why Here? Why Now?
There are several reasons why this concentrated effort is happening right now in Davenport with multiple developers.
Carter credits the progress that downtown has made in the past decade, from large-scale amenities created under River Renaissance - such as the Figge Art Museum and the River Music Experience - to hundreds of flower baskets. "Fifteen years ago, this place looked really different," he said. "River Renaissance, I think, had a humongous impact on that. ... All of that really built some bones here that we were missing. We have infrastructure where before we did not. When Alexander dove in, that stuff was planned, but it wasn't done. ... There's just more here for the resident to enjoy."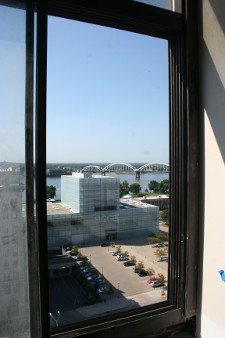 With those components, the development of Centennial Park, and a strong summer-festival schedule, downtown Davenport is "starting to finally have a real sense of place," he said. "For people who want to live in a market-rate unit, they've got to feel like they're living somewhere. ... There has to be more to it than you can get" at a typical apartment complex outside of downtown.
There are also the examples of Restoration St. Louis and Alexander Company. Baldwin said his company likely would have pursued its project regardless ("I'd like to think we're somewhat adventurous ourselves"), but he noted that "people like the Gills [Amrit and Amy of Restoration St. Louis] and others had already identified Davenport as an opportunity."
And, as Erenberger said, throughout the country "the downtown-housing markets are just on the rise. Pretty much everywhere." Bryce Henderson, the COO and CFO of Financial District Properties, cited the example of Kansas City in explaining his company's housing projects in Davenport.
It's also critical to understand that Iowa has a statewide historic-tax-credit program while Illinois does not - meaning that it's easier for developers to finance market-rate projects on the Iowa side of the Quad Cities.
And Davenport has a larger inventory of historic and historic-district buildings than Bettendorf. Baldwin said his company would have preferred to do a Bettendorf project, but there was a dearth of historic properties.
Another factor is the surfeit of vacant office space in downtown Davenport, ripe for redevelopment into housing.
"We had vacant space in the [Wells Fargo] building and were trying to find a better use for it," Henderson said. "There's just a large volume of available space here in downtown. When there's so much vacant space in the market, you're competing against yourself."
Yet the continued development of market-rate housing is happening, most importantly, because there's the demand to support it.
Anecdotally, market-rate downtown units lease quickly.
"I just wanted to jump on it as soon as I could, before they were finished," said Justin Anderson, who recently moved into the Renwick building from a market-rate apartment in an Alexander Company building downtown. "The demand for the nice, market-rate apartments is very high. They fill quickly. I know the few complexes have long waiting lists."
The developers contacted for this article told a similar story. Erenberger said all the apartments in the Peterson Paper building leased in roughly three weeks. Two weeks ago, Henderson said the Wells Fargo apartments were 25-percent leased well in advance of being ready for occupancy.
The Downtown Davenport Partnership, in its strategic plan, backed up the idea of strong demand for market-rate apartments - not just in downtown Davenport but in the Quad Cities as a whole. Its survey of more than 11,000 apartment units community-wide found an occupancy rate of 98.5 percent.
Carter said that lack of available apartments "kills mobility," because renters hold on to premium units. It also leads to lease inflation. Ideally, he said, occupancy rates would be 95 percent - allowing for greater tenant movement without having many empty apartments.
The study concluded that in the next five years, downtown Davenport could fill 300 market-rate apartment units beyond the 300 either recently completed or in development. "We're not in the ballpark of tapping out at this point," Carter said.
"That [study] tells me I can bring 70 to 100 units into market with no problem," Financial District Properties' Henderson said. "There's a lot of pent-up demand at this point."
He added that the challenge might be finding suitable buildings for additional large-scale residential development: "Frankly, there's not that many more buildings down here that are great targets for residential, certainly not of any significant size. We're in prime position."
Restoration St. Louis' Estep said his company's research paints a similar picture: "Our numbers indicate that there is plenty of demand to absorb what supply is in the pipeline."
That demand is fueled by the nature of thesedowntown-housing projects. Because historic tax credits require developers to retain the characters of buildings, apartments often feature unusual layouts and architectural features unique to the buildings they're in. At the Peterson Paper building, Erenberger has kept the building's industrial feel. The Halligan project will look much different, he said: "We kind of design around the building."
The historic flavor is often augmented by higher-end finishes and included appliances - such as washers and dryers in the units - with the goal of appealing to higher-income renters. Among developers contacted for this article, rent is typically between $1 and $1.20 per square foot, and apartments range from 500 square feet to 2,100 square feet.
And then there's the appeal of living in the urban center.
"I liked the atmosphere downtown," Anderson said. "It was a livelier type of place. You can walk wherever you need. I love not having to drive anywhere for the whole week ... ." Because he has a downtown office, he added, he can walk to work.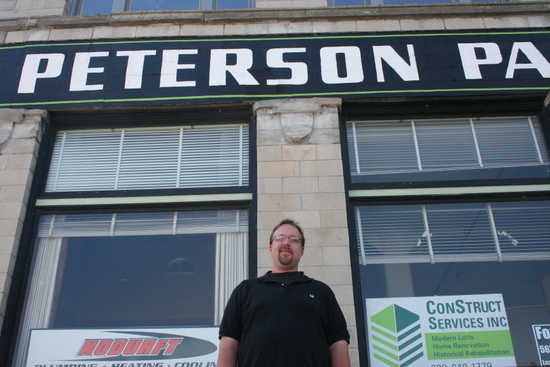 Beyond Housing
Carter is quick to point out that downtown housing won't be Davenport's savior on its own. "There is no one silver bullet to this," he said. Long-term success downtown, he said, will also require commercial and restaurant development.
The strategic plan notes a downtown-office vacancy rate of between 26 and 28 percent. Although Class A office space is the ultimate goal for downtown, Carter said, it's infeasible to build it at this point unless it's owner-occupied.
"Right now you need to focus on cleaning up the Class B and Class C office spaces you've got in these historic buildings and prep them for an office that is modern," he said.
The Downtown Davenport Partnership earlier this summer passed an Interior Improvement Grant & Design Assistance Program with the aim of upgrading existing office space. The first-year budget is $85,000, Carter said, and he hopes to attract or retain two tenants with that money. Participants can receive $5 per square foot for build-out costs, funded through the downtown Self-Supported Municipal Improvement District.
"Space is space," Carter said. "What matters is who's in there. ... At the end of the day, this program is about employees and creating a bigger daytime population down here. ... We need commercial and office just as much" as residential.
With restaurants, downtown Davenport's sales of $7.2 million are a little more than 60 percent of those for the downtowns of Rock Island ($11.8 million) and Moline ($11.6 million) - despite having a significant advantage in terms of employment and residents.
Carter said a future study will explore the causes of that disconnect, but he said that Davenport's larger area probably plays a role. While Moline's and Rock Island's downtown-dining establishments are relatively concentrated, Davenport's are more spread out. Davenport also has more chain restaurants outside of the central city competing for dining dollars, he noted.
But the influx of people from residential development will inevitably assist efforts to attract downtown businesses and restaurants. More residents means more potential employees and more consumer money that can be spent.
A denser downtown, Carter said, will ultimately result in a healthy downtown: "You need to fill it with more people. That's the solution. ... It's not rocket science. We just need more people."