Mike Creger, at the front counter of M&M Hardware in Rock Island, warned a customer this past Friday: "I need big bucks from you."
The total: $2.73.
On that counter are taped two faded photographs, both dated September 1969. One shows Mike Creger, and the other shows his brother, Mark Creger. They're inside their family's Moline hardware store, which was closed in 1975 when their father bought this building in Rock Island, at 3805 14th Avenue. Their father retired in the early 1980s, and Mike and Mark have been running the store themselves for 23 years. It has 2,500 square feet of space.
This is exactly the sort of place that Lowe's, Menards, and Home Depot pretty much put out of business over the past decade - if they hadn't already gone under in the 1970s or 1980s. It has yellowed cartoons taped up in the front, and narrow aisles, and the owners provide whatever advice a customer might need on making a repair or installing that washer just bought at one of the big-box retailers in Moline. This store is still closed on Sundays.
M&M Hardware is quite simply an anachronism, the type of neighborhood business that is cherished for its longevity and stubbornness as much as its utility in our convenience-driven, one-stop-shopping world.
But it's the symbol of a battle that's brewing in Rock Island, as the city council is considering using enterprise-zone incentives to the developer of an Ace hardware store and Panera restaurant on the corner of 38th Street and 18th Avenue. That's a mere four blocks from M&M. And eight blocks to the west of M&M is Handy True Value (at 30th Street and 14th Avenue).
There are several intermediate steps that need to happen in the meantime, but the Rock Island City Council is expected to decide the ultimate fate of the Ace/Panera project at its July 24 meeting, when it will likely consider re-zoning presently residential property and expanding its enterprise zone to provide developer incentives. According to developer Todd Raufeisen, the incentive package will be worth $318,000.
With a high-traffic location and a newer store, an Ace at the intersection could jeopardize both M&M and Handy True Value. And that has upset the owners of both stores, who think the city shouldn't give incentives to a new competitor so close to their long-established businesses.
"We're really not opposed to competition coming in here," said Mike Creger. "What we're opposed to is the incentives Ace Hardware is asking for. ... They want incentives to move there, but they want to move there. ... We didn't complain when the other hardware store came in." (Handy opened its store in 1984.)
Both M&M and Handy are complaining now, as are many of their customers. On June 23, Handy put out a petition that reads, "The below signatures feel that the city (our tax dollars) should not subsidize the development at the corner of 38th Street and 18th Avenue. Let it be a level playing field if Ace still wants to come Rock Island [sic]." By the afternoon of June 30, they'd collected more than 350 signatures.
"If it is a viable situation," said Bob Votroubek, who co-owns Handy with his wife Pam, "why would they need money to make it work?"
The Cregers, who are the only two employees of M&M, said that an Ace Hardware could have a major impact on them. "You take three sales away from me, [and] that affects my business," Mark Creger said.
Not David (and David) Versus Goliath
Developer Raufeisen understands that the Ace/Panera project stirs emotions, but he said he's tired of being cast as the Goliath compared the twin Davids of M&M and Handy.
"It's not David versus Goliath," he said. "True Value is the same business model as Ace. Identical. Locally owned, franchise-based. They are not different business models. They are identical. So when Handy Andy [True Value] says Ace is coming in, it's no different than True Value and what they could do."
The size of the Ace store backs up that claim. Like Handy True Value, Ace in Rock Island would be roughly 17,500 square feet.
The Ace store, Raufeisen added, would have six local investors - including himself, a Rock Island resident. He said one goal is to increase retail sales - and thus sales- and property-tax revenue - on the Illinois side of the Mississippi and in Rock Island. "We're committed to expanding the tax base here on the Illinois side of the river," he said. "We have local people willing to invest in their community."
Ace approached Raufeisen about putting a store in at the corner of 19th Avenue and First Street in Moline, he said, but the building they inquired about was full. They wanted to be on that same corridor - 18th Avenue in Rock Island or 19th Avenue in Moline - within six or seven blocks of that original target, so Raufeisen went searching for land.
"One of the challenges in a mature, not-really-growing market is to assemble land to do a development, you have take existing product down to create blank land," he said.
He found an appropriate site at 38th Street, just south of American bank, with the advantage of having one owner of the eight residential properties that would need to be torn down. "Those homes had been purchased strategically for 15 years - month-to-month rent for 15 years," he said.
Raufeisen said that one of his aims as a developer is to create groupings of businesses that will work well together. So to go with the Ace and the existing bank, he targeted a restaurant: Panera.
"Our goal with the corner was to create an area that would feed off itself," he said. Panera, he added, "was not an easy sell, because of the demographics." Elsewhere in the Quad Cities, Panera has chosen to locate in vibrant retail centers - at Kimberly and Elmore in Davenport and John Deere Road in Moline. The Rock Island Hilltop doesn't fit that profile.
And to make the deal work for both Ace and Panera, Raufeisen said, he needed incentives. "Every tenant, whether it's Ace, whether it's Panera, whether it's Walgreens, whether it's Lowe's, whether it's Village Inn ... they have rental rates in which their business model fits into," he said. "And if you want 'em, you've got to be in that rental rate.
"We've got a very expensive site," he said. "The guy [the owner of the residential properties] knew what he had. We had to tear these houses down. We've got to move all the utilities. ... [And] Ace demands a quality building." He also noted that the bulk of the incentive package - roughly 65 percent - will be used for the Panera restaurant. "Panera needed the incentives more than Ace," he said.
That's mostly a function of the developer providing the Ace store with a "vanilla shell" - basically drywall and lights. Raufeisen will fully build out the Panera store, making it nearly ready for business for the franchise operator.
Raufeisen also said that those incentives will be going to the developer, not large corporate entities; the incentives allow the developer to offer lower lease rates to Ace and Panera. "Not one dollar's going to Ace. And not one dollar's going to Panera. Through reduction of the cost of the land, we're able to get rental rates in the acceptable arenas for both Ace and Panera."
On the question of incentives, Raufeisen stressed, he simply wants access to the same development tools available to any other business in the city - including M&M and Handy True Value. "We look for standard programs, available programs for every entrepreneur. They've been around for years," he said.
Raufeisen noted that Handy True Value has gotten several thousand dollars from the city's façade-improvement program.
"Are we taking advantage of existing programs to bring additional tax revenue?" he said. "Yeah, that's the way it works today."
Plus, he said, he shouldn't be faulted for other businesses' failure to use incentive programs. "That's their choice," he said. "Those same incentives were there when they started their businesses, so that's their choice."
Well, not exactly. The enterprise-zone program gives developers a retail-sales-tax waiver on construction materials, state income-tax credits, and a three-year property-tax rebate on 75 percent of the increased property valuation. The Ace/Panera project is expected to cost roughly $3.5 million and be completed in summer 2007.
But as the Creger brothers pointed out, the enterprise-zone benefits are not available to other developers on Rock Island's Hilltop. The city's enterprise zone looks like a horseshoe around the city, encompassing the formerly industrial riverfront area and the 11th Street corridor. To meet the state requirement that an enterprise zone be a contiguous area, they noted, the city will have to expand the zone with an an old political gerrymandering trick: extending it down the middle of streets.
Rock Island Mayor Mark Schwiebert said that M&M and Handy would be given the same enterprise-zone consideration as Ace. "We would do that [expand the enterprise zone] for the others as well," he said.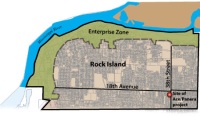 More problematic than the expansion, the Cregers said, is the fact that the city will have to claim that the intersection of 38th Street and 18th Avenue meets the statutory requirement that an enterprise zone "is a depressed area," which the law defines as "an area in which pervasive poverty, unemployment, and economic distress exist."
"There is no enterprise zone around there," Mike Creger said. "There is no economic distress in this area."
Schwiebert conceded that the area doesn't technically meet the requirement - "You certainly don't have pervasive poverty in that area," he said - but said that because Rock Island is land-locked, it faces development challenges other communities don't; without greenfields, development is more expensive in the city than elsewhere, and that makes incentives critical.
Raufeisen suggested through his rhetoric that if logic doesn't sway the Rock Island city council to extend incentives, perhaps threats will. "I'd hate to pick it [the Ace/Panera project] up and move it to Moline," he said. "If they vote down the zoning, there won't be a Panera Bread, and they won't go anywhere else in Rock Island."
When asked whether another retail tenant could be found - one that wouldn't compete with existing local businesses - Raufeisen said, "We'd have to have another 18,000-foot, single-box tenant. Can you find another one? I'm not being a smart ass, but they're just not out there."
And, lastly, there's the "message" argument, the one that says that if this project gets turned down, developers will avoid Rock Island altogether in favor of cities that are more development-friendly. "If Rock Island views this as a negative, there's going to be a lot more empty buildings and a lot more empty streets," Raufeisen said.
City officials are also using similar language. "We need to be building our retail growth in Rock Island," Schwiebert said. "We've had to look for retailers where we can find them."
"What we're trying to do is foster economic development," said Greg Champagne, the city's director of economic development. The Panera and Ace projects combined would generate the equivalent of 37 full-time positions and $4 million in annual sales, Champagne said.
When asked whether those gains would be offset by the possibility of M&M or Handy True Value (or both) going out of business, Champagne said, "The loss to the taxing bodies is if the project doesn't move forward." (Handy employs the equivalent of 20 full-time employees, co-owner Bob Votroubek said.)
But Champagne wouldn't say that there's enough business for all three hardware stores. "I don't know," he said, "but I think the market will determine that."
What Competition?
There wouldn't be much hullabaloo about the Ace/Panera project if it weren't perceived that it would threaten two longstanding businesses mere blocks from the proposed development.
On that issue, Raufeisen claims that Ace doesn't look at True Value and other locally owned hardware stores as competition. "We look at the distance between Home Depot, Lowe's, and Menards ... between rooftops and big boxes," he said.
He added that he doesn't consider M&M a true hardware store, and he estimated that Handy dedicates a third of its store to equipment rental. In other words, each store would have a niche, he said: "I think we'll actually complement each other once the emotion shakes out."
That argument is certainly counterintuitive. Considering that Ace and Handy will be almost exactly the same size and will offer similar products and services, it stands to reason that either there's more hardware demand than is currently being met in Rock Island, or Ace will take business away from both Handy and M&M.
About six years ago, said Votroubek, True Value did a market study, looking to see if a larger store would be viable in the Hilltop area. "They felt we were doing as much business as Rock Island would give," he said.
Votroubek said that he expects that if Ace opens, it will cut into his business by roughly 10 percent. The store does about $2 million a year in sales, he said, with several hundred thousand of that coming from equipment sales.
If Ace meets its target of $2 million to $3 million in annual sales, Mark Creger said, "where's that going to come from?" Although Raufeisen said his store considers Lowe's and Menards its primary competition, "they're not going to put a sign up that says [to M&M and Handy customers], 'We don't want your business.'"
"I just don't feel it needs to be government-subsidized," Bob Votroubek said of the Ace store. "It's the tax dollars. It's our tax dollars."
As for his store's future, Mark Creger offered no guarantee. "It'll be up in the air," he said. But he's not quitting: "The day they open, I'm not locking the doors." he said.
Over at Handy True Value, the office has a sign that reads, "Put your big girl panties on and deal with it." That attitude is seconded by Pam Votroubek: "We're not going to give up. If they think we're scared, we're not."