For Alma Grimmett, the lure of home ownership was enough to make her leave the middle-class Hilltop neighborhood in Rock Island and move to a rougher part of town: Habitat Park in the Old Chicago area. "I knew what I wanted - I wanted a home," she said. "I knew what I had to do."
Previously, she lived with her two children near 18th Avenue and 30th Street in a two-bedroom apartment too small and expensive for the family. She is a bit leery of her new neighborhood - she's shopping for a security system and said the area is poorly lit - but she also said that she feels safe.
"I love my house - my home," she said.
Grimmett lives in Habitat Park, the largest project of Habitat for Humanity Quad Cities - seven houses on two blocks on and near Eighth Street, between Ninth and 11th avenues in Rock Island. The entire area was sold to Habitat for $1 by the City of Rock Island.
Habitat Park is an example of the way the local Habitat operates - relying on city governments for lots on which to build homes that are sold to low-income families.
But the organization is running out of housing lots, and it's also facing a shortage of low-income families to sign up for the program.
The local Habitat expects to finish its 54th home in the Quad Cities by the end of the year, but it must now develop new ways to find both property and families.
The good news is that there are Habitat programs around the U.S. that could suggest new ways of doing business.
Running Out of Land
"We only have five lots left, so that will put us in a crisis mode," said Kristi Crafton, executive director for the local Habitat. The program usually builds six to eight houses per year, and Crafton said she would like to have 30 lots for building at all times.
Since its inception 15 years ago, almost all of the Quad Cities Habitat's lots have come from municipalities. City governments typically sell lots to Habitat for Humanity for $1. "That's how we decide to build, period - who will give us lots," said Crafton.
The result is that Habitat generally builds in dilapidated, low-income neighborhoods. For example, roughly 21 percent of houses are vacant in Old Chicago, a rate nearly three times as high as the rest of Rock Island, according to a 2007 city-issued report on the neighborhood. Median income for a family of four in the neighborhood is around $17,800 - roughly half that of families of four in Rock Island as a whole.
According to Julie Surratt, director of development for Habitat for Humanity Quad Cities, the organization currently has a $1.2-million dollar operating budget, but only $25,000 of that is reserved for property acquisitions. She said that with $1 purchases from city governments, Habitat hasn't used much of its acquisition budget in the past. For the Fiscal Year 2009 budget, the local program is setting aside between $20,000 and $30,000 for property acquisition.
Crafton said that she was recently offered three lots for $12,500 apiece. "It's half of what they're worth. It's a heck of a good deal," she said. "But we don't have that kind of money sitting here to purchase three lots."
Instead, the program bought two $6,000 lots this year. "When you're paying that for a lot, they tend to be in the more impoverished parts of town," Crafton said. "We can't afford [many] lots, so we've been shut out of that [middle-class-neighborhood] opportunity."
Habitat is also in need of a new office building, Crafton said. Next year the program will start a capital campaign to raise between $500,000 and $700,000 for office space, renovation, and storage space for building materials.
"As a part of that, we could consider trying to raise $100,000 more than we thought we would need to purchase lots, but again, it's hard enough to raise the money for a building," Crafton said. "And right now that has to be a priority. ... We've gotten big enough now that if we don't have a place, we can't increase our capacity."
Capital campaigns generally aim to raise millions of dollars, but the local Habitat doesn't have the funds to pay someone to run the campaign, Crafton said, so it's setting modest goals.
Acquisition Strategies
While the Quad Cities Habitat is hoping for opportunities for more $1 purchases, Habitat groups in other communities have shifted their acquisition strategies.
The Habitat for Humanity program in the Twin Cities of Minneapolis and St. Paul, Minnesota, builds about 50 houses a year, according to Sharon Rolenc, a spokesperson for the group.
Rolenc said that The Twin Cities operation runs mostly on donations - from individuals, churches, youth groups, and corporations: "We have a pretty diverse funding mechanism." Andersen Corporation, Thrivent Financial, and Wells Fargo are consistent donors, and the program also benefits from "whole-house sponsors," entities that pledge to donate enough money for the construction of an entire house.
"We have not asked for that [corporate donations for lots] yet," the Quad Cities' Crafton said. "One of the reasons we haven't is we're still having problems finding sponsors for homes."
Surratt said the program does have fundraisers - such as a construction-themed gala ball with a silent auction - and it's even doing things such as running a brat stand at the Quad City Air Show.
But attracting corporate donations remains a challenge, Crafton said: "We have to market what our ministry is, make people aware of it, and make sure they know we're here and what we do."
Once corporate leaders visit a housing site, Crafton said, they're usually interested in helping out. "We want them to see our work firsthand," she said. "Once they get in the home and understand the program, it sells itself."
The Quad Cities Habitat is evaluating how it communicates with corporations, and is considering an online newsletter, and donation options on its Web site.
The Twin Cities program, which was founded in 1985, struggled with lots, too. Rolenc said that early in the operation's existence, it depended on land offered by city governments, much like the Quad Cities Habitat. When the housing market boomed, however, municipalities started using lot sales as a tool for revenue.
The Twin Cities Habitat turned to donors. Corporations and churches stepped up, and in 2007 contributed approximately $7.4 million. Nearly 300 corporations, and more than 300 churches, donate to the Twin Cities Habitat each year.
Crafton said the Quad Cities Habitat has more than 60 churches and between 25 and 30 businesses as donors.
The Twin Cities program has bought one foreclosed lot, and is trying to buy four to six more in the St. Paul area. All of this activity is inspiring more families to apply for housing, Rolenc said: "We used to build one house at a time. Now we're building one block at a time."
The Greater Des Moines Area Habitat for Humanity's lots are often purchased with the aid of donations from corporations, individuals, and churches, said Executive Director Lance Henning. These lots may have had a vacant house on the premises and are less costly then an undeveloped suburban lot.
Henning also said that the program is interested in tax-sale bidding - in which the county auctions property whose taxes have not been paid.
A Shortage of Families?
In addition to running out of property, the Quad Cities Habitat has a "shortage" of families, Crafton said.
The local Habitat relies on word of mouth, fliers, and signs to attract families. "We're hoping to get a little better" at drawing applicants, Surratt said.
To be clear, there's no dearth of families that could qualify for a Habitat program; they're just not applying. Habitat hoped to have eight qualified families apply in April, but only four of the 17 applicants made the cut.
"We're not having a problem with identifying families," said Henning, who noted the Des Moines organization is in its eighth consecutive year of growth. It will make 21 families homeowners this year, and will finish its 100th house in December. "The need far surpasses what we're able to do, as far as building the houses," Henning said.
Nearly 7,000 families fall into the income-eligibility requirements for the Des Moines Habitat for Humanity, according to Henning. The Quad Cities Habitat did not have an estimate of the number of local families who would qualify for a Habitat home.
"We're trying to get the word out any way we can," Henning said, noting that his organization uses social services and churches, and purchases ads in African American and Hispanic newspapers to attract families.
Crafton said she was skeptical that advertising would work in the Quad Cities. She said that most of their target families don't have newspaper subscriptions and don't use the Internet.
Instead, Habitat continues to rely on partner families to spread the word. Crafton said that many people who would be eligible to participate in Habitat simply don't know that it exists.
She added that her organization has set aside money in its next budget to offer $500 gift cards from home-improvement stores to partner families who get other qualified families to enter the Habitat program.
Sparking Neighborhood Improvement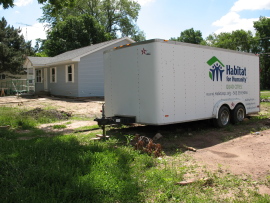 Participants in Habitat must make 30 to 60 percent of the median income. In the Quad Cities, that translates to roughly $18,000 to $39,000 a year for a family of four.
Families who make below the 30-percent threshold often come to Habitat seeking a home, Crafton said. When they do, she directs them to other programs. "We might say, 'You don't qualify right now, but in two years feel free to apply again.'"
If a family doesn't have the credit score to buy a house, Habitat works with the family to address those problems, and invites them to classes on money-management. Crafton said she does this in hopes that they can eventually be a part of the program.
The application process might be scaring some people away, Crafton said: "I'm sure of it. When you're living in poverty, there's sometimes mistrust of anything you don't know or understand. We try to be very careful when we get calls here to be very welcoming and explaining what a great opportunity it is."
Grimmett had a different experience with the application process. "I didn't find it daunting at all," she said.
To qualify for a Habitat house, families must also have a need for improved housing. Surratt elaborated on what might constitute inadequate housing. "They might have a one-bedroom apartment, two children in a bedroom, two sleeping in the living room, and then mom on the cot in the kitchen. That's typical of what we see with our families." Inadequate housing can also encompass paying too much for rent - Grimmett was paying $550 a month for her apartment - and substandard housing.
Potential homeowners must also be able to afford a mortgage, which can be paid off over a maximum of 25 years. Habitat families typically make payments on a $68,000 mortgage, Surratt said, and monthly payments are based on 30 percent of family income. Surratt said that on average, mortgage payments are $400 a month.
Participants must also be willing to partner and work with Habitat through a concept called "sweat equity" - with adults working off some of the cost of the house by volunteering with Habitat. Each adult must complete 250 hours of work (at the Habitat office, a construction site, or ReStore - a building-materials store run by Habitat for Humanity) before the family can move in.
Grimmett used her Monday mornings, which she previously reserved for preparation for her job at the Rock Island Public Library, to log hours at the Habitat office.
When her landlord told her about Habitat for Humanity, she didn't seriously consider it until a neighbor worked with the program to build a new house. Grimmett saw the house and contacted Habitat, which sent her packet of information and an application. "I found out on a Thursday night that I was accepted, and that Saturday I was at ReStore," she said.
Grimmett said that when she first started visiting her lot, the neighboring houses were literally falling apart. Now neighbors have made repairs, and the city has knocked down an abandoned house across the street.
"When we go into a neighborhood and start building there, frequently the neighborhood improves," Crafton said.
Grimmett looks forward to the sense of community the neighborhood might provide. "I do want to attend some neighborhood meetings," she said.
She plans to mentor another Habitat family and help them through struggles. "You have to be patient. It's a wonderful experience," she said. "I'm so glad that I was able to be involved in this process."
But unless the local Habitat changes the way it does things, stories such as Grimmett's might become less common.
Crafton admitted that the organization needs a larger property-acquisition budget but said she doesn't know where to find the money: "We know we need to, but if we put $50,000 in there, where are we going to get it?"