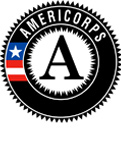 "Help! Help! This stranger is not my father!" was the cry of nearly 40 children at summer camp last month.
The children were safe, but the scene is a normal, almost weekly event for Cindy Richard, an AmeriCorps member at the American Red Cross in Moline. She was teaching children the "Stranger Danger" program so they would know how to protect themselves from people who might be trying to abduct them.
Richard helps teach health and safety to both children and adults in the Quad Cities area, on topics ranging from weather safety to HIV/AIDS to first aid.
She's scheduled to end her service in October. So are 23 other AmeriCorps members in the Iowa Quad Cities.
But while there's money to fund a new AmeriCorps position in addition to the one Richard has at the American Red Cross, the 23 Iowa Quad Cities AmeriCorps members won't be replaced because of a budget cut announced in June. That will leave just six AmeriCorps members in the Quad Cities in November.
AmeriCorps members have - in Davenport alone - worked at schools, parks, the Putnam Museum & IMAX Theatre, the Boys & Girls Club, United Neighbors, United Way, the Davenport Police Department, and the John Lewis Community Services youth shelter.
According to United Neighbors, AmeriCorps members in Davenport generated 11,579 hours of labor at a value of more than $305,000 last year alone.
A Funding Roller Coaster
AmeriCorps members nationwide serve more than 3,000 not-for-profits, public agencies, and community organizations. AmeriCorps members can serve either full- or part-time, and their terms last from 10 to 12 months. About half of AmeriCorps members receive a living allowance of $9,300 for their term.
AmeriCorps in Iowa could soon be much smaller. Thirteen organizations in the state - including the American Red Cross, Habitat for Humanity, and Davenport's United Neighbors - will cumulatively lose more than $835,000 in funding after the Iowa Commission on Volunteer Service (the organization that administers AmeriCorps in Iowa) got its funding cut because the money was shifted to Gulf Coast relief efforts.
"We are seeing seven of the 15 AmeriCorps programs being eliminated across the state," said Paul Fessler, United Neighbors' assistant director. His organization is slated to lose its entire $130,000 grant, forcing it to shut down its AmeriCorps section.
Adam Lounsberry, executive director of the Iowa Commission on Volunteer Service, said that Davenport is one of the Iowa communities that will be hit the hardest by the funding cut.
"We are hoping for supplemental funding," he said, "and unfortunately, if nothing happens, we will lose a number of AmeriCorps members."
And this could be just a preview. The U.S. House of Representatives is looking to cut AmeriCorps' grant funding further.
Since AmeriCorps was created in 1993, the domestic-national-service program has experienced a "roller coaster" of funding, Lounsberry said.
In recent years, the program has, on a state and national level, experienced both record highs and record lows in funding. According to (http://www.nationalservice.gov), in fiscal year 2003, national funding was $174 million but grew to a record high of $312 million the next fiscal year. Funding was $288 million in 2005.
And according to Siobhan Dugan, public affairs specialist for the Corporation for National & Community Service, Iowa's funding dropped from $1.7 million in Fiscal Year 2001 to $1.2 million in 2003, peaked at $1.8 million in 2004, and dropped to $1.6 million in 2005.
According to Dugan, Illinois' funding dropped from $7.3 million in 2002 to $3.2 million in 2003, rose to $5.5 million in 2004, and dropped to $5.4 million in 2005.
"Last year Iowa dodged a bullet," Fessler said. "This year the overall trend finally caught up with Iowa."
Funding levels could very well drop again next fiscal year.
On June 7, the House Labor-Health & Human Services Appropriations Subcommittee suggested cutting state and national AmeriCorps grants by $61 million - roughly 20 percent.
According to Peter McRoberts, a commissioner with the Iowa Commission on Volunteer Service, if the new House levels are signed into law, AmeriCorps grants nationwide will have declined $94 million in just three years - a reduction of more than 30 percent.
"Based on estimates confirmed by the CNCS [Corporation for National & Community Service], this could mean an additional $563,677 in cuts and as many as 87 less members serving in Iowa next year if the House numbers are enacted," Roberts said.
On July 18, the Senate subcommittee that handles AmeriCorps funding set the appropriation for the program's state and national grant funding at $259 million. The appropriations bills from the House and Senate will need to be reconciled in conference committee.
Picking Up the Slack
Because of the $835,000 funding cut in Iowa, organizations that use AmeriCorps members will now be forced to choose between eliminating programs and finding a new source of labor.
AmeriCorps member Ron Mayday, coordinator of the Bettendorf Park Ambassador program and coordinator of the Bettendorf Volunteer Community Service, is one of the 24 people whose positions are scheduled to be eliminated in the November in the Quad Cities.
Mayday said that the volunteers he has coordinated have contributed more than 1,500 hours painting in city parks, refurbishing buildings, providing park information, and working with the Bettendorf Police Department as a surveillance team.
Without new funding, "there will be no one to coordinate the volunteer programs," he said. "If the city wants to continue without the AmeriCorps funding, the city will have to open funds to cover the program."
Lauran Haldeman, public information officer for the City of Bettendorf, said the city will "definitely" keep the Park Ambassador program but is not sure from where the funding will come.
Jill Foster, a college student at St. Ambrose and coordinator of the Volunteers in Police Service (VIPS) program at the Davenport Police Department, is another AmeriCorps member who will end service at the end of October.
"It was nice when I first came in because they [the police department] had just started the VIPS program, so since the beginning I have been accepting volunteer applications, doing background checks, helping to actually choose the volunteers..." Foster said. "I also do filing in the chief's office, and answer phones."
Foster has coordinated 10 volunteers who help conduct background checks and participate in the department's alarm-rejection-response, parental-responsibility, and neighborhood-watch programs.
Foster said that without AmeriCorps funding, the work that is presently hers will be forced on her supervisors. Police Chief Michael Bladel would not say what might happen to the program after Foster leaves. "Our coordinator does a great job on coordinating our 10 volunteers," he said. "We are doing our best to not let the VIPS program deteriorate."