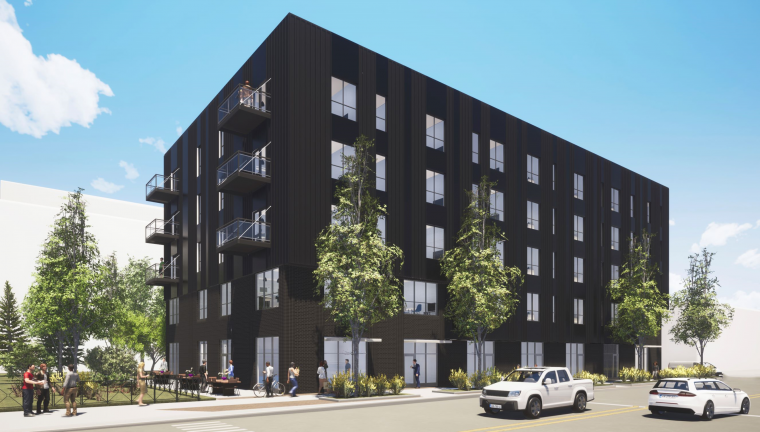 DAVENPORT, IOWA (September 10, 2020) — Estes Construction broke ground on Merge Urban Development Group's Urbane210 building at 210 East 2nd Street on Monday, August 31, in downtown Davenport, Iowa. The development team and area stakeholders met yesterday for a small ceremony. Urbane210 is a 5-story mixed-use building including a unique blend of 56 market-rate apartments and over 6,000 square-feet commercial space geared for micro-shops and entrepreneurial small-businesses. The $8,000,000 project is one of the first in Davenport to utilize downtown's new Federal Opportunity Zone status.
"We are thrilled to celebrate the ground-breaking of a yet another major new-construction project downtown, despite the challenges of 2020," said Kyle Carter, Executive Director, Downtown Davenport Partnership. "Urbane210 will not only provide unique new apartment options, but it will also create micro-retail space to help boost small entrepreneurs and further establish our E 2nd Street retail corridor."
The apartment mix is a range of studios, one bedroom, and two-bedroom units. A unique factor of the development is its efficient single-dweller (an apartment for one person) unit designs, providing attainable housing for current and future workforce downtown. The project will also provide micro-retail spaces of 600 to 1,000 square feet designed for small businesses and entrepreneurs, along with a larger commercial-space slated for a restaurant or similar anchor tenant. The development site is in the heart of downtown overlooking the Mississippi River and within walking distance to a wide variety of cultural, recreational, and entertainment options.
"Adding to the Davenport skyline with such a unique project is something we take great pride in," said Brent Dahlstrom, Merge's Managing Partner. "It's been a pleasure working with the City of Davenport and all of our partners to make this ground-breaking possible; we're eager to begin construction."
As one of the first projects in Davenport to utilize the Federal Qualified Opportunity Zone program, Urbane210 is poised to further revitalize Davenport's urban core. The capital group includes investors from four states, including Iowa. Great Southern Bank provided construction financing for the project. Slingshot Architecture, based in Des Moines, Iowa, is the architect. Estes Construction is serving as the general contractor, with leadership out of its Davenport office. The project was also awarded IEDA's Workforce Housing Tax Credits for disaster relief areas. The project is slated to open in 2021.
About: Merge Urban Development Group is a development team focused on real-estate development in Qualified Opportunity Zones across the Midwest. The team's passion is creating mixed-use developments in the urban core that reflect both a community's history and its aspirations. Team members bring experience in real estate, economic development, construction, city planning, space making, technology start-ups, and small business.