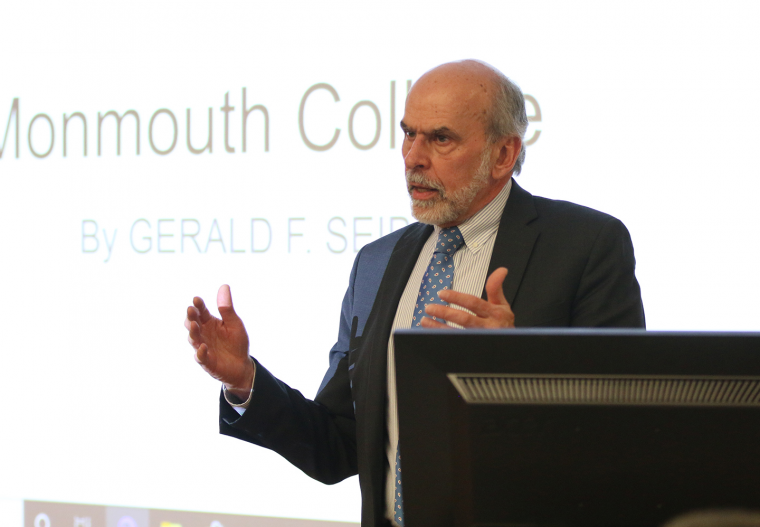 MONMOUTH, ILLINOIS (December 4, 2019) — A veteran national political journalist says polarization is higher in American politics than he can ever recall, and the political divide figures to continue during the 2020 presidential election cycle.
Gerald Seib, Wall Street Journal executive Washington editor and chief commentator, addressed polarization during his Tuesday evening talk at Monmouth College, titled "Election 2020: Politics in a Time of Disruption." After opening with a political joke, Seib said: "This election cycle is going to be marked by anger, not humor. Buckle up." Although Seib didn't make predictions about the 2020 presidential election, he offered thoughts on the impeachment proceedings of President Donald Trump. "He won't be convicted in the Senate," said Seib.
He called the endeavor "basically a complete partisan exercise … Twenty Republicans in the Senate would have to turn on Trump (to convict him and remove him from office). I can come up with maybe three or four who would, and maybe that number is zero." Seib, who has been a journalist for four decades, followed that comment by repeating a question that people often ask him about political polarization: "Is this the worst it's ever been?" "I tell them it's the worst I can remember, but we did survive a civil war once." Seib said the impeachment hearings are serving a purpose, albeit one that is polarizing the country even more.
"The Democrats are basically using the impeachment proceedings as a warm-up to the 2020 election," he said. "The Democrats are making the case to get rid of President Trump. The Republicans are making the case that the Democrats are out of control." Cultural divide
Seib said the political divide is also a cultural divide. One indicator of that is the overwhelming tendency for white, college-educated women to be Democrat, and for white, non-college-educated men to be Republican.
Household income data shows a similar disparity, with two-thirds of the US gross-domestic product coming from Democratic districts, according to data collected by the Wall Street Journal. Seib said that a geographic illustration of how counties voted in the 2016 presidential election paint an interesting picture — blue Democratic counties line both coasts, with red Republican counties covering much of the rest of the nation.
Seib said that has led to a favorite Republican T-shirt, with a picture of that mostly red map and the question: "You're going to impeach this?" "This is a very unstable situation," he said. "Social media exacerbates the divide even more. People on opposite sides don't talk to each other, they yell at each other. The cacophony that creates is really deafening." "There is no middle ground"
Seib showed several graphs relating to polling that the Wall Street Journal has conducted. One that he believed was a clear indicator of the current political climate showed how Democrats and Republicans have viewed the sitting president over the past 70 years. When asked whether the president is doing a good job, survey respondents supporting one party or the other averaged around a 40 percent gap in their replies. The gap has been as low as 26 percent for three presidents: Jimmy Carter (16 percent), Harry Truman (25 percent), and Dwight Eisenhower (26 percent). But when asked about President Trump, the replies are almost polar opposites — 6 percent of Democrats approve, compared to 92 percent for Republicans, a gap of 86 percent.
"Simply put, there is no middle ground. Feelings are more divided about the president than ever before," said Seib. "If Donald Trump is in the question, you get a Donald Trump answer. There's a very small band in the middle." Seib did propose one answer to the political divide, urging the audience and the country to seek sources with "fair, impartial, factual, and honest" reporting.