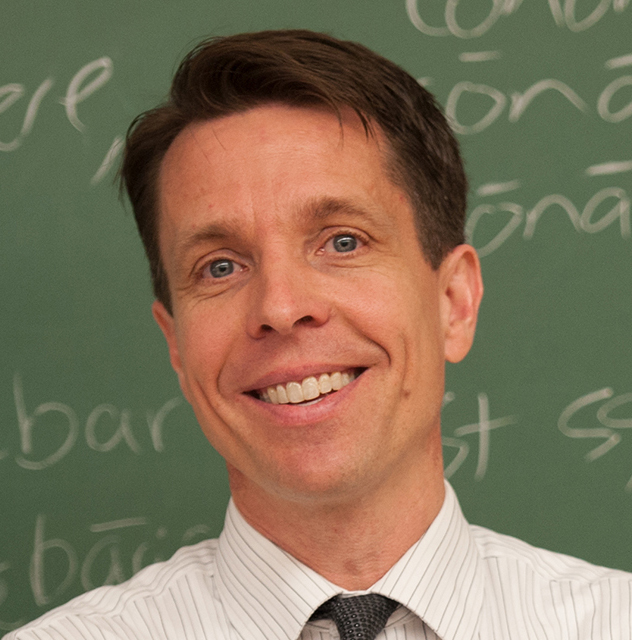 MONMOUTH, ILLINOIS (November 6, 2020) — Bringing ancient Greece and Rome to life through his ambitious Classics Day events has earned Monmouth College professor Bob Simmons the 2020 Society for Classical Studies Outreach Prize.
Simmons brought Classics Day to Monmouth from his previous classics faculty position at the University of North Carolina-Greensboro, where he first held the event in 2011. Presented for the first time on Monmouth's campus four years later during Simmons' first year on the faculty, it has been held a total of four times.
The most recent installment of the now bi-annual event — which features informational booths and demonstrations covering a variety of activities from mask-making to Etruscan divination and from military drills to mock-archaeological excavations — was scheduled for earlier this year but postponed due to the pandemic.
For Simmons, bringing the classics to life is important for the way a hands-on experience can seemingly transport individuals back in time, as well as for the insights it provides on modern times.
"It's the closest thing that one can have to an immersion experience in the classics," he said. "It's a reproduction of the time, when somebody can, for example, heft a shield that's the same dimensions, the same weight as would have been used in ancient times. There's just a much greater ability to project oneself into that world and to feel the reality of it — that there was this time and that we can learn about it and we can learn the light that it can shine on contemporary circumstances. ... Everything that's happening right now, there's precedence for it in the classical world."
Past recipients of the Outreach Prize have been individuals, events, and programs at much larger institutions, putting Simmons and the College in the same company as producers of documentaries and founders of academic journals.
"We recognize and applaud Professor Robert Holschuh Simmons for the scope and scale of his vision with Classics Day, for his ability to bring students into the work of outreach, and for his ongoing commitment to inspiring audiences of all ages so that they might engage with Mediterranean antiquity in vivid, imaginative, and meaningful ways," wrote the Society for Classical Studies' awards committee.
In describing the event, the committee praised the evolution of Classics Day to a week-long festival with more than 30 events and the way it "reaches deeply into its local communities, drawing widely on students and colleagues across academic disciplines to help host the festival," which has drawn as many as 1,000 attendees to Monmouth's campus in a given year. Hundreds of high school students are part of that figure, including several who eventually matriculate at Monmouth.
"We've got a good number of students at Monmouth College because they were at Classics Day or one of the other demonstrations that my colleagues or I have done at various venues around the state," said Simmons. "For a good number, their first exposure to Monmouth was Classics Day."