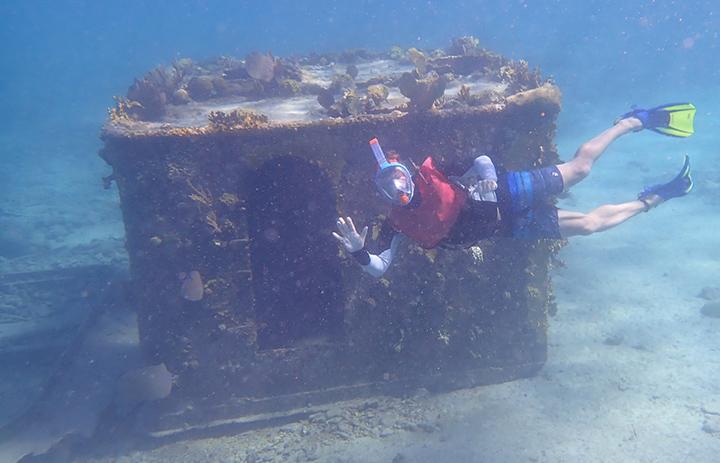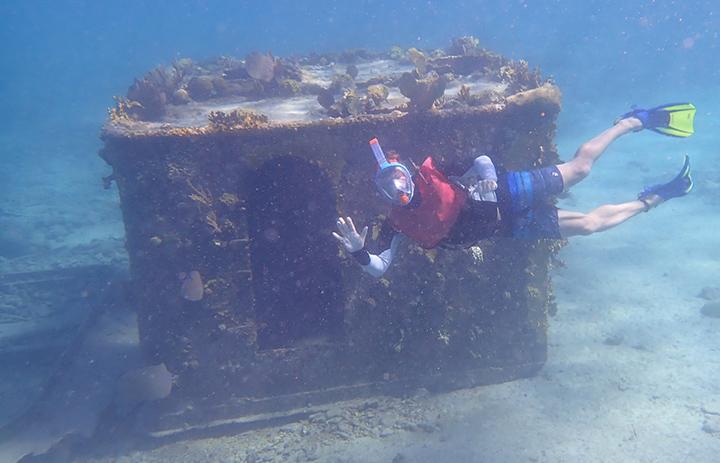 MONMOUTH, IL (January 22, 2019) — Monmouth College students "explored new worlds" on a one-week trip to the Bahamas over Christmas break.
Led by faculty members Brad Sturgeon and Mike Sostarecz, six Monmouth students experienced the culture and beauty of the island nation while conducting scientific experiments. Others on the trip included chemistry lab coordinator Steve Distin; three students from St Francis University in Joliet, Illinois, led by former Monmouth geology professor Larry Wiedman; Sturgeon's wife, Kath; and the Sturgeons' son, Zach, a Luther College student who took Monmouth's quarter-credit course, "Immersion Exploration of Andros Island." "The experience allowed our students to explore new worlds," said Sostarecz of the trip, which was centered around the Forfar Field Station.
Wiedma, who visited that site for several years with Monmouth students, has continued the trips with St Francis students while teaching biology there. Sturgeon learned of Wiedman's trips through former Monmouth faculty member Peggy Kulczewski.
Snorkeling for science
The group took many trips away from the station, much of it involving snorkeling, both on the coast and inland. In all, the group snorkeled at nine oceanic locations, including an area known as The Tongue, a site off Andros Island where the shelf drops as much as 6,600 feet.
Inland, the group visited several "blue holes," which are surprisingly deep large circular holes on the island that are entrances to intricate cave systems running underneath the island and sea floor.
"Fresh water is lighter than sea water, so the fresh water stays on top in the blue holes down to about 100 feet," said Sostarecz. "Then there's a layer of bacteria, and below that is salt water, down to about 150 feet."
The group took samples there, one of several field laboratory experiences that students simply couldn't reproduce in a campus classroom.
Josie Welker (Class of 2021) of Lewistown, Illinois, said the trip was influential because of the sea urchin ovoperoxidase research she is doing with Sturgeon.
"Being able to get hands-on experience with live sea urchins in their natural environment and learning about them from marine biologists has given me insight on how to care for the sea urchins we will acquire as part of my research," she said. "Seeing the real-world application of my education has been a unique and inspiring opportunity that I owe to Monmouth College."
One of Sturgeon's favorite teaching experiences was a lab where the students worked with goniolithon — calcified skeletal material that resembles coral or, said Sturgeon, "a brain."
The culture of the Bahamas
Although the group did its fair share of snorkeling, scientific experiments and relaxing on the beach in 80-degree weather, there was also time to get to know the Bahamas in a more personal way.
To that end, Sturgeon said a highlight was a visit to the Androsia Hand Made Batik Factory. Batik is a technique of wax-resist dyeing applied to whole cloth, or cloth made using that technique. While talking about the visit in his office, he displayed two colorful handkerchiefs or bandanas made using a conch shell pattern.
Rachel Book ('19) of Byron, Illinois, said learning about and experiencing the culture of the Bahamas was a personal highlight.
"Being submerged in a culture that is family-oriented and community-oriented was refreshing," she said. "When we traveled anywhere on the main road, it would not be uncommon to have a local Bahamian honk and wave at us. I particularly enjoyed learning about the trades on the island, including basket weaving from Miss Annie and Mary Anne, wood carving from Henry Wallace, sponge harvesting from Otis, and Androsia printing from the interns. The trip had many interesting aspects, but I found the rich culture on Andros Island to be the most captivating."
Sostarecz took five cameras on the trip, including an underwater camera, a digital SLR for long exposures, a 360-degree camera and a GoPro.
The long-exposure camera was especially useful for shooting the night sky, as Sostarecz said there was "very, very little light pollution."
Sturgeon piloted a drone camera, which allowed for unique perspectives of the blue holes. He also took an extended video of a black-tipped reef shark making its way along a reef. The group also acquired a drone for underwater photography.
"We'd certainly like to go back"
Both Sturgeon — whose visit to Andros Island was his fourth, dating back to the 1970s — and Sostarecz agreed that the trip was very worthwhile, and that renewing the College's regular presence in the Bahamas is a distinct possibility.
"It's something where we'd certainly like to go back," said Sturgeon, who would even consider a sabbatical in the Bahamas or a semester-abroad program there. "There are certain types of experiments I'd like to do. I'd like to see other Monmouth faculty get involved, as well. It's a very affordable trip for our students."
"We're going ahead and thinking about what projects we might like to do there in the future," said Sostarecz. "It would be good if we could pick up the torch of the work Professor Wiedman has done there all those years and make this an annual or biennial trip."
View Online: http://monmouthcollege.meritpages.com/news/Monmouth-College-students-explore-new-worlds-on-one-week-academic-trip-to-the-Bahamas/7194