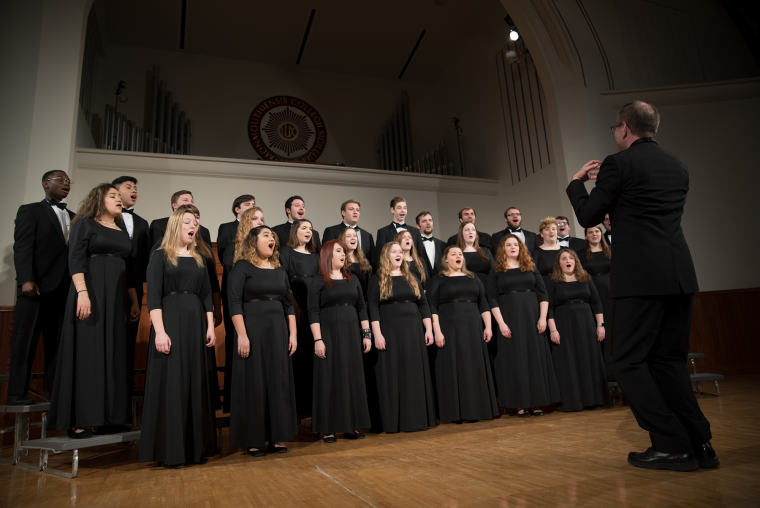 MONMOUTH, ILLINOIS (September 24, 2019) — If the sound of this year's Monmouth College's music program seems bigger, that's because it is.
"We're excited about the ensembles and the growth we've had this year," said music professor Tim Pahel, who is the College's director of choral activities, including the highly-selective Chorale. "We have a really strong freshman class on both the vocal and the instrumental side." Between choral and instrumental musicians, Pahel and Director of Instrumental Activities Stacy Dziuk report that well over 10 percent of the College's student-body is participating in music this school year.
The first opportunity to hear Monmouth's music program will be the September 28 Family Weekend concert. Performing at 7PM in Dahl Chapel and Auditorium will be the Chorale, the Monmouth Winds, directed by Dziuk, and the Chamber Orchestra, directed by music instructor Carolyn Suda. The performance is free and open to the public. The rise in numbers includes 15 new members of Chorale. "We only graduated three members last year - and we were good last year - so we're adding strength and lots of good freshman leaders," he said. "We're excited about all the good things that will be coming from these students."
Pahel has selected musical compositions to match the Chorale's talent level. "I knew I'd have a strong group, so I picked some ambitious music," he said. "There's a lot of variety — from different time periods from the Renaissance to much more-recently composed selections — and different regions of the world and different languages — Africa, the Basque region of Spain, Russian, Latin, and, of course, English." The Chorale is slated to perform at two other events during the fall semester. On October 20, the ensemble will sing on the Saturday evening of Homecoming weekend, along with other Monmouth choral groups.
The other performance will be on December 7 during the annual "Christmas at Monmouth" show, which will once again combine elements from the College's annual Christmas convocation, including a message from Monmouth Chaplain the Rev Dr Teri Ott. A highlight of the Christmas performance for Pahel is bringing together all of Monmouth's choral and instrumental ensembles for the opening and closing numbers. Other music events in Dahl Chapel this semester:
Piano recital by Solee Lee-Clark, 7:30PM, October 5
Monmouth Winds Concert, 2PM, October 27
Jazz Band Concert, 7:30PM, November 19
Chamber Orchestra Concert, 7:30PM, November 15
Maple Leaf Community Concert Series: "Inspiration of Christmas," 7PM, November 24
Additionally, the Fighting Scots Marching Band and the Monmouth College Pipe Band will perform at the remaining home football games on September 28, October 19, November 9, and November 16.