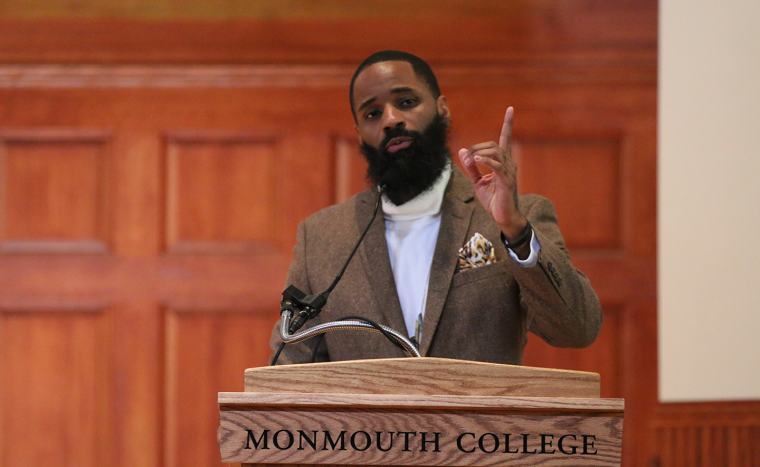 MONMOUTH, ILL. (January 20, 2020) — The keynote speaker at Monmouth College's convocation celebrating the life and work of Martin Luther King Jr requested a few words from the Dahl Chapel and Auditorium audience for what he called his "lay-up line" — an opening exercise that warmed him up for the event as he constructed an impromptu poem using those words.
In his actual address, which was based on his own production titled "King in Continuum," Chicago spoken-word poet Harold Green focused on another set of words — strength, bravery, action, and love. "It's easy for us to forget how strong he was, to forget how brave he was," said Green of the slain civil rights leader. "Not many of us in this room receive death threats every hour of every day. When you check into your shift at work, there's no threat of immediate danger." Green recalled a bomb threat in Chicago a few years back and how it shut everything down. "Martin got those calls every hour after hour," he said. "You know how strong you've gotta be for that? Wherever the problem was, Martin was there. That's a different kind of strength." "Love" was one of the words the audience suggested for Green's opening poem, and it was also a trait of King's that Green wanted to emphasize. "One of the most beautiful things about Martin was his deep, deep love," he said. "Martin's philosophy was 'I'm gonna love you so hard, I'm going to change your mind.'" Part of Green's production is a poem he wrote titled "Letters from a Chicago Jail," based on King's famous Letter from a Birmingham Jail. "Complacency can be the death of you ... being OK with being OK," was one of the poem's lines, followed by a call to action: "Never succumb to mediocrity. Speak now or forever lose your peace. Life goes on with or without you. You might as well have a say in it." From his impromptu poem, which included the audience suggestion of "unity," Green said, "We need each other. We have to do it together ... So much more can be accomplished when we are together ... We are all akin in the human spirit." Deshja Meyers ('22) of Davenport, Iowa, who also sang at the convocation, quoted from King's 1967 book, Where Do We Go from Here: Chaos or Community, to close the event. "Love is the key that unlocks the door," wrote King. "We can no longer afford to worship the God of hate or bow before the altar of retaliation." In his opening remarks, Dean of the Faculty Mark Willhardt said King "worked to meet the world where it was and to make it a better and more equitable place." Willhardt called the College's King convocation a joyous occasion and also praised the ensuing day of service that has become part of the celebration. No classes were held in the afternoon, enabling Monmouth students, faculty and staff to volunteer with one of 12 community partners. Willhardt called the service element an exercise in "matching our actions to understanding."
One of the College's volunteers was Rodolfo Garcia ('21) of Chicago. "I think it's important to volunteer not only today but any time you can," he said. "Today, we're remembering Dr. Martin Luther King in terms of the sacrifices he made for people and his community. We use this day to reflect and to give back to our own community. That's why I signed up."