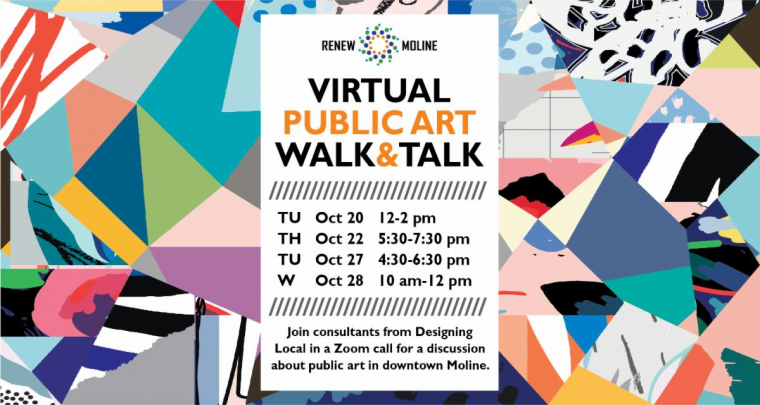 MOLINE, ILLINOIS (October 13, 2020) — Join us for a virtual walk-and-talk about public art in public space around downtown Moline. Our Designing Local team will lead us virtually through seven downtown sites to review existing conditions and dream big about how public art could benefit each space. There are four opportunities to participate in Zoom events during which the audience will be polled for their ideas for each site.
Tuesday, October 20, 12-2PM
Thursday, October 22, 5:30-7:30PM
Tuesday, October 27, 4:30-5:30PM
Wednesday, October 28, 10:00AM-12PM
Register for one of the four events at: https://www.eventbrite.com/e/virtual-public-art-walk-talk-tickets-124279301737.
Please only sign up for one Virtual Walk and Talk About Public Art. Limit of 20 participants per event.
Not comfortable with Zoom? A self-guided "walk and talk about" map and questionnaire will be available October 20th on the Renew Moline website. Complete the questionnaire and return it to the Renew office upon completion.
Can't make one of these allotted times? The first walk and talk about will be recorded and a link will be created for you to provide your input as well. Check back on the Renew Moline site after October 21, 2020.
Questions? E-mail Wendy Bonilla.