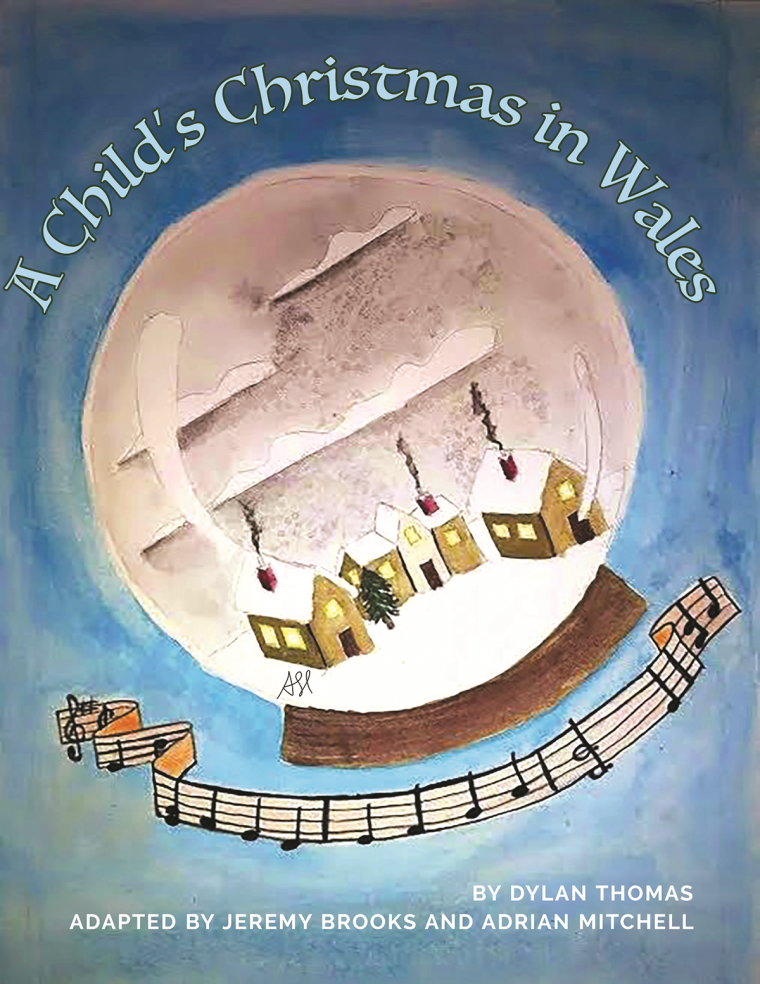 MONMOUTH, ILLINOIS (November 13, 2019) — Monmouth College and the Buchanan Center for the Arts are staging a holiday production that amounts to "must-see" theatre.
A Child's Christmas in Wales will be presented November 21-24 at the College's Wells Theater. Directed by Monmouth theatre professor Todd Quick, the play is an adaptation of what Quick called "a really beautiful Dylan Thomas poem." The play marks the return to the stage of longtime Monmouth theatre professor Doug Rankin, who last had a leading role in 1990. That role was when he starred as Henry II alongside daytime drama legend and Monmouth alumna Helen Wagner Willey ('38) in The Lion in Winter, the Wells Theater's inaugural production in 1990.
The play also marks the first starring role for sixth-grader Drew Carlson, son of Monmouth Admission Event Manager Michelle Flaar Carlson ('04), and her husband, Adam Carlson ('04). Christmas the way it should be Billed as "Christmas just the way Christmas always should be," the play will also help usher in the holiday season and give audience members a sense of what's ahead in their own lives in the weeks to come. "It's a really nice way to kick off the holiday season," said Quick. "Even though it's set in the 1920s, everyone will recognize their own family in the story and identify with some of the characters and the traditions." Despite the fact that the production features a Welsh Christmas and the music is also Welsh, Thomas' piece has universalized the essence of Christmas as any child anywhere might perceive it. If the play has a plot, it is the story of Christmas Day itself, from its quiet, magical beginning full of thrilling expectations to the end when the boy Dylan creeps up to his bed, replete with the joy of a perfect Christmas. "We all know about the chaos of the holidays and the stress and the things that can go wrong," said Quick. "This story reminds us that through our sense of love and generosity we can make the best of anything, at least for this one time every year." Back in the saddle Quick said he is thrilled to have the chair of his department as one of the production's two leading actors. "It's exciting to have Doug in a starring role in this production," said Quick. "It feels so appropriate. He's synonymous not just with Monmouth College but with the town of Monmouth. This is a community production, so it's fitting that Doug straddles that line." In fact, he straddles it perfectly. Joining Rankin in the 25-member cast are 12 Monmouth students and 12 community members. "When we learned that (emeritus theatre professor) Bill Wallace wasn't going to do it, I think I said, 'Maybe I could do it,'" said Rankin. "But I don't think I said it very loud, and I'm not sure if anybody took me seriously." A few days later, though, Quick made it official, asking his scenery and lighting designer to take the stage. "It's fun to watch him switch hats," said Quick. "He's able to put the set and the lighting aside for a couple hours each night and bring his character to life. We're very lucky to have him, not only leading our theatre department, but leading this show." "I was glad to get back into it, because I was worried that I'd lost it," said Rankin. "Of course, I really won't know for sure that I still have it until I'm in front of a live audience." Rankin cleared a major confidence hurdle the first night he ran his lines in front of the whole cast. "There's still the thought of 'What if I freeze?' But that's theatre," he said. "That's always theatre." When Rankin was a student at Monmouth, he played the lead in virtually every production for which he auditioned, an achievement for which he said he owed gratitude to emeritus theatre professor Jim De Young. "It's interesting how many of the roles I've had have been historical people," he said. "I've played George Bernard Shaw, Henry David Thoreau, Henry II, and now Dylan Thomas. That's kind of a challenge, because you don't know how far to push it and how much to stay true to the historical figure." After studying Thomas's vocal patterns, Rankin got the knack, but then decided he didn't want to simply copy the poet. So his narrator character is now about 75 percent his own personality, with a little Thomas thrown in. Rankin is enjoying his time on the stage, but he was quick to point out that he's sharing the role of Thomas with a talented actor. "Drew has been unbelievable in every way," he said of Carlson. "He's really the leader of the team. He knew all his lines before anybody. It's a challenge to keep up with him, he's so good."
Added Quick: "This is Drew's first big role. He's a phenomenal young actor. He's done really outstanding work." Monmouth College and Monmouth's Buchanan Center for the Arts will present A Child's Christmas in Wales at 7:30PM, November 21-23, and 2PM, November 24, at Wells Theater. Tickets can be purchased online at department.monm.edu/theatre. Tickets are $8 for adults, $7 for seniors and students, and $6 for students and faculty with a Monmouth College ID.