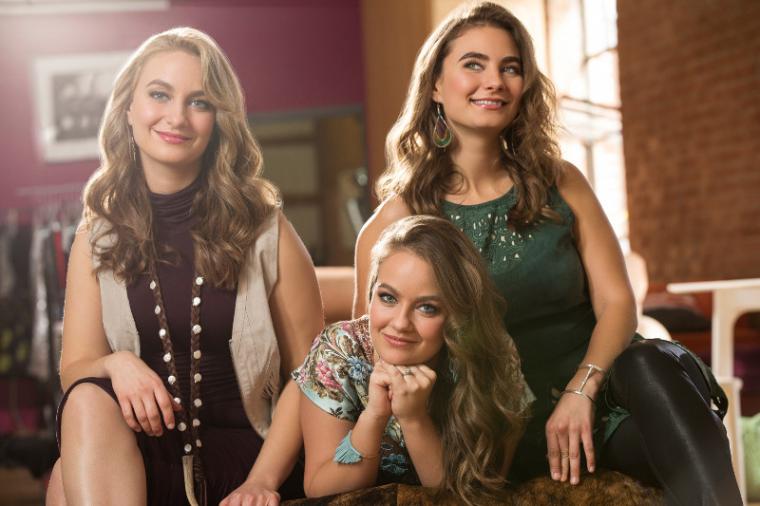 The three Quebe sisters – Hulda, Sophia, and Grace – had played the violin before they attended their first fiddle competition back in 1998. But something clicked with the Texas-style music they heard at the event, and within a year they were themselves competing.
"The environment of the contest was cool," said Hulda – the youngest sister – in a recent phone interview promoting the Quebe Sisters' September 23 concert at the Redstone Room. "There were kids there that were our own age playing. They were really good, actually."
Hulda was seven at that first exposure, and her sisters were 10 and 12. In addition to seeing peers playing, she said, the music is naturally fun and exciting.
And there was a social aspect to the competitions. "Fiddling has its own kind of culture," she said. "You get to see all your friends and hang out and have a great time at the contests."
Since then, though, the three sisters have gone from being competitors to being a band, and they continue to develop their artistic arsenal.
Their first album, 2003's Texas Fiddlers, was an all-instrumental affair. Three years after its release, they began singing together at shows.
Now, after a pair of additional records, they're beginning to write their own songs instead of just arranging tunes. Hulda said that when their fourth album comes out next year, it will likely include at least a few Quebe Sisters originals.
The progression feels logical. The sisters' 2014 album, Every Which-a-Way, has an easy charm, displaying the siblings' mastery of the fiddle and their instrumental and vocal chemistry. It's often difficult to discern how many fiddles or voices are on any given part.
The Quebes' singing if often forcefully cheery and bright – certainly appropriate to the Western-swing music they play – but they also take opportunities to add shading to the mix.
From the lovely yearning of Andy Statman's instrumental "Flatbush Waltz" to the hope infused into Hank Williams' "Cold, Cold Heart" to the devilish speed of "Jesse Polka" to the full-throated vocal treatment of "Wayfaring Stranger," the Quebes demonstrate an ability to sound comfortable in many fiddle styles while also transforming material into extensions of their group personality.
"There are very few bands ... that have three fiddles in them, so being able to take songs and have them sound stylistically appropriate and to add something to it has been a creative challenge," Hulda said of the arrangement process.
So it seems natural that the next step would be to bring their own lyrical and compositional voices to the mix through songwriting. To put it bluntly, the Quebe Sisters have little more to prove as expert interpreters and performers.
"It's been a new process," she said. "We're real excited about it. A whole different animal. ...
"It's kind of a vulnerable experience, especially when you're writing about things that you lived ... . It's really rewarding. It's a little bit more rewarding than I expected."
Still, she added, "I'm not sure how many will make it on the album. You write stuff and then you think about it for a while. 'Oh, that's dumb,' and you start over. ... I have a whole new appreciation for my favorite writers. ... We definitely hold up our music and go, 'Is this worth playing for people?' ... You have to be your own worst critic."
The Quebe Sisters will perform on Friday, September 23, at the Redstone Room (129 Main Street, Davenport; RiverMusicExperience.org). The 8 p.m. show also features Kendra Swanson. Tickets are $16.75 in advance and $22 the day of the show.
For more information on the Quebe Sisters, visit QuebeSisters.com.