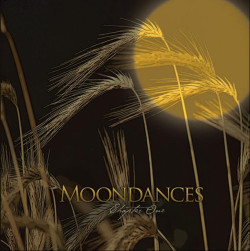 The benefit compilation CD Moondances Chapter One begins with a song Ellis Kell wrote in memory of his daughter, and it ends with one written following his father's death. The second track, "You Can't Hurt Us Anymore" was penned for Sheltering Kevin, a documentary by Carolyn Wettstone about domestic violence.
That suggests a generosity not only of time and art but of spirit. Kell is not merely sharing his talents but also his difficult experiences and his heart. "I've always tried to draw something positive out of when these things happen, whether it was my daughter's passing or my father's passing," he said. "And we share these things with other people."
Other artists shared, too. In addition to Kell, his eponymous band, and his trio The Whoozdads, the 13-track album features tracks and performances by the Terry Hanson Ensemble, Dave Cox, Matt Podschweit, Andrew Landers, Kim Wiseman, Mark Johnson, Lojo Russo, Tony Hoeppner, Jim the Mule, Boothill Ridge, "Coney Island Pete" Collins, and Dave Sebree (of the Austin School of Music).
They all donated their music, and everything from the graphic design to the mastering was done gratis. Businessman Terry Lunardi, who died earlier this month, paid to press the CDs. So the entire $20 purchase price of every CD will be given to the Karli Rose Kell Music Scholarship Fund at the River Music Experience (RME).
"We pretty much did it for nothing," Kell said. "Every penny goes to the fund, which goes to the kids."
As the disc's title suggests, Kell hopes to make this a CD series, although he declined to say how many he'd need to sell before pursuing chapter two.
"If we sell a handful of CDs and raise money to help kids who can't afford a music lesson or Rock Camp or whatever it is at RME, to help one of the schools that doesn't have quite enough money to come for River Currents tour, then we're ahead of the game," Kell said. "I would love to see us raise $10,000."
Karli Rose Kell died in a car accident in 2002 at age 17. At Rock Island High School, a fund in her memory raised $13,000 for scholarships for students who wanted to study music in college. The fund at the River Music Experience has thus far raised $13,600 and disbursed $8,800, Ellis Kell said.
Moondances Chapter One is, in content and tone, mostly direct and inspirational in its first half, and I'm guessing the songs' clear sentiments will provide many people with comfort. "Hunter's Moon" and Wiseman& Johnson's "Now You're Everywhere" - written by Randy Fisk after Karli Rose Kell's death - are appropriately emotional and well-suited to fresh grief. The Terry Hanson Ensemble's instrumental-jazz take on the hymn"The Church's One Foundation" might not have words, but it's cool and soothing.
Russo's "Girl" and Hoeppner's "Living for Today" represent a subtle shift; they're largely acoustic, but their lyrics explore the fullness of life, not just the healing process. Jim the Mule's "Own Sweet Time" is good-time rock-and-roll, and it passes the torch to Boothill Ridge's "Derailed." Sebree's guitar-dominated instrumental "The Sun Also Rises" is both eloquently mournful and fiery, and is a good lead-in to Kell's closing "Irish Digger."
As you might expect, this sort of compilation is a stylistic mishmash, but it mostly uses variety to its advantage. Jim the Mule's and Sebree's tracks don't really "fit," but they inject a different energy.
Kell let the participating bands choose their songs, and a few just seem odd. Cox, Landers, & Friends' "The Right Thing" is smooth with a straightforward folk-rock groove (including flute) for more than two minutes - and then the gunfire and an explosion bust in, segueing to hip-hop.
"We wanted to have a little bit of everything on it," Kell said. Mission accomplished.
The Ellis Kell Band will celebrate the release of Moondances Chapter One on Friday, August 28, at the Redstone Room (129 Main Street in Davenport). The show starts at 8 p.m., and admission is $7. For tickets, visit RedstoneRoom.com.
For more information on Ellis Kell, visit EllisKell.com.
To donate to the Karlie Rose Kell Music Scholarship Fund, visit RiverMusicExperience.org/support.
Moondances Chapter One is available at Mojo's in the River Music Experience and The Grape Life, and it will also be for sale at River Roots Live.