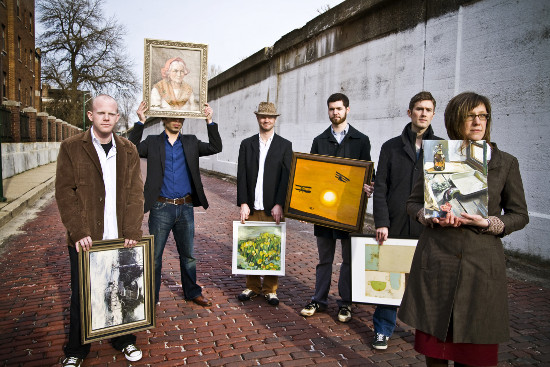 (Editor's note: This article was originally published in advance of Canasta's February 3 River Music Experience show, which was canceled. It has been re-scheduled for Friday, March 25. Show information has been updated in the article.)
The six-piece Chicago orchestral-pop band Canasta began writing songs for its second album shortly after the release of its first - We Were Set Up - in 2005.
It took five years for The Fakeout, the Tease, & the Breather to get finished and released. That's a lifetime in the music business, and probably two or three lifetimes for a band that's still trying to break through - with all the members holding down "real" jobs in addition to their band duties.
Canasta will be performing an all-ages show March 25 in the River Music Experience's performance hall, and it should be evident that the labor that went into The Fakeout, the Tease, & the Breather was fruitful. Both the Huffington Post and Metromix named it one of the best Chicago albums of 2010. The Chicago Reader called it "so perfect - every note falling into place with deeply satisfying craftsmanship - that you'll swear you've heard it before." And The Onion's AV Club said: "You can almost feel storm clouds parting for the 11 sunny, rollicking songs that lay ahead. For nearly a decade, the local chamber-pop group has managed to retain its ambition and melodic optimism, without ever coming across as winking."
But in truth, the half-a-decade story of the album is less about nailing the nuances over time than an unusually liquid lineup.
"Anytime we had somebody who was new, it was setting you back another six months," explained Canasta violinist and founding member Elizabeth Lindau in a phone interview last week. New members had to learn the band's songs for live shows, so work on a new album was slower than anybody wanted.
"We're always training new people," added bassist, singer, and founding member Matt Priest.
Ordinary band turnover can't by itself account for a five-year gestation period, but Canasta isn't a typical band. By Priest's count, Canasta has had 17 members in its nine-year existence, and because of the group's collaborative songwriting process, "15 people all had a hand in something" on its album from last year.
Lindau and Priest don't sound like especially difficult people, and when asked what they do to regularly drive away bandmates, they took the ribbing in good humor. ("That's a totally fair question," Priest said.)
Kidding aside, the band's revolving door is a reflection of two key aspects of Canasta: the meticulousness of the music and the rigors of a do-it-yourself band.
"We tend to be a very detail-oriented, type-A kind of band, which is maybe a little unusual," Lindau said.
That's true of Canasta's songs, but also of its way of doing business. Priest might write a press release, and Lindau might assemble and send out press kits. The combination of a part-time band, handling nearly every aspect of Canasta's existence, other jobs, and the yearning for perfection inherent in the band's style of music can be draining. "It's pretty taxing," Priest said. "You've got to really, really want to do it."
Canasta isn't intended as an ever-changing collective, and Priest and Lindau were frank about the regular turnover. "I really hate it," Priest said. "It's a real momentum-killer sometimes." Lindau added: "It's horrible."
Yet it must be said that there's no hint of turmoil on The Fakeout ... . Despite the large number of people involved in the band over the years, it fulfills the band's goal of being a coherent album.
Priest said that at the outset, "we set out to make a winter pop record. ... Maybe it was chilly outside but you could wrap yourself in the album." Lindau added: "Maybe a little darker pop."
The album's title - a self-mocking reference to different songwriting tricks the band often uses - alludes to the music's adventurousness. It rarely goes in the anticipated directions, and it often doesn't conform to standard pop structures. At the three-minute mark, the bright groove of "Mountains of Molehills" shifts to a lovely, delicate guitar-led break that wasn't foreshadowed, and the climactic chorus of "I Don't Know Where I Was Going with This" is unexpectedly forceful, largely because of the introduction of a second vocal line. On the alternately thoughtful and rousing "Appreciation," mariachi-style horns make a few brief appearances.
Yet the record, as intended, works as a front-to-back listen, despite the digressions within songs.
One element of that, Priest said, is that new members were plugged into an in-progress project, and "people had to fit themselves in that equation."
That's different now, with three new members (of course!) since the release of The Fakeout ... . "In the past, we've often had a vision for things," Priest said. "And currently, we don't have a vision, and I'm hoping that that can produce something pretty interesting. ... Now it's a clean slate for the first time in a while."
Given that, Priest expects Canasta - within its signature sound - to explore new paths suggested by the strengths and interests of its new members, everything from jazz to '70s-style soft rock to power pop. Last year's album, he said, was "the best kind of record that we're capable of making in that ... orchestral-pop vein. Whatever we do next I'd kind of like to stretch out and try something different."
Canasta will perform an all-ages show on Friday, March 25, in the performance hall of the River Music Experience (131 West Second Street in Davenport). The show also features The Lion in Rome. Admission is $5 at the door, and the show starts at 7 p.m.
For more information on Canasta, visit CanastaMusic.com, MySpace.com/canasta, or Facebook.com/canastamusic.