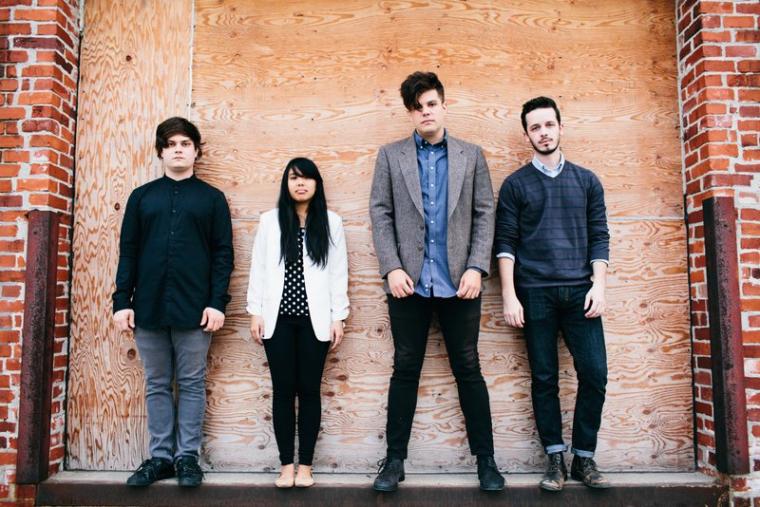 Omaha, Nebraska-based See Through Dresses is about to take the leap from '80s- and '90s-informed rock to a cleaner, synth-driven sound with its upcoming record.
After its 2013 self-titled debut, the band had a group of more-dissonant songs it wasn't sure how to release. Ultimately, it opted last year to put them out as the End of Days EP. Drummer Nate Van Fleet – in an interview promoting his band's August 17 Rozz-Tox show – said that although there was some debate, See Through Dresses felt it was a coherent group of rock songs.
But Van Fleet said the group's upcoming album, due in early 2017, will have a feel unlike that of its previous work. The record will feature songs that the band has worked on for a long time, and he said a lot of effort is being put into the sound, with more emphasis on tone and timbre. Band founders Matthew Carroll and Sara Bertuldo – who both play guitar and sing for See Through Dresses – are still working to perfect the guitars, vocals, and synths to go along with the rhythm-section tracks that have already been recorded.
That process, Van Fleet said, is much different from how End of Days was thrown together. The EP plays as a love letter to the early days of college rock. Carroll and Bertuldo split the writing on the EP evenly and sing their own songs. The result is almost like a Pixies album, with the alternating male and female vocals and a similarly melodic sound with rough and grungy edges – although the band has a wide range of influences.
End of Days' "Little Apple Rot" has sections reminiscent of Television guitarist Tom Verlaine, for example, with notes rapidly descending down a scale like on the intro to that band's "Friction."
Noisey writer Annalise Domenighini wrote that "See Through Dresses are bringing new life to the grungy, shoegaze-y sound that The Cure and My Bloody Valentine have made popular." "Glass" certainly has a jangly guitar that sounds lifted from The Cure.
Yet many of the songs are filled with distortion, drone, and feedback in the guitar. "Big on Brains" wouldn't sound out of place on a Sonic Youth album, with its screeching guitar – a stark departure from the crunchy but melodic EP opener "Haircut."
"Matt and Sara come at songwriting from slightly different spots, but as soon as we get together and hash things out, it always ends up sounding like See Through Dresses," Van Fleet said.
And critics have noted the precision with which See Through Dresses approaches its material. Ben Curttright of the music blog Funeral Sounds wrote: "All told, See Through Dresses is a really satisfying album, and you would never guess that it's a self-released debut; the songwriting, performance, and recording quality more closely resemble a band that's been together for years."
"When Summer Ends," a track from that debut, is crafted from power-pop guitars with a bouncy melody line weaving through the song. But the low, droning vocals bring in a post-punk element, illustrating the band's ability to pull together disparate influences from decades past into modern indie rock.
See Through Dresses will perform on Wednesday, August 17, at Rozz-Tox (2108 Third Avenue, Rock Island; RozzTox.com). The 8 p.m. all-ages show also features Archeress and Effie Afton, and cover is $5 to $10.
For more information on See Through Dresses, visit SeeThroughDresses.bandcamp.com.
Hannah Bates is a recent St. Ambrose University graduate who likes music more than she likes most other things. She can be reached at bateshannaha@gmail.com.