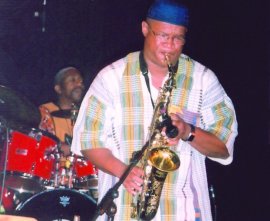 Jazz alto saxophonist Ernest "Khabeer" Dawkins will bring his "Straight Ahead" Quartet with special guest pianist and jazz educator Willie Pickens to the River Music Experience's Redstone Room in downtown Davenport for Polyrhythms' Third Sunday Jazz Matinée & Workshop on August 17. The workshop begins at 3 p.m., with admission $3 for students and $5 for adults. The concert begins at 6 p.m., with general admission $15 and reserve seating $20.
Dawkins began practicing the electric bass while attending Chicago Vocational High School and didn't take up the saxophone until around the time he was attending the VanderCook College of Music. In the mid- to late 1970s, Dawkins learned about the Association for the Advancement of Creative Musicians (AACM) and the AACM School of Music and begin studying there under saxophonists "Wes" Cochran, Vandy Harris, Edward Wilkerson, and Douglas Ewart. Dawkins became a member of the AACM in 1978. He also continued his collegiate studies and by 1983 had earned both a bachelor's and master's degree in music education at Governors State University, allowing him to teach music in Chicago high schools.
Soon after joining the AACM, Dawkins began performing with AACM bands such as the AACM Big Band, Edward Wilkerson's Shadow Vignettes, and Douglas Ewart's Clarinet Choir. In 1979, Dawkins founded the New Horizons Ensemble, which began playing concerts, clubs, and festivals. The ensemble made its first European tour in 1986, and its first CD, After The Dawn Has Risen: New Horizons Ensemble Live In Leverkusen, was issued by the German Open Minds record label in 1992. In the '90s, Dawkins began taking the ensemble to South Africa, where he helped found an exchange program between South Africa and Chicago musicians.
Dawkins' New Horizons Ensemble performed at the 2004 Mississippi Valley Blues Festival, and he was a member of the Great Black Music Ensemble that performed at this year's blues festival.
Dawkins' New Horizons Ensemble records for the Delmark label, and its latest recording, The Messenger: Live at the Original Velvet Lounge, is available on CD and DVD. Dawkins also tours and records with Kahil El'Zabar's Ethnic Heritage Ensemble.
Pianist Pickens might be best known for being the leader of a trio that backed up the many jazz legends Joel Segal brought to his Jazz Showcase club in Chicago, among them Sonny Stitt, Gene Ammons, "Lockjaw" Davis, Joe Henderson, Dexter Gordon, Clark Terry, and Ira Sullivan. Pickens spent 30 years teaching music in Chicago public schools, after which he toured and recorded with the Elvin Jones Jazz Machine for four years. The 2006 Chicago Jazz Festival celebrated Pickens' 75th birthday by having him and his band perform at the festival, and the festival T-shirt featured a portrait of Willie playing the piano.