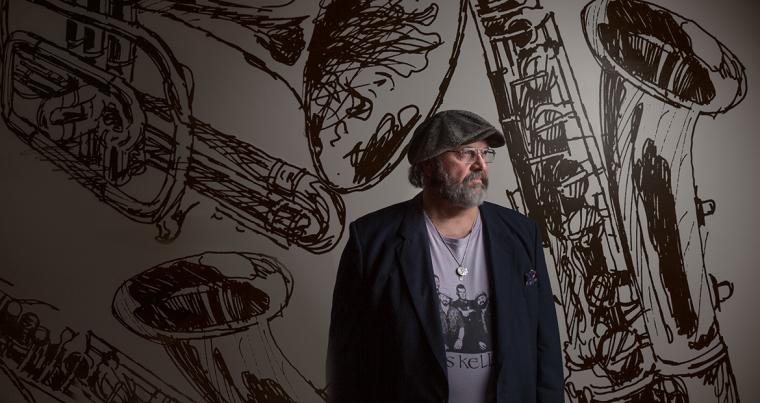 Ellis Kell died suddenly in December – after an October cancer diagnosis – and he was known to many as a stalwart part of the Quad Cities music scene and a longtime staff member of the River Music Experience. But these remembrances attest that Kell was loved far beyond those roles.
Peace, Love & the Joy of Music, a benefit concert for the Kell family, will be held on Saturday, January 21, from 4 to 11 p.m. at the RiverCenter (136 East Third Street, Davenport). The suggested donation for admission is $10. Scheduled performers include the Ellis Kell Band, The Whoozdads?, The Way Down Wanderers, David G. Smith, The Candymakers, Lojo Russo, The Velies, Rude Punch, The Curtis Hawkins Band with Ernie Peniston & Hal Reed, Quad Cities Blues Mafia, and RME Camp Kids Jam.
For a 2015 River Cities' Reader cover story on Kell, visit RCReader.com/y/kell.
When I left the Quad Cities back in 1984, Ellis was a young, up-and-coming blues musician. I played with him briefly at a little studio in town. I don't remember the name or the track – just that he was proud of his new Les Paul Studio. It was 20 years before I played with him again. Through the years, he had become an influential player and well-respected fixture in the city's music scene, and whenever Shenandoah was booked around town, we always found time to chat backstage about guitars and family.
I never really realized just how special and influential Ellis had become until my brother, Jack Seales, died in 2004. Ellis put together a memorial benefit show for him and took care of all the details – the auction, the personnel, and the volunteers and entertainment. Shenandoah was still in its heyday, and I was traveling nonstop ... but I came in off the road and drove to my old hometown and was overwhelmed at the event he had put together.
I don't remember how much money was raised, but I do remember the caring attitude and the tireless effort Ellis put forth. He showed me the exhibit he had put together for Jack and spoke about his dreams for the RME. It was obvious that he played a key role in the music community of the Quad Cities. His caring attitude did not go unnoticed; everyone I spoke with reiterated that Ellis was always the one who picked up the torch when someone was in need. I was proud to get to play with him that night ... and I know he and Jack are now playing together again.
All people dream of making a difference in the world, musicians maybe more than most. Ellis made a difference where it counts. He filled people's hearts with music and their lives with love and hope. If there is a Hall of Fame for these attributes, I know who is going in first. Love you, Ellis Kell. Peace, love, comfort, and blessings to your friends and family.
– Jim Seales, Shenandoah
I met Ellis Kell in 2005. I'd just moved to Iowa from Minnesota, and Ellis did the booking for Mojo's Café. (Now Falbo Bros. Pizza, Mojo's was part of the RME back then, and the Redstone Room was just in its infancy.) I had no idea when I made that "cold call" for the gig that Ellis was so much more than just the talent buyer for Mojo's. We ended up talking about everything: the music scene in the QCA, blues, rock, mutual musical acquaintances, and just music in general. I got the gig, and it wasn't until the night of the show that I got to meet the man himself.
Ellis was an easy man to love and respect, and we were friends from day one. Whenever we'd see each other, there was always a story to share. One of our earliest conversations was about Ireland. He spoke of his Celtic roots, and we shared stories of the music, the people, and the Irish countryside. A short time later I went to live in Ireland briefly and brought him back a stone from Co Galway for his collection.
I admired Ellis' deep love for music – the joy of music, spreading it around, sharing its history, and teaching children how to find their joy in music. Over the years, I was fortunate enough to share some of these experiences at Ellis' side.
Ellis Kell introduced me to the music, the music scene, and the musicians of the Quad Cities, and I am thankful for all that he shared with me. From his easy smile to his signature salutation, "Namaste," Ellis was so much more than just a musician, and I couldn't have asked for a better adviser, mentor, role model, and, most importantly, friend.
– Lojo Russo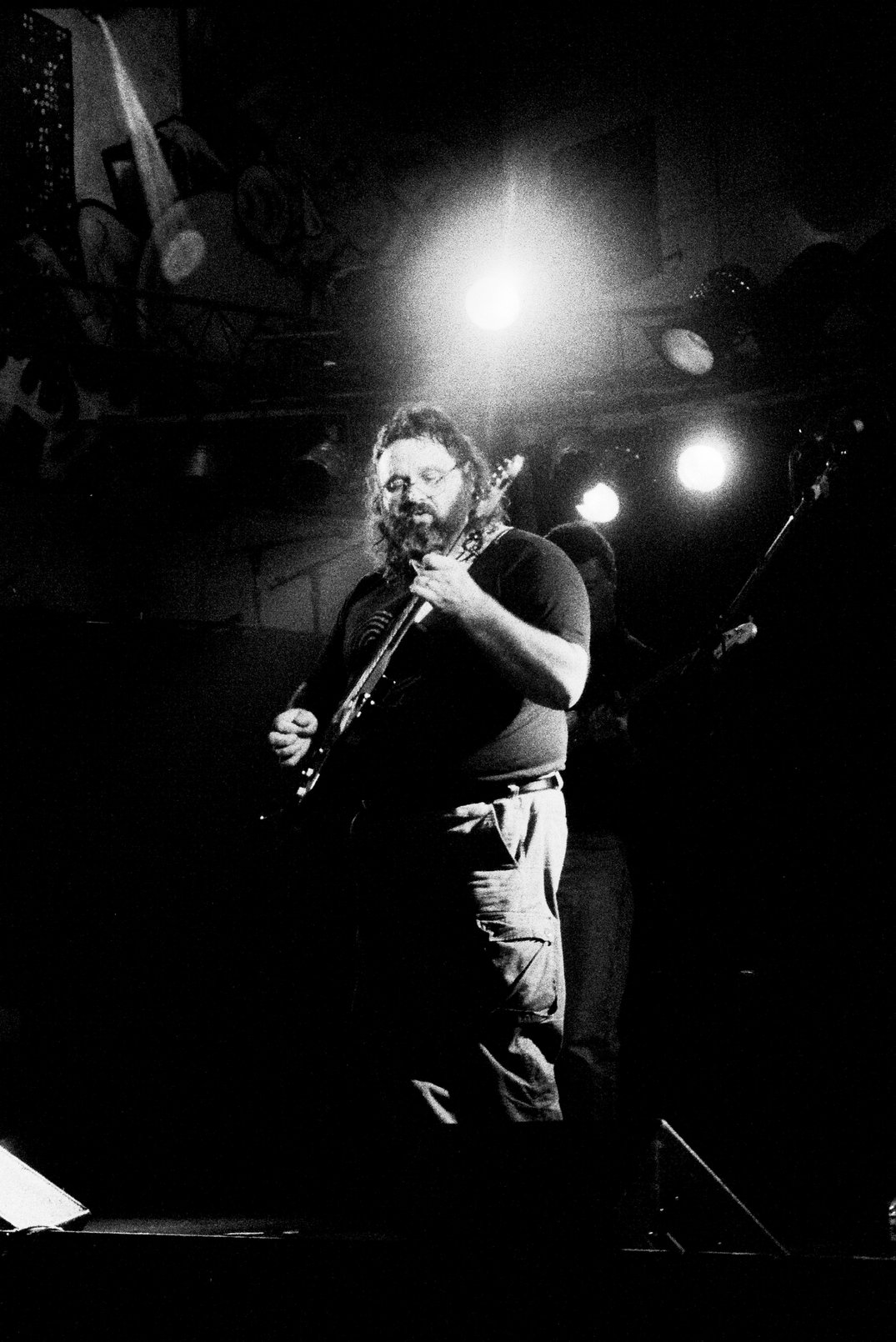 How do you describe Ellis without writing a novel? Ellis was selfless, compassionate, strong, organized, loyal, and extremely talented. He was the ultimate family man: husband, father, grandfather, and son. He was a mentor, friend, and brother. Ellis loved music more than anyone I've ever met. He loved his family more – which is what I loved about him the most. He taught me so much in our six years working, playing, and laughing together. We kept each other's secrets. Ellis was the biggest influence in my life. My king of kings, my mentor, my friend. I love you!
EK: Just between you and me ... I'm the lucky one.
– Bret Dale, Director of Programming & Education at the River Music Experience
I met Ellis in late summer of 1968. Most people don't know that Ellis started out as a drummer. We were in a two-drummer junior-high-school rock band. About a month into it, Ellis asked to use my drum kit, and I said no, so he quit.
A couple months later at school, he told me he switched to guitar and was taking lessons. I said, "Come on over and we'll jam." We played a couple of parties and won a talent show, but we needed a bigger sound. We both said at the same time: "Call Mike." So it's been Ellis, Mike Frank, and me for 45 years plus, in one band after another in some combination of the three of us, all the way to the present.
If we had a 4-o'clock-in-the-morning gig, the next day, if we had to tear down, he would be there way before everybody else and tear everybody's stuff down. He was just that way. In school, he was the same way – always got his homework done two or three days before everybody else.
When we were young, he came over to my house every day. When I say every day, I mean every day. And then when I got married, he still came over to my house every day.
In 1970 or 1971, we were supposed to play the Col Ballroom, playing backup to a band called White Lightning. White Lightning was the backup band for Grand Funk at the time. We go over there, and somebody had pulled a prank on us. So it made us feel about a foot tall.
We were in a band called Diamondback in 1980. Ellis and Mike were both pretty good writers. It had really good vocals. That band would have done something if it would have kept the path. But Ellis had enough, and I think he didn't want to go on the road.
We've been friends through life, not just music. Ellis was best man in both my weddings, and I was best man in both of his, and we played at Mike's wedding.
Ellis used to be a very shy person. He didn't talk to very many people. He changed after he quit drinking, and after losing his dad, and losing his daughter, of course. He changed to be more open, understanding.
He got married to Kristi, and I think Kristi kind of changed him in a lot of ways. He got to be himself, and he got really good at organizing, putting people together. Not so much the music part of it, but the humanitarian part of it. He was always good at that; he would always play the middle well.
What you've seen with him the last 15 years was who he was. He wanted to be himself, and that's who he became.
We have never lost contact. We communicated every couple of weeks about something – life, music, family. I truly miss my friend.
– Jeffrey Clark
I worked with Ellis a number of years doing sound for the Ellis Kell Band. At an outdoor gig at America's Pub one night, Ellis noticed I was really bummed out. He asked me what was wrong, and I told him I had to put my cat down because of a lengthy illness. He patted me on the back and reassured me that everything would be okay. Early the next morning, Ellis' wife Kristi came over and dumped a box full of kittens on the porch. She said Ellis sent her over to see which kitten I wanted. One of the kittens walks into my house and checks out the place, and it looked like the digs suited him just fine! So I said, "I'll take this one!" Two weeks later, no name for the kitty. So I'm sitting in my living room with my little buddy lying next to me watching the movie Crossroads and my wife is angry with me because I took the kitten in the first place, and she walks in and says, "We need a name for this cat." Just then "Lightning Boy" (Ralph Macchio) walks into the hospital room and says, "I'm looking for a man named Willie Brown!" That was it! We named him Willie Brown, and the rest is history. Of all the things Ellis gave to me, he gives me a "Blues Cat!" Willie was a faithful companion and always waited for me outside after every gig I did. Ellis got a kick out of the fact that I named one of his kittens Willie Brown. He would chuckle and ask, "How's my boy Willie Brown doing?"
– Mike Ortiz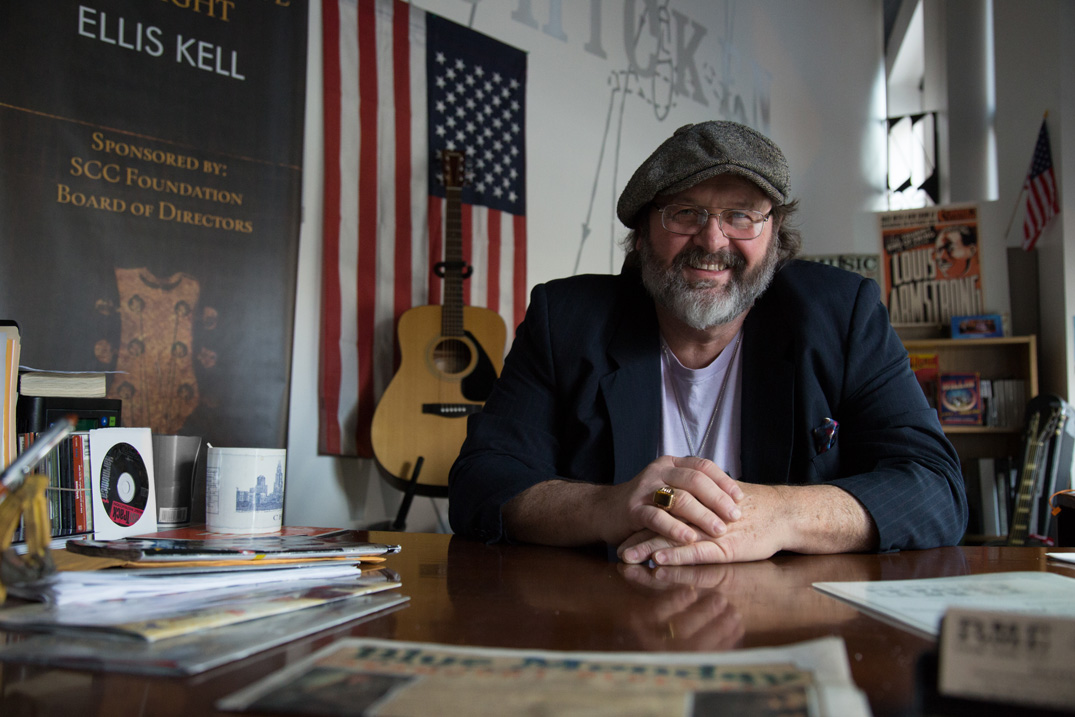 Ellis Kell was instrumental in helping as a producer for the Oil Can Christmas Band and its 30 various musicians when they introduced the classic Chuck Berry tune "Run Rudolph Run" 20 years ago. The song is still played to this day around the Quads at Christmastime! It was a great example of the way Ellis enjoyed inclusion when it came to different genres of players.
I can't imagine a local scene without our brother. Thanks for my nickname, Ellis! Homesick Kenny B.
– Ken Brandt
I met Ellis in the late '80s. I was in a band called the Mudcats, and he was hanging around quite a bit. Eventually we got him up to sit in. Actually, he was the only person that we ever really got up to sit in. That's how we got to know each other musically and become good friends.
I played with Ellis in the original Ellis Kell Band (and will be coming from Arizona to play with the band again at the January 21 benefit concert at the RiverCenter), but I played a couple of shows with just him and I – him on guitar and me on harmonica.
As a musician, he was always exceptional. He had a nice touch on the guitar, and his voice was really smooth. I always enjoyed listening to him.
I'll always remember Ellis as being the gentle giant. A giant because of his huge ability to show love and kindness to everyone he met. He made everyone feel like they were best friends. You couldn't find a better human being – the way he respected others and the way he drew people into his life.
It goes without saying that Ellis' legacy will live on in the hearts of those he has touched for decades to come.
– Dennis Hancq
"Peace, love, and the joy of music, partner." That's the common closing line I'd find from Ellis in 5,000 e-mails spanning the time before, during, and well after we worked together at the River Music Experience, where I was the talent buyer for the Redstone Room and River Roots Live from 2006 to 2009.
This partner simply played the team game. I've had some amazing teammates in this music industry, near and far, but I can think of no one who had a more team-oriented work ethic than Ellis, even as I write this from the industry capital of Nashville.
Ellis' love of music made him a blues historian, but he was always seeking new musical discoveries because he could feel it all. He had headphones at his desk for when he needed to feel music with his eyes closed. And what he loved he wanted to share with everyone else to see it give them energy, too.
Peace and love were all he wanted in his community. That meant equality across all races and genders, the less fortunate and the privileged, the old and young ... everyone. It deeply saddened him to see someone else hurting, and he'd give every effort he could lift someone up.
I hope there is someone who steps up in the Quad Cities who is as selfless as he was in the music community. Just love what you do and be willing to teach. Ellis would share the blessings.
– Santo Pullella, Talent Buyer for the Third & Lindsley music venue in Nashville, Tennessee
I never thought about how I met him until he passed. It was late 1997, early 1998. He was one of the first people to reach out to me when he worked for QCOnline for the Dispatch. He said, "Hey, we want to build you a Web site." I'm pretty low-tech; I certainly was at that time. Just a year prior, I was crawling on the bottom of the river for three months, diving for mussel shells. He convinced me that if I had a Web site that he would design and they would pay for – totally pro bono – it would help me bring more people and it would help the cause.
They built me a Web site, and I got a lot of compliments on it. That's how I met him.
And on top of that, he'd written some songs about the river, and obviously the river was dear to him. And he shared that with me, and that's really how I began a long-term friendship with him.
We did a ton of stuff together. The RME was formed, and he worked full-time there, and I served on the board and had a lot to do with the River Roots Live event.
He and his wife would come to a lot of our special events outside the Quad Cities. He would come down to Memphis; Louisville, Kentucky; New Orleans; Paducah, Kentucky. He loved those places. He'd say: "This is where my kind of music was born." Especially New Orleans and Memphis.
He'd do performances for special events that we were having to make the event even better.
We all need more Ellises in our lives. The world needs more Ellises. He was a very selfless man who had a huge heart and did a lot for others around him – constantly.
– Chad Pregracke, Living Lands & Waters Founder and President
When I moved back to Iowa from Nashville, I eventually ended up in the Quad Cities. The RME was in its first year. There was no Redstone Room, Community Stage, or education component. There were no outreach programs. That came later, and that was all Ellis. He was one of the first musicians I met here. He extended his hand. It was a firm and welcoming handshake. We had coffee. A very unassuming man, he told me about his trip to Nashville back in the '80s to meet one of his songwriter heroes, Kris Kristofferson. He found him, or at least his publishing house and publisher, but was told Kris had already moved out to LA. What I remember most about our meeting was that Ellis had an easy way about him. A kind of "calm," if you will. And it radiated through his handshake and presence. There was no one-upmanship or power play to his character. I had the pleasure of working with Ellis from time to time over the next dozen years. That sense of calm, even under the most stressful situations, was always present. A calm that told me he knew what was important about life – and people taking care of people was right up near the top. It was that simple for him. And that's how he spent his life, extending his hand ... and his heart, always welcoming ... always taking care of people. It was the true music of his life.
– David G. Smith
For Ellis it was always about the joy of playing music.
During the eight years I worked alongside Ellis at the RME, there were plenty of challenges to tackle, as is common at any nonprofit organization. But no matter what was going on, we were always able to share songs and guitar licks with each other, and I certainly learned a lot more from Ellis than he did from me – though he'd never say that.
Ellis' playing was so natural, and he was such an unassuming person, that it was easy to forget what a tremendous musician he was. He could pick up just about anything with strings on it and make it sound like he'd been playing it for years, and he was a great piano player to boot – though he'd never admit it.
Despite his significant gifts, he always made other players feel like they were doing a great job and never hesitated to assume a backing role to let others shine. We would often joke about how much better the young musicians in RME programs were than we were, but it wasn't a joke at all. Those kids and young adults are excellent musicians and better people because of the life work of Ellis Kell.
– Tom Swanson, former Executive Director of the River Music Experience
My husband Mike Pestle and Ellis knew each other from a very young age; they grew up across the alley from each other. Mike lost his father at age seven (he was a Rock Island firefighter named Bernard Pestle). Then when he was a sophomore, Mike's mother passed away from colon cancer.
Ellis had a big heart and compassion for others even as a high-school student. When Mike's older sister called him to tell him of his mother's passing, Mike called Rose Kell – as she was like a mother to him, as well, especially during his mom's illness. Rose immediately called the school to inform Ellis of the passing of his friend's mother. Ellis then walked into the school office and told them, "You can give me detentions, a suspension, or kick me out of school, but I am leaving to be with my friend. He needs me." Ellis was a junior at the time and knew that his friend was devastated and heartbroken and needed him. Amazing that at such a young age he thought of others before himself.
They remained close friends their entire lives. In fact, when I met Mike and we began dating, it was Ellis and Kristi Kell that Mike introduced me to, and their acceptance of me meant so much to him. We became close friends, and Ellis and Kristi stood up with us when we were married in 1990. Mike so often referred to Ellis as his brother.
I cannot think of anyone that has been better friends, and always there when someone needed them with a quick smile, a hug, kind words, or just that silent presence that gave you comfort without judgment no matter the circumstance. We have lost an amazing musician, for sure, but even more an amazing human being.
– Kim Pestle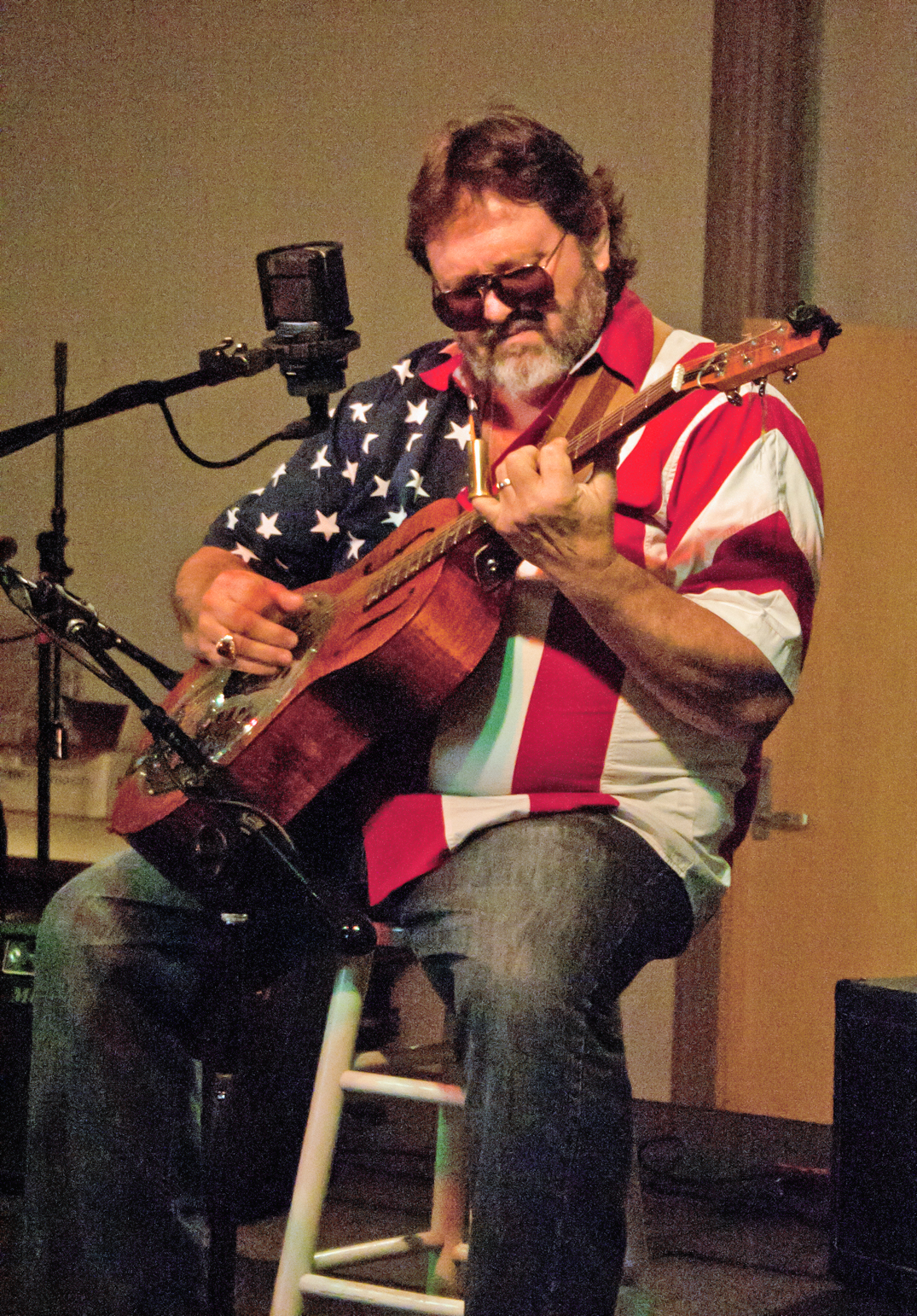 Occasionally, we are fortunate to meet individuals with whom we feel an immediate connection that resonates through our lives. I met Ellis after moving to the Quad Cities to develop exhibits and programs for the River Music Experience. I knew immediately that I wanted to work with him. As a stranger to a new community, his warmth, enthusiasm, and love for music and community were genuine – his embrace of me as a friend and colleague was heartfelt and real. Through the years, I would periodically get a message from Ellis thanking me for making him part of the team that built the RME. He had a way of making me feel included and appreciated, although it was his passion and drive that created such a vital center for the Quad Cities. The character and integrity of the RME are tributes to Ellis' initiative and commitment. When the B.B. King Museum opened to the public in 2008, he traveled to Mississippi and was there to celebrate the opening of that museum with me. His joy at the success of others was authentic and unaffected.
Angels are not ethereal beings with gossamer wings that hover beyond our ken. And when pressed to define them, our conception almost always fails to comprehend their true constitution. We should not be surprised to learn that they move and breathe among us, showering their mercy upon us in the most unassuming ways. Ellis Kell was such a creature. His avocation was grounded in a profound love for the music he stewarded and made. Always considerate and kindhearted, he moved through the world with grace and taught me that generosity is its own reward.
– Connie Gibbons, former Executive Director of the River Music Experience
I wanted to comment on what a friend Ellis Kell was to the Mississippi Valley Blues Society, blues bands, and many more genre of music. He always spoke highly of the Mississippi Valley Blues Society and also of our festival. I believe most everyone involved with MVBS also thought very highly of Ellis Kell. He deserves praise for all of his work with youth, too. He was very involved in the Rock Camp and Blues Camp programs through the River Music Experience. I believe his involvement in the RME was very instrumental in being a showplace for touring and local band performances. It was also a great place for youth to learn other aspects of music, such as learning to play instruments, editing and/or recording music, and operating sound-stage equipment. I know he worked with some very talented people associated with the RME, such as Jay Pearce, Bret Dale, Hal Reed, Kate Dale, and many more! I consider it an honor that Ellis was someone that I could count as a friend in the music world. He will be very much missed.
– Steve Heston, Past President of the Mississippi Valley Blues Society
When I first found out that I had an interview with the RME after graduating college, I decided to head down a few days prior to my interview to have lunch in Mojo's café. Ellis was playing during the "Live Lunch" series and had a standing weekly performance every Monday called "True Blue Mondays with Ellis Kell." There were maybe only two other people in the café at the end of his set when he finished off with "Got My Mojo Working" by Muddy Waters. When it came to the call-and-response part of the song, the girl working behind the counter started shouting back, "Got my mojo workin'!" He was teasing her that she wasn't loud enough, even though she was the only one responding (until, of course, I caught on to the song and joined in). I remember thinking that this would be such a cool place to work – where singing and laughter are encouraged during the workday. A few weeks later I was hired on at the RME and learned that "Got My Mojo Working" was one of EK's favorite songs, and he would play it every week during his live lunch performance and at programs with the kids. I'll never be able to listen to that song again without thinking of EK.
It was such a privilege to work with Ellis every day. He had such a passion for music and education, and would get you excited about upcoming programs and events. He always greeted me with a smile, asked how my day was going, how my parents were doing, or how I was feeling on a certain project or show. He really was the definition of kind. He not only asked about your day; he really cared how you were doing or feeling. He had a special intuition about him to know when you weren't feeling well or were having a bad day, and if I was, he'd figure out a way to invite me up to his office just to catch up and chat, ask me about what was on my mind, and let me unload. And he made me feel better afterward. Always offering "anything you need" – be it help, advice, or a hug. And in turn when he needed advice or just to talk out loud, he would start out by saying, "Just 'tween you and me," and you knew you were about to hear something special – a private moment in time with one of the Greats. I'm going to miss our chats. He was a true friend.
My role at the RME is to book the bands for public performances. Every once in a while Ellis would inquire about one band or another – more often than not they'd be one of his musical heroes, like Randy Newman or Kris Kristofferson. And more often than not, I'd reply with something like "Are you crazy? We can't afford them!" But he'd still ask – maybe once a year or so – and bring up the same names. I can tell you that his persistence worked more than a few times, because with his persuasions I was able to make offers to and host acts such as Johnny Winter, Leon Russell, and Bill Payne of Little Feat at the Redstone Room. I was even able to get a few of them to agree to let Ellis provide the opening set. EK was so happy; he couldn't wipe that crooked smile off his face all night! And I never would have asked some of these musical giants to perform at our tiny club had it not been for him. He had the power to give confidence in people with a simple note or word. If he believed in you, he got you to believe in yourself.
Did you also know that Ellis was as handy as MacGyver? That man could fix anything with some duct tape, a paper clip, and a broken mic stand. Before you got done asking out loud for something – anything – EK would have a solution to you in an hour's time. The RME couldn't afford one of those fancy glass donation boxes that museums had, so the man made his own out of the front display case in the lobby using the existing cracks between the glass. Ha! He was always the first person not only to offer help, but to follow through. God love him and his quick-fix tricks.
– Kate Dale, Director of Entertainment at the River Music Experience