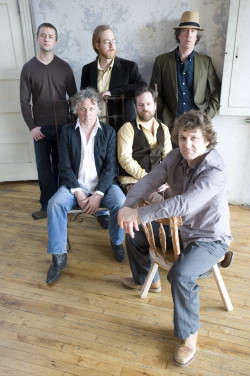 Railroad Earth mandolin player John Skehan notes that most recording studios are set up so that even when musicians are isolated from each other in separate rooms, they can see each other.
But when the New Jersey-based bluegrass/jam band convened in a three-century-old farmhouse owned by Todd Sheaffer, the band's singer and chief songwriter, the setup was different. As they tracked last year's Amen Corner mostly live, the sextet didn't have the benefit of body language and visual cues. Bass was in the kitchen. The drums were in the dining room. Multi-instrumentalist Andy Goessling was stuck in a bathroom.
"We had a little headphone system where everybody could control their own individual level and everybody else's level," Skehan said in a phone interview last week. "And we pretty much barely had eye contact. We just went into our individual little rooms and put our ears on, and that was the extent of the interaction. ... It does put you in a place where you're just listening."
Amen Corner
is the fourth studio album for the band, which will perform at the Redstone Room on Sunday. Coming four years after
The Good Life
and two years after the 12-track, two-hour live
Elko
, the album is a concise, energetic survey of acoustic music.
Aside from the drums, Railroad Earth nails straight-ahead bluegrass, but it rarely sticks to that, and the range is impressive. "Hard Livin'" has soul horns, and I mean it as a compliment that the banjo and mandolin seem more out-of-place. The stomper "Brining' My Baby Back Home" is followed by the gentle rock of "The Forecast," which nearly collapses after five minutes into a beautifully wheezy fiddle outro brightened by mandolin. "Waggin' the Dog" is Southern country boogie, while Skehan's "Lonecroft Ramble" is a lively and lovely Celtic/bluegrass showcase for each instrumentalist.
That breadth makes sense. Pushing 40, Skehan didn't become a bluegrass fan until his mid-20s, and he said it was mostly a function of being tired of the arena scene; bluegrass festivals offered him the opportunity to see and hear music up-close. Sheaffer came from the roots-rock outfit From Good Homes, and his pop sensibilities shine through despite the bluegrass instrumentation.
While improvisation has always been a part of the band's sound, a gig with the band of Grateful Dead bassist Phil Lesh in 2005 expanded Railroad Earth's boundaries, Skehan said. Lesh included a pair of Railroad Earth songs in the set, he said, and helped the band let loose with its jams.
Those shows "left us open to taking a whole lot more chances on stage," Skehan said. "Just deciding to let things go, and let one song run into the next and see what happens."
Prior to that, he said, the band members would "always strive to make sure they have a destination, a point where they would all come back together and work back into the song. ... We kind of had a road map."
After performing with Lesh, Skehan said, the band realized that "we don't have to have those exact signposts along the way. We can let it stretch a little bit further."
In any show, he said, half the songs will include improv sections, and half will be just as long as they are on record. "That's all the song wanted to be," Skehan said.
But in the songs that are more flexible, he said the band is no longer afraid to set off on a trip with no clear destination: "If you get lost, somebody will eventually show you the way."
Railroad Earth will perform at the Redstone Room (129 Main Street in Davenport) on Sunday, March 29. Split Lip Rayfield opens, and the show starts at 7 p.m. Tickets are available at RedstoneRoom.com.
For more information on Railroad Earth, visit RailroadEarth.com.