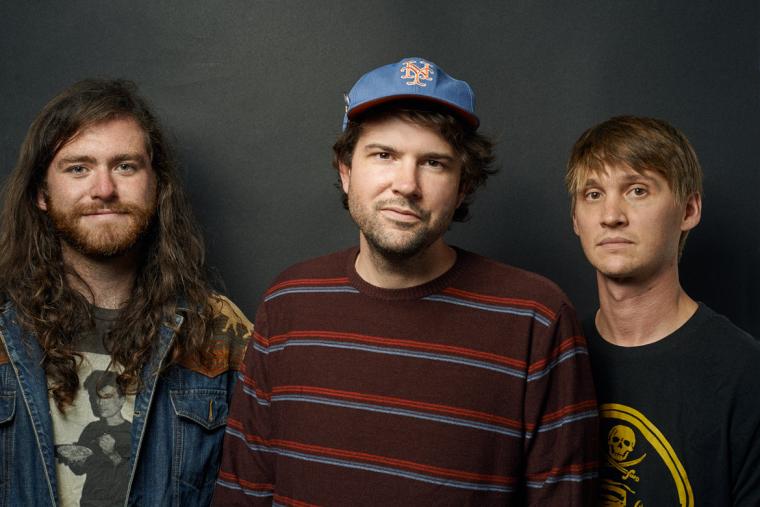 "I am embarrassed to be here," sings Wild Pink singer, guitarist, and songwriter John Ross on "I Used to Be Small." The "here," in this case, is the United States.
On the New York-based indie-rock band's self-titled debut album, Ross explores getting older through the people and places around him. The past is at the forefront, with Ross recalling looking through the window at the Hudson Valley, being told that "if you never stop moving, then you'll never feel bad" in "Broke on," a journey through memory. He sings about being a passenger in a parent's car, riding bikes, "hearing about the war, and knowing it's not yours." The listener gets access to moments that shaped whom he became.
Ross didn't expect feelings about the United States to surface alongside these memories while writing Wild Pink in 2015, he said in a phone interview promoting the band's March 19 show at Rozz-Tox. Throughout the album, politics are slipped into songs, stated with no more intensity than singing about biking through nature as a child.
"Why would you have a kid, when the city you live in will be underwater soon," Ross sings on in "Broke on," as plainly as anything else on the record.
The matter-of-fact groove into which these lyrics settle is emblematic of a generation that came of age after the late 1990s. They grew up hearing about the effects that climate change will have on the planet their children will inherit. Mass shootings occurred with alarming regularity throughout their childhoods. The widening gap between economic classes made it more difficult to envision a future in which kids will do financially better than their parents. Ross' delivery conveys resignation – that these are facts rather than things to fight against.
He ponders these ideas in airy and otherworldly songs, his lyrics drifting over the instruments. The heavily reverbed thoughts float out of Ross like they're still bouncing around the inside of his head. A dreamy, shoegaze-pop sound lends itself to the worldview that Ross contemplates throughout the album.
But in our interview, Ross sounded far angrier.
"The gun-violence issue in the country is outrageous," he said. "And nobody who can do anything about it will do anything about it. It seems like the only response is to put more guns out in people's hands, which is f---ing insane."
That idea surfaces in "I Used to Be Small," directly after expressing his embarrassment at his country.
"I wonder if the next mass shooting will be here," sings Ross with a more-forceful delivery, guitar punctuating his words. "If God tells me to keep the flock safe, I'll keep a gun loaded with the safety off, just in case."
With its political overtones and muted aesthetic, Wild Pink is a departure from the band's previous work. Compared to the 2015 EP Good Life, the vocals on Wild Pink are more toned down, less energetic. The power chords dominating Good Life are swapped out for guitar lines leaving space for the lyrics.
But both works still focus on memory. The peppier sound of Good Life is still filled with places clearer to Ross than they could be to any listener – smoking on back porches and hanging out in cold bedrooms.
And the exploration of feelings isn't that different from EP to album. "I don't know why I feel so bad, when last night I really felt impossibly happy," Ross sings on the Good Life track "Is This Hotel Haunted?"
But the songs of Wild Pink weave threads from the outside world into Ross' personal experience, making it a broader and richer portrait of American culture.
Wild Pink will perform on Sunday, March 19, at Rozz-Tox (2108 Third Avenue, Rock Island; RozzTox.com). The 8 p.m. all-ages show also includes Harsh Times and Sister Wife. Cover is $5 to $10.
For more information on Wild Pink, visit WildPink.Bandcamp.com.
Hannah Bates is a St. Ambrose University graduate who likes music more than she likes most other things. She can be reached at bateshannaha@gmail.com.