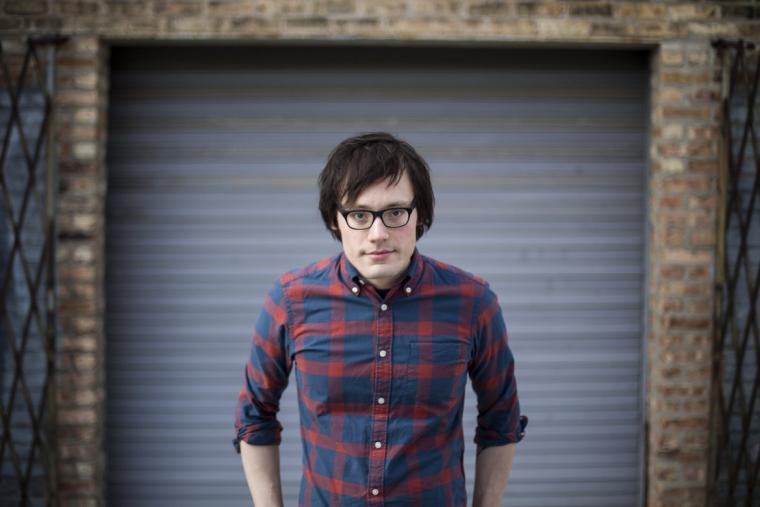 Sam Vicari isn't always as direct as the title of his fourth album – Blunt – might imply.
Vicari, who will play a February 17 solo show at Rozz-Tox, kept gravitating toward the theme of aging while writing his 2016 album. But he taps into the emotions and realizations that come with getting older, and they're often complicated.
On his previous three albums, Vicari wrote songs about puppy love and unrequited crushes, but Vicari opens his eyes to the negatives in relationships in Blunt's lead track, "Stress Me Out": "If you love it, let it go. If you hate it, hold it closer. Either way it's going to kill you," sings Vicari, punctuating this last phrase of the song with forceful power chords.
Vicari said he attempted a more-abrasive sound on the album – which further separates it from his earlier music.
His thoughts about aging aren't just limited to love. While working at a high school, Vicari was having problems communicating with one of the students, he said. That experience went on to inspire "Contact High," letting the student know that there are people there for him if he ever needs to talk. "I know you don't want me to know what you have inside your heart," Vicari sings, "but if you change your mind, I'll be here to start."
Power pop, the genre in which Vicari has mostly worked, is an appropriate medium for a meditation on aging, with its nostalgia baked into music harking back to the earlier, simpler days of rock and roll. Vicari has perfected the sound, writing melodies that would feel at home in early rock but played on crunchy electric guitar.
The music of Vicari's youth continues to inspire his sound. When he first started playing music as a teenager, Vicari took to the sounds of Green Day, Superchunk, and Weezer. But power pop also comes naturally to him as someone who is reluctant to call himself a strong guitar player.
"If you're just playing simple B, E, A, G, and ... if you just write kind of a mid-tempo song ... in a traditional sense, it always kind of sounds like that, like a power-pop song," he said.
But not everyone can bang out a catchy melody like Vicari can. "Molina" features him picking through some simple arpeggiated notes before power chords kick in. Vicari tells the story of how he wants to give his love everything in the world, as his voice drifts up and down in sing-song melody. It's dreamy power pop at its catchiest.
The thematic maturity of the album is matched by the preparation Vicari did for recording. Blunt was tracked at Steve Albini's Electrical Audio in Chicago, and the weight of the musicians who had recorded there pushed Vicari to be more ready for the studio than with his other work. He played everything on the record except for the drums, carefully planning all of his parts before heading into Electrical Audio.
"It's neat because you're working on this mixing board that Bob Mould recorded his last record on or something, so it kind of gives you a little confidence," Vicari said. But "it can definitely have a negative effect where it kind of intimidates you and scares you. But as long as you go in and kind of know in the back of your head that you prepared, then it's a good thing."
Even with the changes that came with recording Blunt, Vicari didn't come out of the experience believing that every part of creating music and songwriting needs to be carefully calculated, keeping the stories he tells genuine and, at times, messy.
"It's words and it comes out and it sounds cool," Vicari said. "It makes sense to you in a way. It's not very straightforward, but it's just emotions."
Sam Vicari will perform on Friday, February 17, at Rozz-Tox (2108 Third Avenue, Rock Island; RozzTox.com). The 9 p.m. all-ages show also includes Joe Kopel. Cover is $5 to $10.
For more information on Sam Vicari, visit SamVicari.com.
Hannah Bates is a St. Ambrose University graduate who likes music more than she likes most other things. She can be reached at bateshannaha@gmail.com.