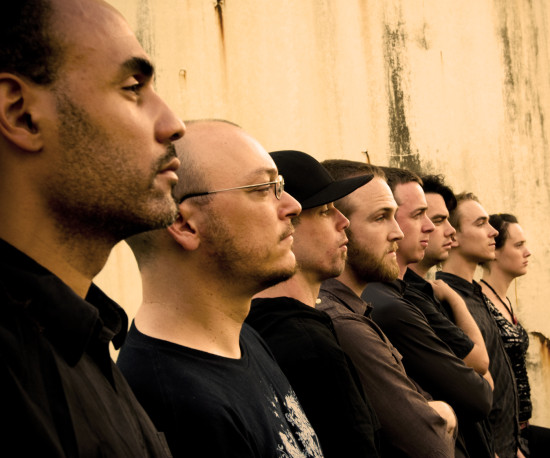 One of the label mates of John Brown's Body is the Easy Star All-Stars, and that outfit has presented albums by Pink Floyd, Radiohead, and the Beatles in a reggae style. Surprisingly successful, these recordings manage to retain the identity of the original songs while staying true to the reggae style -- an artful translation.
What John Brown's Body does is more like a fusion of reggae with other styles. Reggae is the primary ingredient -- "On top of that is where we really start to inject our flavor and our influences," said drummer and band co-founder Tommy Benedetti in a phone interview last week -- but the tastes include hip hop, funk, and progressive rock. And while the base -- the drums and percussion, the bass, and the horns -- is unmistakably Jamaican, its variety and skillful blending defy pigeonholing.
The band -- which will perform at the Redstone Room on May 12 -- began as a roots-reggae ensemble but has gradually shifted to something more amorphous. The death from cancer of bassist Scott Palmer in 2006 spurred several lineup changes, most notably the departure of founding singer/songwriter Kevin Kinsella.
The transition from traditional reggae was already underway by then. Kinsella was the only credited songwriter on the band's 1996 debut, but by 2005's Pressure Points, singer Elliot Martin was the dominant creative force.
Benedetti said that while he will always love traditional reggae, Martin's contribution of "33 RPM" to 2002's Spirits All Around Us was "one of the watershed change moments that we really had. ... When we started rocking that tune live, it was a whole new ballgame."
The shift was a "natural progression" from there, he said. "Elliot ... was really pushing the sonic barriers and really into making more cutting edge -- ... darker grooves, different textures, different sounds.
"Scott's passing was definitely the catalyst for ... people wanting to step out. ... The wheels were in motion. The band really needed a breath of fresh air at that point."
He and Martin "wanted to re-focus the band and the sound," Bendetti said. "We had a lot more music to give and to play."
Because Martin had been gradually taking a larger role, last year's Amplify, the band's first album since Palmer died, isn't a significant departure from its predecessor, he added. It's more like a continuation. "I think our fans realized that the band was evolving," he said. "The sound of JBB when Kevin left didn't drastically change. ... The essence of the band and the live show and the sound we've created over all these years ... was definitely intact."
The album is first and foremost a showcase for Martin's strong melodies and voice, but the instrumental textures are often scintillating. "The Gold" starts with horns that could be drawn from a Mexican gangster movie, and the song documents a life on the lam, with Martin's voice gracefully skating a tricky line between singing and rapping. "Ghost Notes" was written for Palmer, and it's a lovely, soulful, blossoming lament with a detailed instrumental bed under Martin's soaring voice, which sustains an almost frightening emotional fervor.
The closer you listen, the more Amplify reveals, and the reggae core ensures its instant accessibility. Benedetti said that John Brown's body will never abandon its Jamaican-music roots, but its goal is to stretch the boundaries: "We're just trying to breathe life into reggae."
John Brown's Body will perform on Tuesday, May 12, at the Redstone Room (129 Main Street in Davenport). The bill also includes Passafire, and the show starts at 9 p.m. Tickets are $12 and available at RedstoneRoom.com.
For more information on John Brown's Body, visit JohnBrownsBody.com or MySpace.com/johnbrownsbody.