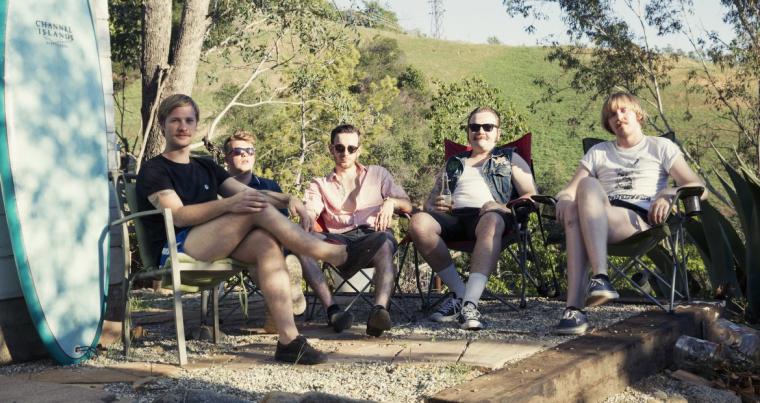 When Death by Unga Bunga vocalist and guitarist vocalist Sebastian Ulstad Olsen sings, "Get your hands off that bouncer. FIghting is never the answer" on the title track of the band's 2016 Fight! EP, he's speaking from experience.
"One of our friends was way too drunk to get in [to an after-party for the release of the band's 2016 full-length Pineapple Pizza], so he kinda started to harass the bouncer," Olsen wrote in an e-mail interview. "We had to convince our buddy to go home, thus allowing us to write 'Fight!,' a song about fighting, and how you should not do it, because that will get you into a fight."
Norwegian garage rockers Death by Unga Bunga, playing at the Village Theatre on February 28, buzzed through the writing, recording, and mastering of Fight! in just six weeks. Released in September, the four-song EP is over in a flash – 12 minutes of ragged indie garage rock infused with power-pop riffs that could have come straight out of a Cheap Trick song.
But the drunken brawl that wasn't sparked something lyrically. Maybe living recklessly and without purpose isn't the way to go, according to Fight!
"When I was young, I should have started a band," Olsen sings on "I Wanted Everything," a song from Fight! "I should have stuck around and made a stand. Why did I do what I did when I wanted everything?"
That attitude hangs over the EP, whether Olsen is singing about concertgoers who don't care if they live or die or that drunk friend's outburst. Even the EP's love song takes on a melancholy and contemplative tone: "Tell me honestly, will you think of me when summer's gone and you're alone?"
It's a departure from Olsen singing about being with someone forever in "I Can't Believe That We're Together" on Pineapple Pizza.
Sonically, the 2016 album and EP are similar, with simple, back-to-basics rock-and-roll. But even though the full-length came together over a year compared to the Fight!'s shorter gestation, Olsen wrote that they're "equally good," adding: "There is no distinct formula in our world, just different approaches."
While Pineapple Pizza doesn't have the lyrical cohesion of Fight!, the band was inching toward similar themes on the album.
"Tell me why we reach our hands to the sky when everything I see is a fake, illusions are fake," Olsen sings on the Pineapple Pizza track "Tell Me Why," with the same disillusionment prevalent on Fight!.
Death by Unga Bunga is always moving forward in its music. On 2012's The kids are up to no good, the band made '60s-inspired music that would sound right at home on 1972's garage compilation Nuggets alongside bands such as the 13th Floor Elevators and the Electric Prunes. Olsen cites the album as a major influence, but now the band is playing a more-contemporary style of garage rock. Compared to The kids are up to no good, there are fewer vintage woo-ooh harmonies in the background and organs that could have been lifted from a Zombies track.
And as it grows as a band, Death by Unga Bunga's audience is also growing. The Village Theatre show will be a part of the band's first major U.S. tour, and its members are looking forward to drives through the Rocky Mountains and the "cartoonish amounts of food served in restaurants," Olsen wrote.
In the few times the band has played in the United States, it has realized something. "It's mind-boggling to experience that music fans are alike no matter where you go in the world," Olsen wrote. "Culture brings people together."
It's a different picture of music fans than the band paints in Fight!'s "Fleshsweatpush," but it's right in line with the EP's portrait of a band that sees no point in fighting.
Death by Unga Bunga will perform on Tuesday, February 28, at the Village Theatre (2113 East 11th Street, Davenport). The 7 p.m. all-ages show also features Harsh Times. Tickets are $12 in advance and $15 the day of the show. For more information, visit Facebook.com/moellernightsinc.
For more information on Death by Unga Bunga, visit DeathByUngaBunga.no.
Hannah Bates is a St. Ambrose University graduate who likes music more than she likes most other things. She can be reached at bateshannaha@gmail.com.