In June, Codfish Hollow Barn in Maquoketa hosted a show with Conor Oberst of Bright Eyes. The concert didn't have Sean Moeller's or Daytrotter's name on it, but the link was clear enough.
"I made that show happen," Moeller said earlier this month.
Moeller founded Daytrotter.com in 2006 as a source for exclusive live-in-the-studio recordings, and the vast majority of its thousands of sessions over the past nine years have been recorded in the Quad Cities. But even though concerts are not Daytrotter's product, they are an increasingly common and visible fringe benefit for the Quad Cities, and the Oberst performance illustrates the reciprocal relationship between the internationally known Web site and local shows.
Moeller said he'd been trying to get Oberst in for a session since Daytrotter began - but it only happened because of Codfish Hollow.
"I got a Daytrotter session out of Conor Oberst," Moeller said. "That's why I did it. ... I'm not going to not do that. ... I'm going to help make that happen so that I can get something for Daytrotter from Conor Oberst."
Over the past decade, much of the impact Daytrotter has had on the Quad Cities has been easily discerned - although it's infrequently been explicit, and often it's indirect. Rozz-Tox's lineup is littered with Daytrotter bands. Codfish Hollow concerts typically feature some of Moeller's favorite bands.
More and more, however, Moeller is putting his name on his work. For nearly a year, he's booked and hosted Moeller Mondays shows at Rozz-Tox. Last year he began shows at Davenport's Renwick Mansion under the same banner, and this year he started doing concerts at the Village Theatre in Davenport.
"It's a promoter thing," he explained about the decision to create a Moeller brand. "It's like a [prestigious] record label. People do believe in certain promoters. ...
"I think I tried to stay behind the name Daytrotter for the longest time. I'd go to places and I'd just be introduced as Daytrotter. 'This is Daytrotter.'"
Of course, the Web site is more than just Moeller. He has a business partner and several engineers, and he said the work of illustrator Johnnie Cluney is essential to the identity. And because Daytrotter is a media company and not a concert organizer and promoter, the name doesn't naturally fit with shows that Moeller books or otherwise helps with.
So he said he wondered: "Why the hell am I not building up my own name a little bit? ... I'm just trying to be a facilitator. I'm putting my name out there because why shouldn't I? There has to be something I put it under. I want to be associated with the good things that I'm bringing to town, not for an ego situation. There has to be somebody to validate something that's coming to town. ... You still need somebody to put a stamp on it."
Daytrotter itself plans to get back into the business of one-time local shows with the opening (likely this fall) of its new recording studio and live-music venue in downtown Davenport - although that's no guarantee given the history of the renovation project.
So Moeller's behind-the-scenes work continues. He booked artists for the September 6 East Fest at Davenport's BREW in the Village.
He and Quad Cities River Bandits Managing Partner Dave Heller are planning to present concerts at Modern Woodmen Park, possibly starting this fall.
And Moeller said he booked three of the four headliners for this year's River Roots Live festival: rising country star Kacey Musgraves, legendary R&B singer Mavis Staples, and the indie-pop outfit Hellogoodbye. "If you look at this year's lineup, there's a lot of my fingerprints all over it," he said.
That's not modest, but the man has no reason to be. For all that he's done with Daytrotter, Sean Moeller has also reshaped the local music scene when it comes to touring artists.
Collecting Spaces
"My job used to be different five years ago," Moeller explained about how he approaches Daytrotter. "I don't really write any more. I was eating up all of my day trying to do these essays about bands. ... Part of me still likes [and] wants to be a writer. But I guess I realized what I'm best at, and what I'm best at is pulling people together. I'm just best at making things happen ...
"I'm already working in that world. So much of everything I do now is just booking. It's all about logistics ... . It's figuring out routes and when I can get people through. ...
"I've streamlined everything. ... I'm able to invest more time in really trying to get people here."
And by "here," Moeller means the Quad Cities. Although Daytrotter records in studios in London and Nashville, for example, "85 percent of everything still happens here" at two Rock Island locations Daytrotter presently uses, he said.
And "it's so much easier to get somebody to come to town [with a show] - especially a band that maybe doesn't have much money, doesn't have any money. I can point somebody to Redstone Room, or I can maybe do something at the Renwick Mansion. Or maybe ... it works that we do a barn show. ...
"Everything that I'm doing still revolves around trying to get somebody here ... for Daytrotter. If I have this other ... tool to use ... it kind of kills two birds."
So Moeller, especially in the past year, has been building relationships that give him access to new venues. "It's been really interesting," he said, "because I feel like I do have some opportunities. I look at all the spaces I'm sort of collecting."
The idea is that with more potential concert outlets - each with its own character and capacity - he has more options in terms of the artists he can bring in. Rozz-Tox is a great place for many acts, but it can only hold 100 people. Codfish Hollow Barn holds 500 people.
The Daytrotter space in the Renwick building at 324 Brady Street will have a concert capacity right in the middle of those- assuming it ever opens.
And if River Roots Live and Modern Woodmen Park become long-term partners, Moeller would have the venue portfolio to bring in musical artists that are much larger draws.
It helps a great deal that he has a reputation among bands and in the music business, and the pull of sessions for Daytrotter, and loads of friendships he's fostered through Daytrotter. That means he can often overcome barriers to shows - whether it's a reticent booking agent or a too-high price tag.
Dale Watson, for instance, was lured to a Moeller Monday show at Rozz-Tox in June with a door-split arrangement that only guaranteed him $400 - far less than his going rate. (He ended up making far more than the guarantee.)
"Dale Watson's on a bus," Moeller said. "There's no chance he can even drive somewhere for less than $2,000. ... He came because he liked us, because he wanted to do it."
And at the local level, Moeller's status as a plugged-in taste-maker brings willing partners.
Jason Gilliland, director of events for the Downtown Davenport Partnership and director of River Roots Live, said the festival sought out Moeller to help book performers because "Sean's been doing some really great things with Daytrotter and Moeller Mondays." His presence gave River Roots Live "opportunities to bring in artists we might not have access to, or might not be aware of."
Gililand wouldn't confirm which acts Moeller had a hand in securing for the August 28 and 29 event, but he did say Daytrotter's chief booked some directly, opened communication channels with others, and sometimes just encouraged a band to accept an offer to play: "He's been part of the conversations with a lot of these."
Moeller, he added, gives River Roots Live a better chance to get "the best music out there" and "broaden our horizons." And it gives a larger stage and audience to musical artists that might otherwise be playing clubs in the Quad Cities.
Plans for Modern Woodmen Park are only in their infancy at this point, but Heller wrote in an e-mail that "Sean and I are both eager to do something with live music at the ballpark, probably right after the season ends in that window between late September and Halloween. That doesn't leave us a lot of time, but we are trying to put something together. If it does not happen this season, I am confident we will get something done for next season. ... Sean and I are going to try as hard as we can ... ."
Heller added that he's talked only with Moeller about booking acts. "He's the best: smart, knowledgeable, creative, insightful, and collaborative - all the qualities one would want in a partner and a friend, which is how I think of Sean. He also loves the Quad Cities, is a good family man, and [is] a blast to hang out with. What more could anyone ask?"
"Give Me Your Mondays"
While there's a new energy building from Moeller's work in live music in the Quad Cities, the central idea of a symbiotic relationship between Daytrotter sessions and local concerts has existed since the site's beginning.
When Moeller started the site in 2006, he wanted to establish the Quad Cities as a place to stop and do a session. Yet even in the early months, he steered a Daytrotter band to the Redstone Room.
Over the next few years, Moeller hosted Daytrotter-branded shows at Huckleberry's and other small venues - including visits by Amos Lee, Bon Iver, and Vampire Weekend. Getting acts of that caliber in Rock Island's intimate pizza parlor, he said, was "crazy" - but it speaks to the cachet Daytrotter had built even at that early stage. "I still can bank on what I've done at Huckleberry's," Moeller said. "They're still amazing feathers in my cap."
And in 2008 Moeller scored a coup with a Spoon-headlined show at the Capitol Theatre. In an e-mail prior to that show, Moeller told me that the band and its manager "have always wanted to do a session, but it just never worked. We finally had a way to do it with the availability of the Capitol. We're going to be able to bring a lot of people like that here now thanks to that theatre."
Once Wolfgang's Vault bought a majority stake in Daytrotter in 2008, however, stand-alone local shows officially tied to Daytrotter mostly stopped. Moeller booked small Daytrotter Barnstormer tours that often included Codfish Hollow, and Daytrotter's alliance with the Communion Tour organization often resulted in shows at RIBCO.
Then came Moeller Mondays at Rozz-Tox. It started as a one-off event last September - a birthday party for Moeller, and an anniversary gift for his wife. "It was our 10th anniversary, and so I booked a bunch of people my wife and I love," Moeller said. "And so I flew in a few people, got a couple other people to come to town. And just kind of planned this really great 10th-anniversary surprise for my wife. ... We didn't tell anybody who was playing."
From that genesis, Moeller has under his own name been booking shows every Monday at Rozz-Tox - and occasionally on different days of the week at other venues, such as August 13's Christian Lee Hutson show at the Village Theatre.
"Sean came to me with this great idea," said Benjamin Fawks, Rozz-Tox's co-owner and primary booker. "Basically, he came to me and said, 'Give me your Mondays, and this is what I want to do.'" At that point, Rozz-Tox was closed on Mondays.
For the most part, he added, Moeller Monday performers "don't play little cafes like this. Anywhere."
That direct Moeller involvement was different, but more than anything he has enlivened the Quad Cities music scene simply by having Daytrotter's home base here. He steers bands to local venues for possible shows.
Building Something
One of those venues is Codfish Hollow Barn, which has put on dozens of concerts with more than 150 different musical artists since mid-2009.
Tiffany Biehl, who runs the barn music venue with her husband on her family's Maquoketa farm, said she thought "it would be cool to do something with it, besides have hay and cows down below."
But when a friend e-mailed saying Moeller was looking for barn venues, "we had never heard of Daytrotter at that point. ... I kind of just ignored him."
That friend was persistent, however, and Moeller visited the barn, and 10 days later Codfish Hollow hosted its first live music since a dance celebrating its 1954 construction.
Biehl said that she booked all 11 Codfish Hollow shows last year, but mostly she's collaborated with Moeller on lineups and booking. "He gets some acts; and I get some acts; and I tell him who I want, and he contacts them; or I tell him who I want, and he's like, 'Oh, yeah, go for it,' and I get them. We work together to book everything."
The venue began selling alcohol at shows this year, and Biehl said she might be breaking even on concerts at this point. But "it's so amazing what's happening, even if I was losing all of my money, I still wouldn't quit doing it."
Unlike Biehl, Fawks was well aware of Moeller and Daytrotter when he opened Rozz-Tox in 2011.
He looked around the country for cities to locate a new business similar to the one in China that he still owns. "It all came back to a hometown vibe," said the Moline native. "I wanted to be a part of building something rather than hopping into something that's already existing."
Capitalizing on Daytrotter's home base was part of that. Outside of Moeller Mondays concerts, Fawks does nearly all of Rozz-Tox's booking and doesn't coordinate it with Moeller. But there's an undeniable and mutually beneficial relationship with Daytrotter.
"Why go it alone when here you have this resource just down the street that can shuttle people over to you?" Moeller said. "All these bands [coming in to Daytrotter] have no place to play" in the Quad Cities.
"They hit me up," Fawks said of bands. "That's kind of been the case since the beginning. We filled this void of a small little venue that was open to pretty much anything ... .
"I pick and choose" which bands to book, Fawks said. "I can do that because there's such a large volume of bands that are just coming through here. And a large majority of those are doing sessions for Daytrotter."
Sometimes things go the other way. In May, Fawks booked the Chinese band Chui Wan. "They didn't have a Daytrotter, and we got them a Daytrotter session, and it was their first Chinese band," Fawks said.
One of Daytrotter's recording studios is next door to Rozz-Tox, and Fawks offers bands who play his establishment free lodging in the hostel upstairs. Bands without Rozz-Tox shows can spend a night there for $10 a bed.
"Before this [Rozz-Tox] existed," Fawks said, "it was totally worth it just to come to the Quad Cities and do a Daytrotter session. And I think it still is. But now we do have this. They come through and do a Daytrotter, they get a place to play, they get a place to stay, they get a meal. ... It's a perfect package for a touring band."
And just as the Moeller and Daytrotter names mean something, Rozz-Tox has built its reputation and a loyal customer base of people who will show up because ... it's Rozz-Tox. "I hear that all the time," Fawks said. "And there's a group of people who come to nearly every show. ... 'It's live music, and it's original. I haven't heard it before. I'm going to go check it out.' And five bucks a show. ...
"The trust thing comes into play there. I'm not going to book something that I feel nobody would like. ... This is a community space. ... And people like all different kinds of stuff."
While Fawks said all of this would have been possible without Daytrotter's presence in the Quad Cities, "Daytrotter did all the hard work by putting us on the map with all these touring musicians."
Now Fawks is reaping the benefits of his own and Moeller's work. He noted that he just booked the African band Tal National, which is only performing at festivals. "They don't play venues like this," he said. "Ever. This is a six-piece band from Niger. This is fantastic stuff. And that's not coming through Sean or Daytrotter." Instead, it came from relationships Fawks has nurtured: "It's just connections."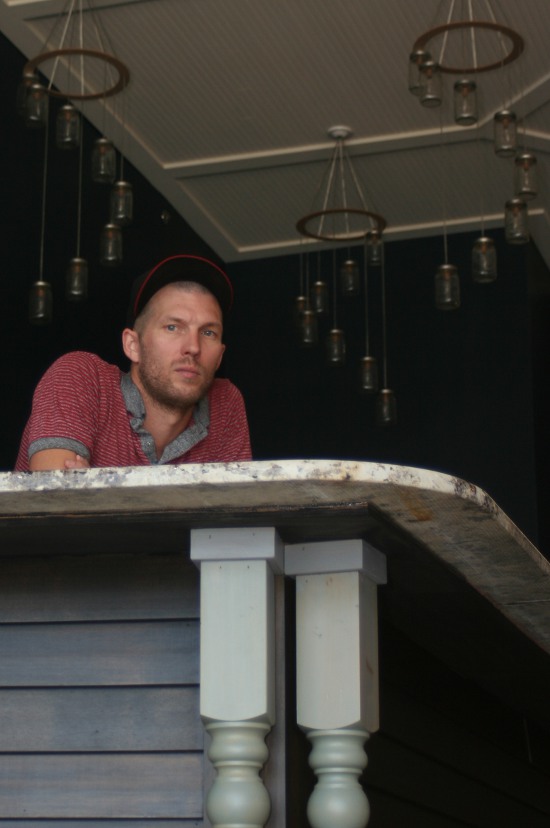 Just Starting
Fawks said he isn't concerned about a new Daytrotter concert venue. With a larger capacity, he said, Moeller will likely book different bands from those presently playing at Rozz-Tox.
"It's nice that right now he's working with a lot of different venues and spaces for these shows," Fawks said. "And overall that's just great for the community and the music scene and the fans here. ... The bands that are going to play there [in the Daytrotter space] are going to be bands that are probably going to pack that place. It's exciting."
But first the facility needs to open. Restoration St. Louis built out the space especially for Daytrotter and considered the work finished 19 months ago. Conflict was apparent in January 2014 comments to the Quad-City Times by Restoration St. Louis President Amrit Gill and Daytrotter majority owner Bill Sagan.
"We've done everything we're supposed to do," Gill said.
"I've set up no plans, nor has Daytrotter set up any plans, to move into that facility until the walk-throughs are done," Sagan said.
In June 2014, Renwick Leasing LLC sued Daytrotter Media LLC for breach of contract. In a settlement filed in May 2015, Daytrotter agreed to begin a 60-month lease retroactive to April 1, 2015. So Daytrotter is now paying for a space it's not yet using for recording and performance. (In an e-mail last month, Sagan declined an interview request until the Daytrotter facility is "ready to open.")
It's easy to read between the lines with this drama and Moeller's new forays into live music over the past year. The man known as Mr. Daytrotter is crafting an additional public identity as Sean Moeller independent of the influential Web site he created - but still related to the job of bringing bands to the Quad Cities for sessions.
"I've never seen the scene more vibrant, at least in the last 10 years," Moeller said. "It's never been as exciting as it is right now. And I think we're just starting. At least I'm just starting."