When Lois Deloatch recorded what became Hymn to Freedom in late 2006, she intended it as a tribute to pianist Oscar Peterson, a living legend.
But one of the perils of being an independent artist is that albums done right require patience. "I'm a totally independent artist," the North Carolina-based Deloatch said earlier this week, in advance of her November 16 performance and workshop at the Redstone Room. "When you're literally doing every piece of it yourself, it takes a little bit of time."
So when Hymn to Freedom was finally released this past summer, it served as a posthumous homage; Peterson died in December 2007.
"He was pretty ill by the time the recording was complete, and I made a couple of attempts to get it to him, but was unable to do so," she said. "But I do know that he knew the project was underway."
The album starts with a bass-and-vocal treatment of "Down by the Riverside," a song that isn't associated with Peterson but one that rooted the record in spiritual music - of which Deloatch said Peterson's music reminds her. It ends with "Auld Lang Syne," as a way to mark Peterson's passing.
Everything in between is frequently linked with Peterson, including standards "Honeysuckle Rose" and "Stardust." In addition, Deloatch wrote lyrics for a pair of Peterson tunes: "When Summer Comes" and the title track.
"I focused on recordings that I loved how Oscar Peterson at one point or another had performed them," Deloatch said.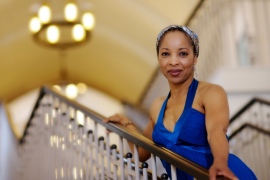 She recruited Chicago pianist Willie Pickens to arrange and perform with her. "He reminded me in some ways of Oscar Peterson," Deloatch said. "Not a mimic in any kind of way, but the feel. It's very deep, rich gospel overtones. That signature swing sound that Oscar Peterson has is something that I knew Willie Pickens could bring to this project."
She said she wanted the recording to be simple and straightforward, and to capture "the feeling that I have about this music. ... When I hear the Oscar Peterson performances and concerts ... there is something about his sound that was so familiar to me, because it was very reminiscent of the church sound that I loved. And I knew that Willie could bring that to it."
Hymn to Freedom also features drummer Ed Thigpen - who played in Peterson's legendary trio in the 1950s and '60s. Deloatch said she's known Thigpen for a decade, and that "did influence my decision to do the Oscar Peterson music, although I believe it is something that I probably would have come to at some point anyway."
She sings these songs with a cool, deep authority, but she certainly doesn't overwhelm them. "I do want to be another instrument," she said. "I want to only be in the song when I can add something to it and complement it."
At her workshop, Deloatch said that she will certainly perform "Down by the Riverside," along with other songs that span gospel, jazz, and blues. She also said she often asks workshop attendees a question that's often posed to her: "What does music mean to you?"
Kids shouldn't fret if they don't have a good answer, because Deloatch said she's still searching for a satisfactory response.
"It's really, really hard to answer that question," she said. Music "connects with a passion that is unexplainable in many ways. It connects with a part of our being that you can't quantify."
Lois Deloatch will present an all-ages workshop at 3 p.m. on Sunday, November 16, at the Redstone Room inside the River Music Experience (129 Main Street in downtown Davenport). Admission is $3 for students and $5 for adults.
Deloatch will also perform a concert at 6 p.m. General admission is $15; reserved seating is $20.
For more information on Deloatch, visit LoisDeloatch.com. For more on Polyrhythms' Third Sunday Jazz Series, see "Compatible Rhythms" in this week's River Cities' Reader.